Politics
Meet the new generation of Kennedys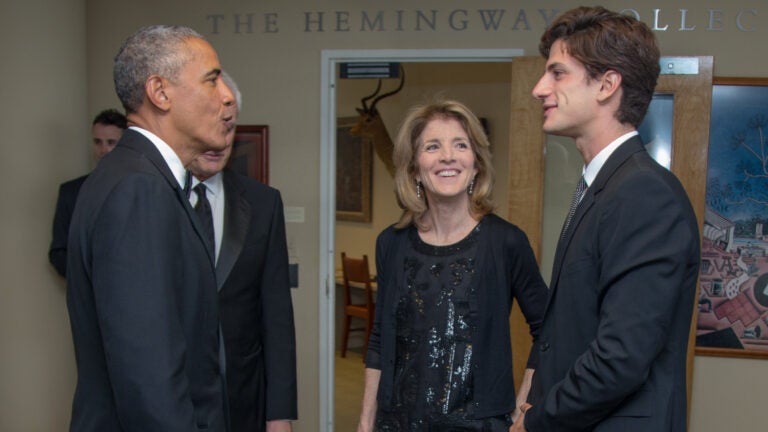 In John F. Kennedy's 1960 speech at the Democratic National Convention, the future president spoke of a "New Frontier."
The frontier was both physical — Kennedy was intent on sending a man to the moon — and metaphorical, pushing Americans to examine "unconquered problems of ignorance and prejudice, [and] unanswered questions of poverty and surplus." Now, a century after Kennedy was born, a new frontier of the president's legacy runs in the blood of his descendants, many of whom are now just entering adulthood.
Massachusetts Rep. Joe Kennedy III is making waves with virulent anti-Trump speeches on the House floor, while other descendants of JFK and his famous siblings seem destined for careers in politics, philanthropy, and public service.
Here's an introduction to nine notable young Kennedys who are forging their own paths.
Jack Schlossberg
Relation: Son of Caroline Kennedy and Edwin Schlossberg; grandson of John F. Kennedy and Jacqueline Onassis
Jack, 24, has cautiously stepped into the spotlight in recent years. In 2012, he accepted a commemorative coin at the Library from Sergei Khrushchev, the son of Soviet Premier Nikita Khrushchev, to mark the 50th anniversary of the Cuban Missile Crisis. In 2013, he invoked his grandfather's words when presenting the New Frontier Awards to Hawaii congresswoman Tulsi Gabbard and Donorschoose.org founder Charles Best, saying, "As my generation assumes the responsibility of confronting the challenges of our day, we must welcome that responsibility as President Kennedy did."
Most recently, Jack interviewed President Barack Obama about political courage when Obama accepted the Profile in Courage Award at the JFK Library and Museum. He will attend Harvard Law School, Obama's alma mater, starting in the fall of 2017.
In a recent Today interview, Schlossberg was coy about whether politics are in his future.
"I'm inspired by my family's legacy in public service," Schlossberg said. "It's something that I'm very proud of, but I'm still trying to make my own way, figure things out. So stay tuned – I don't know what I'm going to do."
Tatiana Schlossberg
Relation: Daughter of Caroline Kennedy and Edwin Schlossberg; granddaughter of John F. Kennedy and Jacqueline Onassis
Instead of following her sister to Harvard, Tatiana opted for Yale, where she was the editor of the Yale Herald. She landed an internship with The New York Times in 2014 and now covers climate change and the environment for the newspaper. Before that, she wrote the popular Times column, 'New York Today.'
Rose Schlossberg
Relation:  Daughter of Caroline Kennedy and Ed Schlossberg; granddaughter of John F. Kennedy and Jacqueline Onassis.
The eldest grandchild of President John F. Kennedy, Rose bears a striking resemblance to her grandmother, Jackie. A graduate of Harvard and New York University, she launched a comedy web series, End Times Girls Club, with a friend last year. Rose told Mashable she came up with the idea for the series while studying at NYU after observing how the city responded to Hurricane Sandy.
"I thought it would be interesting to create this world where girls have to be survivalists without compromising their cute factor," she said.
Edward (Teddy) Kennedy III
Relation: Son of Edward Kennedy, Jr., and Katherine 'Kiki' Kennedy; grandson of Edward M. Kennedy and Joan Kennedy.
Teddy Kennedy III, 19, announced an interest in politics at a young age, saying when he was 11 years old that he intended to represent Massachusetts in the U.S. Senate once he turned 45. He made some strides in that direction in 2014 when he worked as a summer Senate page, according to the Washington Examiner. Like his great-uncle, JFK, Teddy attended Choate Rosemary Hall in Wallingford, Connecticut, and is now enrolled at Wesleyan University, where he is on the crew team.
Following the election of President Donald Trump, Teddy wrote on Facebook that he didn't think his grandfather, the late Sen. Ted Kennedy, would be happy with the state of America.
"It isn't the America that my family has fought for throughout the decades that leads the world and represented hope, freedom, and an equal shot at life," he wrote. "What we see now is an America that is motivated by hate and ignorance that will only build upon itself. It isn't the one that I am proud to be in."
Katherine Schwarzenegger
Relation: Daughter of Maria Shriver and Arnold Schwarzenegger; granddaughter of Eunice Kennedy Shriver and Sargent Shriver
Katherine, 27, has followed what might be considered the most "millennial" career path of the Kennedy descendants, carving out a niche as a lifestyle blogger and garnering hundreds of thousands of social media followers in the process. She released her first book, Rock What You've Got: Secrets to Loving Your Inner and Outer Beauty from Someone Who's Been There and Back, while still in college. In it, she disclosed a former struggle with body-image issues, and offered tips for others to help overcome them.
Joe Kennedy III
Relation: Son of Joseph P. Kennedy II and Sheila Rauch; grandson of Robert F. Kennedy and Ethel Kennedy
Joe, 36, continues to carry on his great-uncle's legacy of a life in public service. After he graduated from Stanford University in 2003, he joined the Peace Corps and then went on to get a degree from Harvard Law School. In 2013, he was elected U.S. Representative for the 4th Congressional District in Massachusetts.
Joe introduced Sen. Elizabeth Warren before her speech at the 2016 Democratic National Convention. Recently, he has gained national attention for his passionate speeches defending the Affordable Care Act and denouncing Republican efforts to repeal it.
Robert "Bobby" Kennedy III
Relation: Son of Robert F. Kennedy Jr. and Emily Ruth Black; grandson of Robert F. Kennedy and Ethel Kennedy
Bobby, 32, chose to forgo a career in politics in favor of the working in the entertainment industry. He wrote and starred in the 2013 film AmeriQua, which follows a lazy college student's misadventures through Italy after his parents cut him off. He also wrote, directed, and produced a documentary about performer Eric Lewis, titled ELEW: Live from Infinity. In December, Bobby landed funding to film a movie about Hunter S. Thompson in Colorado.
Conor Kennedy
Relation: Son of Robert Kennedy Jr. and Mary Richardson Kennedy; grandson of Robert F. Kennedy and Ethel Kennedy
While still a student at Deerfield Academy in 2012, this young Kennedy made headlines for his summer romance with a then-22-year-old Taylor Swift. More recently, Conor, 22, was arrested and charged with disorderly conduct following a December bar fight in Aspen, Colorado. The Harvard student pleaded guilty and was given a six-month deferred sentence. According to the Glenwood Springs Post Independent, Kennedy told officers he was fighting with a man who called his friend a homophobic slur. It wasn't his first run-in with the law, though. He and his father were both arrested in 2013 during a protest of the Keystone XL oil pipeline.
Michaela Kennedy Cuomo
Relation: Daughter of Kerry Kennedy and New York Governor Andrew Cuomo; granddaughter of Robert F. Kennedy and Ethel Kennedy
Michaela, 19, has political dynasties on both sides of her family. Her parents are Kerry Kennedy and New York Governor Andrew Cuomo, and her grandfathers were Robert F. Kennedy and former New York Governor Mario Cuomo. In 2015, she created T-shirts that raised awareness about sexual assault, which coincided with the governor's legislative push to expand "yes means yes" rules of consent to private college in New York. Proceeds from the shirts went toward the Robert F. Kennedy Center for Justice and Human Rights.