Politics
Elizabeth Warren reveals her favorite Dunkin' Donuts order
It's a classic.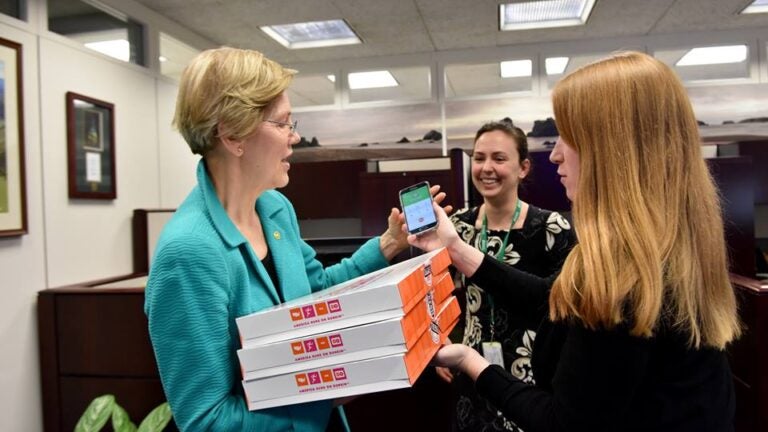 Sen. Elizabeth Warren may not originally be from Massachusetts — or New England even. But you wouldn't know it from her continued embrace of the region's favorite coffee chain.
In a tweet Sunday, Warren promoted her upcoming appearance on Pod Save America, a podcast hosted by a trio of former aides of President Barack Obama with Massachusetts connections. Tommy Vietor, one of the hosts, jokingly replied that he was "preparing tough questions" about Warren's favorite Dunkin Donuts order.
@elizabethforma @jonfavs @jonlovett @PodSaveAmerica Senator I am preparing tough questions about your favorite @DunkinDonuts order as we speak. And also stuff about the fate of our country.

— Tommy Vietor (@TVietor08) May 28, 2017
"And also stuff about the fate of our country," Vietor added.
Warren — who has repeatedly delivered the Canton-based chain's goods to fellow Democrats on Capitol Hill — said the first question was easy: "The pink Homer Simpson donuts."
That's an easy one! I like the pink Homer Simpson donuts. (The other stuff isn't so easy.) https://t.co/xaAHbQfWa1

— Elizabeth Warren (@elizabethforma) May 28, 2017
Her answer appears to refer to Dunkin' Donuts' strawberry frosted sprinkles donut (which was ranked eighth on Boston.com's 2015 ranking of the chain's 22 classic flavors).
The "other stuff," Warren said Sunday, referring to the Vietor's questions about the fate of the country, "isn't so easy."