Politics
In Massachusetts, it's not just Democrats urging Trump to stay in the Paris climate change agreement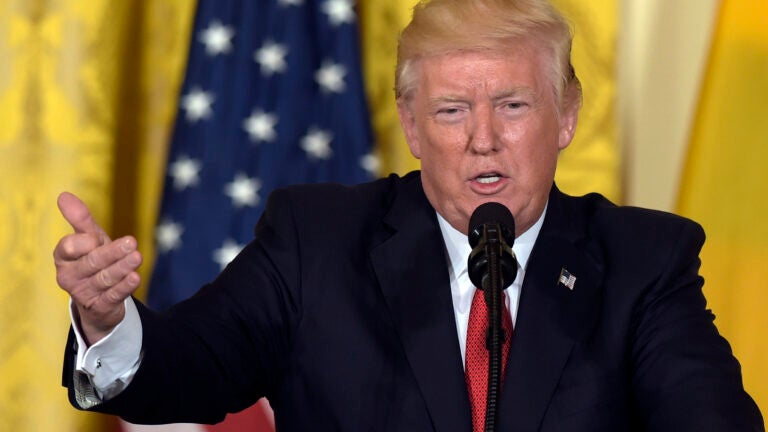 The most prominent elected officials in Massachusetts, regardless of party, are urging President Donald Trump to reconsider his widely reported decision to withdraw the United States from the Paris Agreement on climate change.
And it's not just the usual partisan rebuke.
To be sure, Sens. Elizabeth Warren and Ed Markey were uncompromising in their condemnation of the reported decision, which has not been announced. Other high-profile local Democrats — such as Boston Mayor Marty Walsh, Attorney General Maura Healey, and nearly the entire congressional delegation — also quickly decried the decision Wednesday.
"It is downright un-American for a President to abdicate United States leadership to the great challenges facing our planet," Markey said in a statement.
But it wasn't just Democrats who weren't mincing words.
Republican Gov. Charlie Baker, who recently signed a letter urging Trump to keep the country committed to the treaty, told The Boston Globe that he hoped the reports weren't true.
"I mean we made pretty clear in our communication with Vermont Governor Phil Scott a couple weeks ago that we think the world, and the United States, have made tremendous progress over the course of the past few years on this and we would like to see them continue to do so," Baker said. "And the United States, primarily because of our role as an economic power in the world, needs to be part of this movement."
Former Massachusetts Gov. Mitt Romney, whose 2012 presidential run complicated his public position on climate change, echoed his fellow Republican's sentiment about leading the international effort to address climate change.
Affirmation of the #ParisAgreement is not only about the climate: It is also about America remaining the global leader.

— Mitt Romney (@MittRomney) May 31, 2017
The Paris Agreement was signed in 2015 by 195 countries, agreeing to reduce greenhouse gas emissions, which experts say are the "most significant driver of observed climate change since the mid-20th, century." The United States is currently one of the 50 countries that has not ratified the Paris Agreement (due to firm Republican opposition in the Senate), but would join just two other nations that do not support the pact: Nicaragua and Syria.
Leaders in Europe and China also blasted Trump's potential action Wednesday, claiming that it would take years for the United States to formally withdraw from the accord.
On the local level, Bay State legislators have provided an example of a certain degree of bipartisan consensus on addressing climate change. In September, Baker signed a bill requiring state officials to develop a long-term adaption and mitigation plan.
In December, officials in Boston released a report showing how the trend of warmer temperatures and rising sea levels was projected to effect the city.