Politics
John Kerry made an O.J. Simpson analogy for Trump's decision to pull out of the Paris climate agreement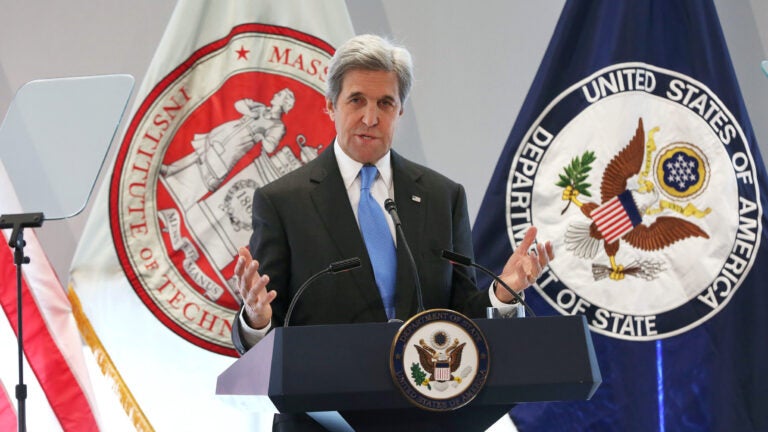 John Kerry unfurled an evocative analogy Sunday, speaking about President Donald Trump's decision to withdraw the United States from the Paris Agreement on climate change.
"When Donald Trump says to the world, 'Well, we're going to negotiate a better deal,' — I mean, you know, he's going to go out and find a better deal? That's like O.J. Simpson saying he's going to go out and find the real killer. Everybody knows he isn't going to do that, because he doesn't believe in it," the former secretary of state and Massachusetts senator, who helped negotiate the 2015 accord, told NBC's Meet the Press.
"If [Trump] did believe in it, he wouldn't have pulled out of Paris," Kerry added. "America has unilaterally ceded global leadership on this issue, which for years, even Republican presidents — George H.W. Bush — pushed in this direction."
John Kerry: When Trump says he'll negotiate better climate deal, it's "like OJ Simpson saying he's gonna go out & find the real killer" #MTP pic.twitter.com/hz5cV6qeC0

— Meet the Press (@MeetThePress) June 4, 2017
Trump's ambiguous views on human-caused global warming have been a point of questions since his decision to pull the country from the Paris Agreement. Kerry said he was not surprised by the suggestion that the Republican president's base supported the broadly contentious decision, which he attributed to personal economic insecurity.
"There's an anger and a frustration in a lot of parts of America by average folks who have felt like they're getting screwed by the government, and by life, over the last years," he said Sunday, while alluding to polls suggesting that most Americans wanted to stay in the Paris Agreement.
Kerry added that citizens had "every reason" to be prioritize their own economic situations given the trend of increasing economic inequality, but called the purported tradeoff between economic growth and addressing climate change a "phony economic argument that has no relationship to the reality of what's happening in the marketplace." According to Kerry, more money was spent in 2016 on researching and implementing renewable energy than on fossil fuels, because of the Paris Agreement.
Climate change was been a major policy focus throughout Kerry's public service career. Before leaving office, the former secretary of state devoted a final speech at MIT to the subject.
Kerry has been outspoken in his criticism of Trump's decision to leave the Paris agreement. In an interview last week with The Boston Globe, Kerry said the president's announcement Thursday "was a day of craven ignorance and cynicism that moved the presidency of the United States away from global leadership into a narrow little niche of ideological, political self-preservation."
"I think it will be recorded as one of the most self-destructive days in presidencies ever," he added.