Politics
Donald Trump responds to Elizabeth Warren's claim that 'people will die' due to Republican health care bill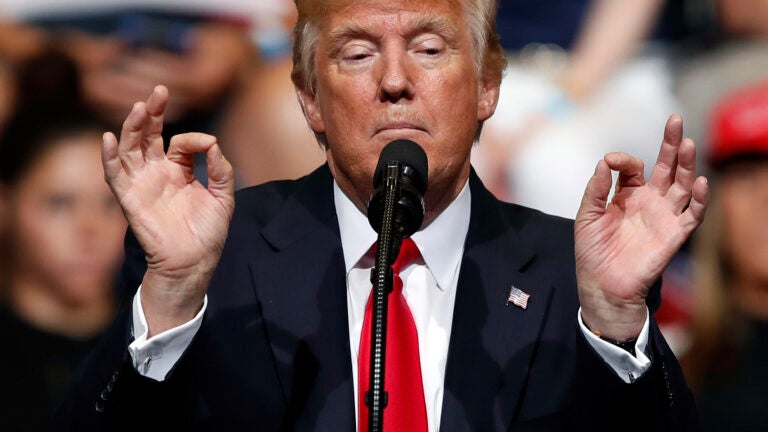 They're at it again.
In response to Sen. Elizabeth Warren's strongly worded criticism of the Senate Republican health care bill, President Donald Trump shot back at the Massachusetts senator in a Fox News interview Sunday.
Trump was asked about Warren's claim that "people will die" due to the recently unveiled bill. He responded with some familiar ad hominem attacks.
"Well, I actually think she's a hopeless case. I call her Pocahontas, and that's an insult to Pocahontas. I actually think that she is just somebody who has got a lot of hatred, a lot anger.

…

I don't think she has the kind of support that some people do. I think she hurt Hillary [Clinton]. I watched her campaigning for Hillary, and she was so angry. Hillary would be sitting back, listening to her, trying to smile, but there were a lot of people in that audience that were going 'Wow, is this what we want?' There's a lot of anger there and hostility."
Trump did not address or dispute Warren's criticism of the legislation, which would significantly cut Medicaid and roll back many aspects of the Affordable Care Act.
"I think she's a highly overrated voice," he added, including Warren (not for the first time) on the long list of other people and things he thinks are "overrated."
Earlier in the interview, Trump said he wished Congress could produce a bipartisan health care bill and criticized Democrats for not supporting the bill (even though Senate Republican likely do not need bipartisan support, given the procedural rules they hope to use to pass the bill).
"We won't get one Democrat vote — not one," Trump said. "And if it were the greatest bill proposed in mankind, we wouldn't get a vote."
A study released Thursday by Harvard researcher and the center-left policy think tank Center for American Progress estimated that the subsequent health care coverage losses from the Senate bill could result in 18,100 to 27,700 additional deaths in 2026.
In a speech Thursday, Warren characterized the bill's cuts to Medicaid as "blood money."
"People will die," she said. "Let's be very clear: Senate Republicans are paying for tax cuts for the wealthy with American lives."
Academic studies have repeatedly linked lack of health care coverage to increased mortality rates. A number of health care and hospital groups have come out against the current legislation in the Senate.