Politics
Possible effects of gerrymandering seen in uncontested races
Massachusetts is one of the states with a particularly high rate.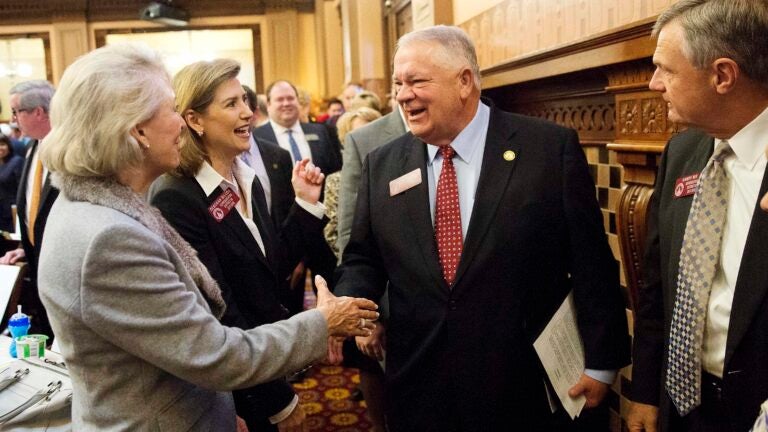 When voters cast ballots for state representatives last fall, millions of Americans essentially had no choice: In 42 percent of all such elections, candidates faced no major party opponents.
Political scientists say a major reason for the lack of choices is the way districts are drawn — gerrymandered, in some cases, to ensure as many comfortable seats as possible for the majority party by creating other districts overwhelmingly packed with voters for the minority party.
"With an increasing number of districts being drawn to deliberately favor one party over another — and with fewer voters indicating an interest in crossover voting — lots of potential candidates will look at those previous results and come to a conclusion that it's too difficult to mount an election campaign in a district where their party is the minority," said John McGlennon, a longtime professor of government and public policy at the College of William & Mary in Virginia who has tracked partisan competition in elections.
While the rate of uncontested races dipped slightly from 2014 to 2016, the percentage of people living in legislative districts without electoral choices has been generally rising over the past several decades.
About 4,700 state House and Assembly seats were up for election last year. Of those, 998 Democrats and 963 Republicans won without any opposition from the other major political party. In districts dominated by one party, election battles are fought mostly in the primaries; the winner from the majority party becomes a virtual shoo-in to win the general election.
Some states had a particularly high rate of uncompetitive races:
—In Georgia, just 31 of the 180 state House districts featured both Republican and Democratic candidates, a nation-high uncontested rate of 83 percent. Republicans hold almost two-thirds of the seats in the Georgia House of Representatives.
—In Massachusetts, just 34 of the 160 state House districts had candidates from both major parties, an uncontested rate of 79 percent. There, Democrats hold four-fifths of the House seats.
—About 75 percent of the state House races in Arkansas and South Carolina lacked either a Democratic or Republican candidate. Under an Arkansas law passed this year, the names of unopposed candidates won't even have to be listed on future ballots. Unchallenged candidates will automatically be declared the winners.
Voting for unopposed candidates "just seems like an extra step in the process that we could eliminate," said the sponsor of the Arkansas law, Rep. Charlotte Douglas, who hasn't faced any opposition the past two elections.
She added: "You hate to say that it doesn't count, because any vote counts, but it's unnecessary."
There are far fewer uncontested U.S. House races. Less than 15 percent of the 435 districts lacked a Republican or Democratic candidate last year.
But some of the same states were atop that noncompetitive list: Five of Massachusetts' nine U.S. House districts lacked Republican candidates. Three of Arkansas' four districts lacked Democratic opponents. And in Georgia, which has 14 U.S. House districts, four Republicans and one Democrat ran unopposed by the other major party.
There are reasons for unopposed elections aside from gerrymandering. Some states, particularly in the South, have political cultures that place less importance on partisan competition. Incumbency also poses a deterrent to potential challengers.
University of Georgia political science professor Charles Bullock said the large number of uncompetitive districts in his home state may be due less to gerrymandering than to naturally segregated demographics, with Democratic-inclined black residents living in different areas than Republican-leaning white voters.
Yet Georgia's Republican-led Legislature has continued to tinker with the district lines they drew after the 2010 Census in what some Democrats contend is an attempt to lessen competition.
A 2015 law, which was recently challenged in court , altered the boundaries of 17 Georgia House districts, including two narrowly won by Republicans the previous year.
This year, Georgia Republicans again sought to change the boundaries of several state House districts, including a couple won by Republicans by single-digit margins last November. Some of the proposed shifts sought to move heavily black precincts — where voters overwhelmingly support Democrats — from Republican-held districts into ones occupied by Democrats. Although the bill passed the House, it died in the Senate.
Republican House Speaker David Ralston has said lawmakers were merely "trying to put communities of interest together." Democratic House Whip Carolyn Hugley criticized it as gerrymandering intended to create safer Republican seats.
"Every time our candidates get close to winning in these areas, then they come in to readjust them. It's the same as moving the goal post further and further back," Hugley said.
Several Democratic Georgia lawmakers teamed up with Republican state Sen. Josh McKoon this year to propose a constitutional amendment creating a bipartisan citizens' redistricting commission. But the measure never made it beyond a House or Senate committee.
McKoon said Georgia's current redistricting process "is horribly broken" and believes a commission could draw more logical boundaries.
"When you're drawing the districts with an eye to representing communities of interest rather than partisan strength, you're going to have more competitive districts," he said.
___
Follow David A. Lieb at: http://twitter.com/DavidALieb