Politics
Ed Markey demands apology from Kellyanne Conway for comment on addiction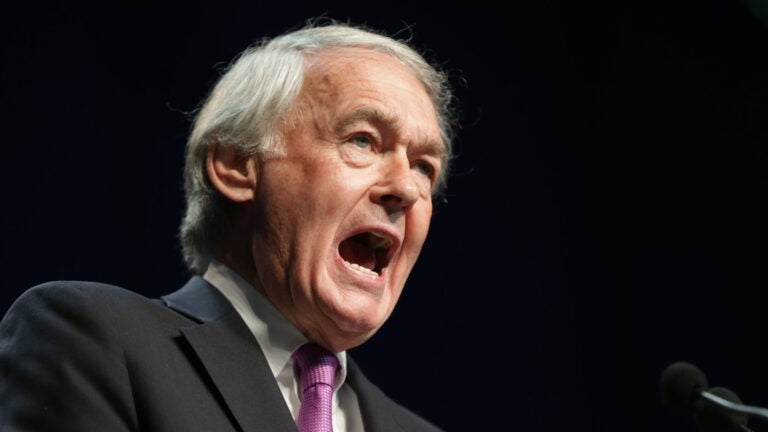 WASHINGTON — Senator Ed Markey issued a fiery statement Monday demanding an apology from White House adviser Kellyanne Conway, after she stated that people suffering from drug addiction need "a four-letter word called 'will' '' in an interview about health care's role in stemming the ongoing opioid crisis.
Markey, in a statement, said Conway's words are a "death sentence'' for those suffering from opioid addiction. He said Conway also fails to recognize the consensus of the medical community, which often refers to opioid addiction as a disease — not a personality flaw.
The White House has not responded to a request to comment. Conway has not answered Markey's demands or responded to other people who have critiqued her comments.
"Kellyanne Conway should be ashamed of herself for suggesting that those suffering from substance-use disorders should simply have more 'will,' '' Markey said. "Ms. Conway owes an apology to the entire addiction and treatment community for her outrageous and disrespectful remarks. She should also urge President Trump to honor his pledge during his address to Congress earlier this year to 'expand treatment for those who have become so badly addicted.' ''
Conway's statement came in a Sunday interview on ABC News' "This Week with George Stephanopoulos.'' When Stephanopoulos asked her how the proposed cuts to Medicaid in the Senate GOP health care proposal would affect those suffering from addiction, and why the White House has rejected calls to increase funding for opioid treatment, Conway made the off-hand comment.
"It takes money and it also takes a four-letter word called 'will,' '' Conway said.
Almost immediately, social media users rebuked her statements through a series of tweets.
"#Trumpcare underfunds addiction services by approx $188 BILLION over the next decade. Kellyanne Conway says willpower will fill the gap,'' said one Twitter user.
"She's just blaming the victims of addiction, she knows NOTHING about this disease & as usual is trying to present lies as truths,'' read another tweet.
In issuing the public statement, Markey, a Democrat, raise the temperature during a particularly contentious week for the White House, especially as it relates to drug treatment. The Senate GOP health care proposal has $2 billion earmarked for drug treatment, which is far less than the $45 billion that some, including Republicans, had requested.
Republican Senators such as Rob Portman of Ohio and Shelley Moore Capito of West Virginia are now undecided on the health care legislation and have cited the opioid crisis as a key sticking point for their vote.
"Addiction is a disease, and we would no sooner ask an Alzheimer's patient, or a cancer patient or a diabetes sufferer to use 'will' as a treatment for those conditions,'' Markey said in his letter. "Nearly 21 million people in our country suffer from a substance-use disorder, but only 10 percent receive treatment for their disease. And for every dollar that we invest in treatment options for substance use disorders, we save $4 in health care costs and $7 in criminal justice costs.''
Nearly 2,000 people died from opioid overdoses in Massachusetts in 2016. On the campaign trail, Trump repeatedly commented on how moved he was by the stories of families suffering from drug addictions, particularly in New England. However, the administration has faced criticism for taking a throwback, law-and-order approach to the problem once Trump entered the White House.
Addiction counselors say the White House has done little, outside of set up a commission on the issue. At the same time, opioid-related deaths in Massachusetts are expected to increase.