Politics
Ranked choice voting stays alive in Maine—for now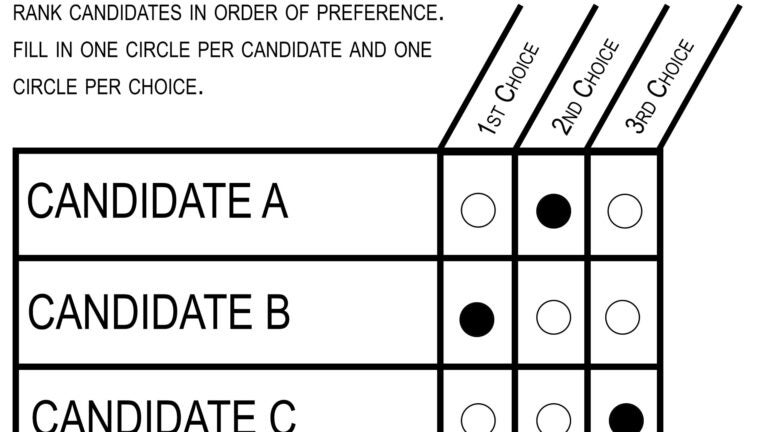 AUGUSTA, Maine (AP) — Ranked choice voting is unconstitutional, according to Maine's Supreme Court, yet it's still the law of the land.
Lawmakers were recently unable to agree on modifying or killing the voter-approved law, meaning it stays on the books.
It's the option that several Democratic and Republican lawmakers and officials said no one wants, creating a blueprint for a possible lawsuit against the state.
Ranked choice voting is when voters rank the candidates in order of preference instead of voting for a single candidate. Maine is the only state in the nation with such a system.
"It's taking a rocket to the moon without a rocket," said Democratic Secretary of State Matt Dunlap, noting the state estimated it would need $1.7 million over two years for additional ballot pages, software, state police fuel and updated ballot machines. "Next year, maybe they'll give us a rocket."
In November, 52 percent of Maine voters approved the new system supporters say ensures a candidate wins a majority of votes.
In response to a request by lawmakers, the Maine Supreme Court issued an opinion in May saying the voter-approved law is unconstitutional for general elections for governor and state lawmakers.
Last month, lawmakers' efforts to get rid of ranked choice voting died.
The Legislature is talking about tackling the thorny issue again in January, with Republicans pushing for repeal.
Supporters are cheering the law's survival and Kyle Bailey, who was campaign manager for the Committee for Ranked Choice Voting, claimed that concerns about cost and implementation are overblown. Bailey said that if lawmakers repeal the law next year, his group will pursue a citizens' referendum to restore it.
That, he said, could force ranked-choice voting to be used in primary and federal elections next year.
"Whether it's the secretary of state or some politicians in Augusta, they need to get on board with what the people want," Bailey said.
Some opponents of Republican Gov. Paul LePage have blamed his election and re-election on the impact of three-way races, and say allowing residents to rank their ballot choices could reduce such a spoiler effect.
Republicans say LePage was re-elected by a historic number of Mainers, and that Bailey's campaign was funded by out-of-state special interests.
"This is just another way for sore losers to try and overturn election results they don't like," LePage said last year.
Lawmakers have the option of repealing the law altogether, trying again for a constitutional amendment or keeping ranked choice voting for federal races and primary elections. While some lawmakers — like Republican Senate President Mike Thibodeau and former Secretary of State Democratic Sen. Bill Diamond — say that having two systems in place would create chaos, supporters say that worries of a dual voting system are critics' latest scare tactic.
Lisa Goodwin, president of the Maine Town and City Clerks' Association, said that municipal clerks will wait to follow the direction of lawmakers and the Secretary of State's office.
"Whatever they decide, it'll be our job to administer it," Goodwin said, adding that she thinks the state will bear the brunt of implementation costs. Dunlap said his office will begin preparing for the roll-out of the new system without the additional funds he says are needed.
Goodwin said her association hasn't discussed in depth the possibility of having two separate voting mechanisms, but said such an outcome could be "confusing."
Whatever happens, next June's election is less than a year away and voters will need a clear picture of what's to come.
Goodwin said that clerks across the state will need training, and that "rushing" to implement the law next year could mean "the margin of error will be greater."
"It's a big curve," she said.