Politics
Susan Collins went to a Cyndi Lauper concert this weekend. Then she was invited onstage.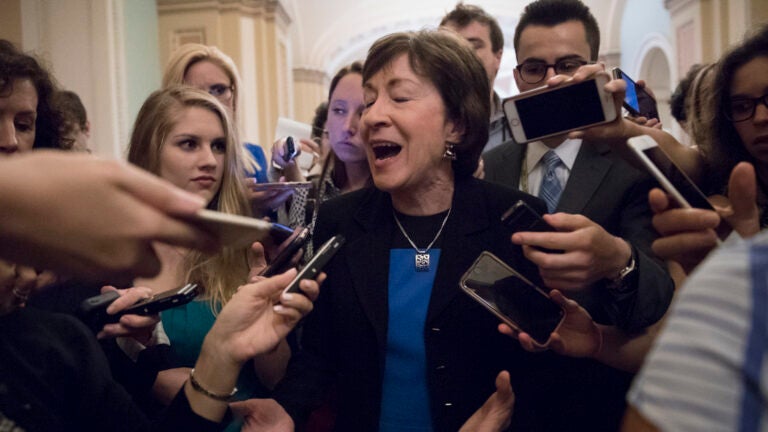 If you assumed Sen. Susan Collins was not a fan '80s pop rock, well, you would be mistaken. At least when it comes to one artist in particular.
Collins attended a Cyndi Lauper-Rod Stewart concert Friday night in Bangor, where Lauper invited the 64-year-old Maine Republican onstage.
"Come," Lauper beckoned Collins. "This woman is a hero. And she's my hero. And she's a Republican."
What a thrill having @cyndilauper in Bangor! I will back you up anytime — on stage or off. #truecolorsfund pic.twitter.com/jLOsxtqkR3

— Sen. Susan Collins (@SenatorCollins) July 15, 2017
Lauper, a longtime LGBT rights activist, went on to to specifically thank Collins for her support for the singer's efforts to address youth homelessness, which disproportionately affects LGBT individuals. Congress subsequently passed a 2016 spending bill designating $52.5 million in new funding for work on the issue.
In a tweet Friday night sharing video of her onstage appearance, Collins referenced Lauper's nonprofit initiative, the True Colors Fund.
"She helped us so much with the LGBT homeless youth, and all the homeless kids," Lauper told the crowd.
"We're just glad you're here Cyndi," Collins said onstage.
What a great night Bangor, Maine with @rodstewart & @SenatorCollins.Rod is a "Sir" now. pic.twitter.com/CPbsOMKgsQ

— Cyndi Lauper (@cyndilauper) July 15, 2017
In an interview Saturday with WSCH-TV, Collins said she was "deeply" touched that Lauper said the senator was her "hero," and went on to talk about her opposition to the most recent iteration of the Republican-backed health care bill in the Senate.
"What a devastating blow it would be to our rural hospitals and our nursing homes if Medicaid is cut to the point where they simply can't hang on," said Collins, who has become a central figure in Washington as one of the few Republican senators to publicly oppose the bill.
For what it's worth, Lauper has also opposed the Republican health care bill and frequently retweets Democratic lawmakers and groups speaking out against it, including Sen. Elizabeth Warren.
In an interview Sunday on ABC's This Week, Collins was asked about Vice President Mike Pence's claim that the bill "provides for the most vulnerable, improves Medicaid, and will lead to better outcome."
"I would respectfully disagree with the Vice President," she said.
https://www.youtube.com/watch?v=bHihkOwTPxA