Politics
Charlie Baker signs $40B budget without health fee, vetoes $320M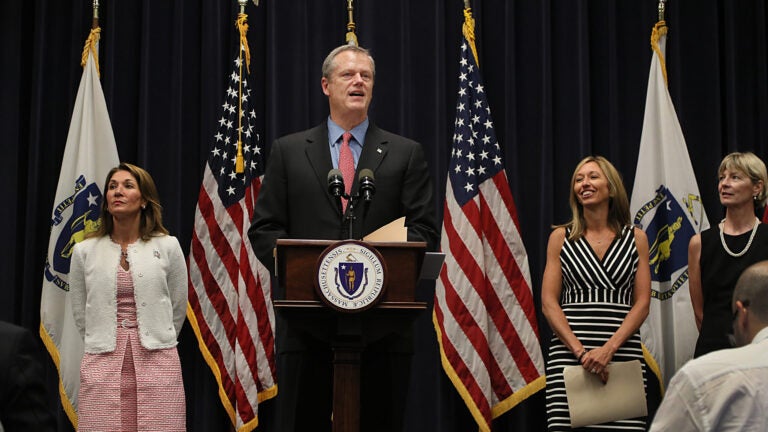 BOSTON (AP) — Republican Gov. Charlie Baker vetoed $320 million from the state budget on Monday and asked lawmakers to revisit a package of cost-saving reforms he proposed to the state's Medicaid program.
More than two weeks into the state's new fiscal year, Baker signed into law the remainder of the roughly $40 billion spending package. Massachusetts was one of the last U.S. states to have a budget in place and had been operating under a stopgap plan since July 1.
Budget negotiations had been clouded by a tax revenue shortfall that forced state officials to reduce spending in the just completed fiscal year and reevaluate how much it could afford to spend over the next 12 months.
The budget approved by the Legislature this month projected a $650 million reduction in tax collections from earlier estimates. Baker on Monday said he was further lowering those estimates by nearly $100 million.
The governor took the unusual step of including in his bottom line $200 million from a new temporary assessment on Massachusetts employers to help offset rising costs for MassHealth, the state's Medicaid program, without agreeing to language in the budget that would allow the assessment to go forward.
Baker had sought to couple the employer fee with other changes in Medicaid eligibility, including restrictions on the ability of workers to go on MassHealth if their own employers offer health insurance coverage and a five-year moratorium on new insurance mandates.
The governor on Monday asked lawmakers to hold a public hearing on those proposals within 30 days and approve them within 60 days.
Secretary of Administration and Finance Kristen LePore said passage of this package ''is essential to the budget being in balance.'' Failure to do so, she added, would necessitate ''corrections'' in the budget, a likely reference to further spending cuts.
While Democratic legislative leaders have said they're open to many of Baker's Medicaid proposals, they previously called for more study.
Lawmakers, meanwhile, could vote to override some or all of the $320 million vetoed from the budget.
''The administration has not shared with us any information that justifies cutting further,'' said Sen. Karen Spilka, chair of the budget-writing Senate Ways and Means Committee, in a statement.
Gus Bickford, chair of the Massachusetts Democratic Party, faulted Baker for ''refusing to approve a bipartisan employer assessment to help pay for MassHealth unless he gets his way.''
But the governor's approach was supported by major business groups including the Massachusetts High Technology Council, which had agreed to the assessment only on the condition that the other Medicaid changes were included.
Despite the state's tenuous finances, Baker pointed to additional spending in several areas of state government and praised lawmakers for not raising taxes.
''Despite slow revenue growth, this year's budget contains historic investments for local schools, critical funding for our cities and towns, workforce development and programs to fight the opioid epidemic,'' Baker said in a statement.
The budget also funds a new state police division focused on homeland security, counter-terrorism and drug trafficking.