Politics
Charlie Baker signs bill to establish 'Ice Bucket Challenge Week'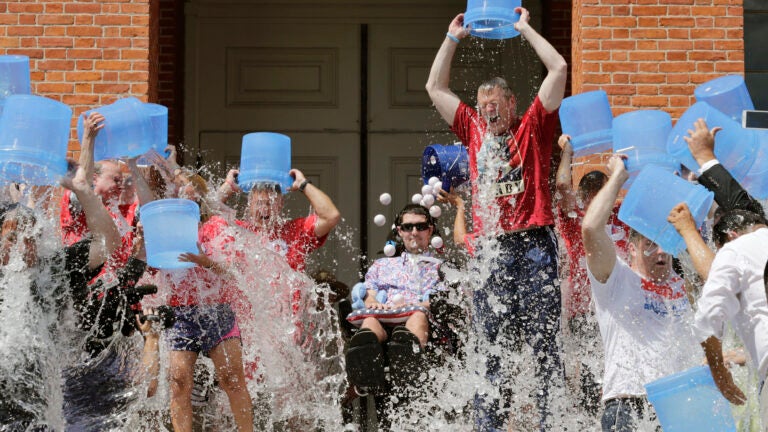 Massachusetts will now mark the beginning of each August with a splash of cold relief from the heat — and for a cause.
Gov. Charlie Baker signed a bill Tuesday afternoon proclaiming the first week of the month every year "Ice Bucket Challenge Week" in honor of the viral movement started by former Boston College baseball player Pete Frates to raise awareness for ALS.
Frates was diagnosed with the debilitating disease in 2012. In 2014, he helped found the Ice Bucket Challenge. By that August, celebrities from Bill Belichick to Ethel Kennedy to Donald Trump had water dumped on their head in the name of finding a cure for ALS.
"Pete Frates took a horrible, personal tragedy and turned it into something positive and inspiring for millions of people around the world with the Ice Bucket Challenge," Baker, who took the challenge in 2015, said Tuesday.
The proclamation signed by Baker urges all Massachusetts citizens to recognize the inaugural Ice Bucket Challenge Week and "participate fittingly in its observance."
Just signed the "Ice Bucket Challenge" bill honoring @PeteFrates3 and his family for their incredible work on ALS. #icebucketchallenge pic.twitter.com/rJPb8wMZdV

— Charlie Baker (@CharlieBakerMA) August 1, 2017
As STAT reported earlier this month, the challenge has raised more than $115 million for the ALS Association, and "millions more" for other ALS charities. Two-thirds of the money raised went to research and contributed to the discovery of a new gene tied to the disease.
Rep. Jerry Parisella, a Beverly Democrat who sponsored the bill in State House, said in a statement Tuesday he was honored to recognize "the incredible work that Pete and the Frates families have done."
"Lives will forever be positively affected because of their efforts," he said.
https://www.youtube.com/watch?time_continue=43&v=J2eMhSZgXUc