Politics
Elizabeth Warren has had enough of your 2020 speculation
"I know it seems like seven years, but it's been seven months."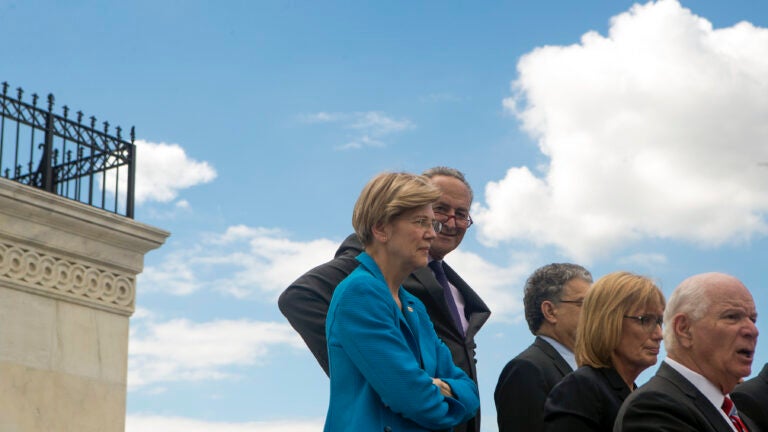 Deval Patrick already has a number of high-level political figures encouraging him to run for president in 2020. And Sen. Elizabeth Warren, who herself has been unable to escape the early 2020 speculation, seems to be supportive of the idea.
"Look, Deval Patrick is a man with a good heart and he has terrific ideas, and if this is something he wants to do, he should do it," Warren said of the former Massachusetts governor in an interview aired Monday night on WGBH's Greater Boston.
However, Warren had a larger point to make.
Turning to the senator's own political future, Greater Boston host Jim Braude didn't even ask the question.
"No," Warren responded, without missing a beat.
But when Braude then tried to get her to at least elaborate on her thinking, Warren shut down the subject.
"I'm serious. Donald Trump has been president for seven months. I mean, I know it seems like seven years, but it's been seven months," she said, rattling off recent and ongoing policy battles being waged over health care, immigration, the budget, and education.
Warren said Trump and the Republican majorities in the House and Senate were "fundamentally changing our government" and chastised the political sphere's tendency to ceaselessly focus on the electoral means over the ends.
"We can't be a party and we can't be a nation that says, 'Horse race to horse race, let's just see what happens every four years and let's get all excited about speculating who's going to be in the race in four years,'" she said.
Warren acknowledged that she is seeking a second term in the Senate, where she said she's been kept busy enough.
"I get up everyday worried about the fights in front of us right now," she said.