Politics
Chicago is taking Jeff Sessions to court. Will Boston follow suit?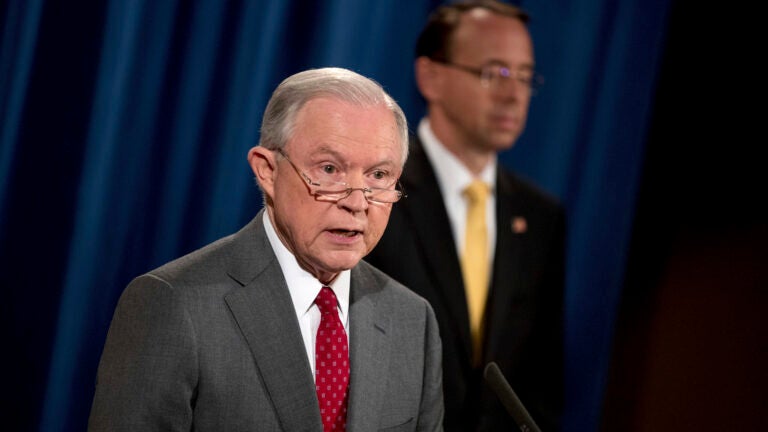 Earlier this week, Chicago made national headlines when it announced it was suing Attorney General Jeff Sessions over the Department of Justice's threat to pull some federal funding from so-called sanctuary cities.
According to the lawsuit, Sessions could not set new conditions on previously approved federal grants, which the attorney general has threatened to withhold from sanctuary cities, a loose term for jurisdictions that limit local law enforcement's cooperation with federal efforts to deport undocumented immigrants.
"[The new rules] fly in the face of long-standing City policy that promotes cooperation between local law enforcement and immigrant communities, ensures access to essential city services for all residents, and makes all Chicagoans safer," reads the 46-page lawsuit, arguing that neither federal law nor the Constitution allows Sessions to force the city to abandon the policy.
While perhaps the most prominent, Chicago is among hundreds of sanctuary cities in the country. One question their lawsuit posed: Will others, like Boston, follow?
Nicolle Cavarella, a spokeswoman for Boston Mayor Marty Walsh, says at this point the city is still evaluating the Trump administration's actions and how they would affect the city. She also reiterated a point Walsh has emphatically made.
"We are a city that values and respects immigrants, and Boston will keep standing by its immigrant community," Cavarella said.
Phil Torrey, an immigration lawyer and Harvard Law School lecturer, says its likely other cities will follow suit with Chicago and bring similar lawsuits if the Justice Department doesn't change its tactics.
"Chicago has advanced a strong claim that the DOJ's new restrictions were not contemplated by Congress when it appropriated [Justice Assistance Grant] funds and the DOJ is acting outside of its authority when placing new conditions on those funds that target sanctuary jurisdictions," Torrey told Boston.com.
Boston's 2014 Trust Act bars police from honoring federal "detainer" requests without a criminal warrant. In response to Sessions's threats earlier this year, the city argued it violated no federal laws. That said, Chicago's policies go further.
"Notably, the Chicago policy prohibits city officials, including law enforcement personnel, from collecting information on an individual's citizenship or immigration status, unless required by law," Torrey said.
According to Torrey, neither Chicago nor Boston's policies violate federal law. Sessions disagrees.
"To a degree perhaps unsurpassed by any other jurisdiction, the political leadership of Chicago has chosen deliberately and intentionally to adopt a policy that obstructs this country's lawful immigration system," the attorney general said in a statement Monday.
Sessions has cited a federal statue against local laws restricting officials from sharing information related to an individual's immigration status with federal authorities. Sanctuary cities, such as Boston, however, have responded by noting that their laws place no such restrictions on communicating with federal agencies.
Other sanctuary critics point to a different law against concealing, harboring, or shielding undocumented immigrants as a point where sanctuary cities are crossing the federal government.
But Torrey says neither Boston nor Chicago's policies violate that law either. According to Torrey, the law is used to target smugglers and human traffickers. Additionally, not all people subject to detainer requests are without legal status and assuming such would invite racial profiling, he said.
Proponents of sanctuary cities say the policies improve relationships between police and local minority groups and point to FBI data indicating lower crime rates in such cities.
"At the heart of this issue is a locality's right to self-determine its own public safety policies," Torrey said.