Politics
Joe Kennedy says he'd consider running in the future 'if a Senate seat were to open'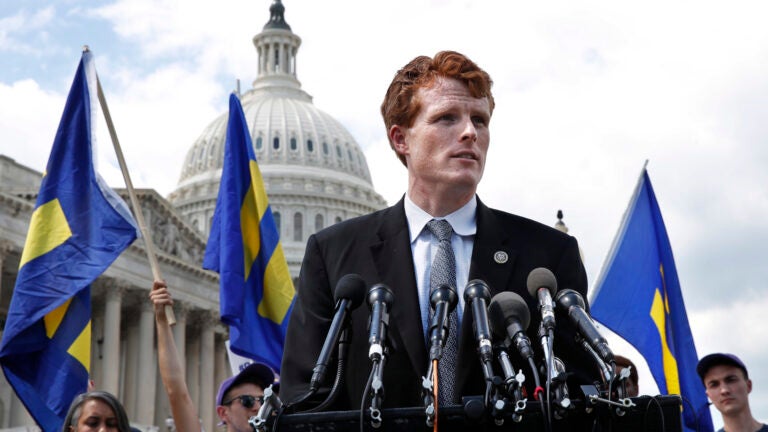 To his credit, Rep. Joe Kennedy III is among a small group of politicians — in an era of ambiguous, noncommittal answers — actually willing to admit that, just maybe, he would consider running for higher office in the future.
But no, not president. At least not yet.
"Somewhere down the road, if a Senate seat were to open, yeah it's something I'd certainly take a look at," Kennedy told Politico in a profile piece published Sunday.
"But that's got to be right in time for me and my family," the Newton Democrat added. Kennedy has maintained in the past that he is currently too focused on the issues before Congress, as well as his own (growing) family, to consider higher office.
Still, his answer may raise an eyebrow from Massachusetts's current senators, Elizabeth Warren and Ed Markey. Warren, who was actually once Kennedy's law school professor, is running for re-election in 2018, amid constant questions about her own respective future ambitions. Markey's current term ends in 2020.
In the wake of President Donald Trump's election, Kennedy has seen his celebrity rise to heights that perhaps seem in line with his prestigious family name, in part due to the traction the 36-year-old's impassioned speeches have gained on social media.
But while many Democrats are already clamoring to challenge Trump in 2020, Kennedy has otherwise kept a cautious, low profile — to the "quiet frustration" of some Democrats, according to Politico. Since Trump's inauguration, Kennedy has picked his spots, speaking out primarily on issues like health care and transgender equality.
Others, however, see his focus on the present in another light.
"I think Joe is playing the long game and good for him," Mary Anne Marsh, a longtime Boston-based political consultant, told Politico.