Politics
In Times op-ed, New Hampshire senator says Russian firm with offices in Woburn is a national security threat
Sen. Jeanne Shaheen is pushing legislation to ban the federal government from using Kaspersky Lab software. But the cybersecurity firm says its been unfairly "caught in the middle of a geopolitical fight."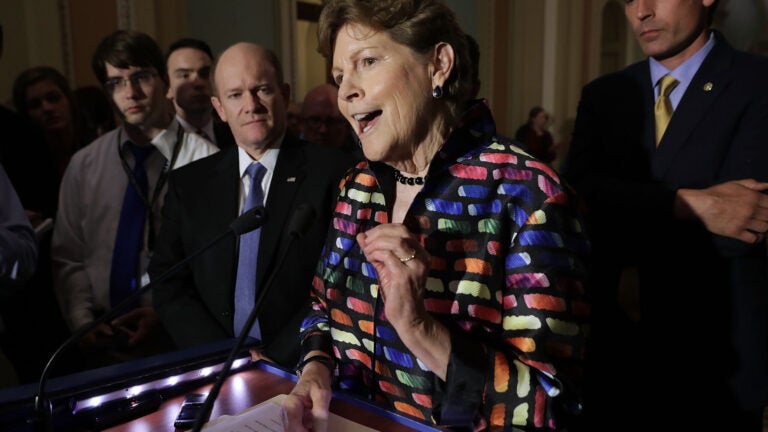 Sen. Jeanne Shaheen wants to completely wall off the U.S. government from the "threat to our national security" posed by a Russian cybersecurity firm — whose North American headquarters are in Woburn and which once sponsored a Patriots postgame radio show — over the company's reported links to the Kremlin.
In a New York Times op-ed Monday, the New Hampshire Democrat said she was advancing "bipartisan legislation" to ban the federal government from using Kaspersky Lab's antivirus software. Citing undisclosed classified material and media reports of "persuasive public evidence" of the company's links to the Russian government, Shaheen argued the Department of Defense's prohibition on Kaspersky software should be broadened to all agencies.
Americans were outraged by Russia's interference in our presidential election, but a wider threat is Russia's doctrine of hybrid warfare, which includes cybersabotage of critical American infrastructure from nuclear plants to electrical grids. Kaspersky Lab, with an active presence in millions of computer systems in the United States, is capable of playing a powerful role in such an assault.
In May, six top U.S. intelligence officials said they would not be comfortable using Kapersky software, which Shaheen says gives clients "an all-access pass to every corner of a user's computer network," in addition to cycling potentially sensitive data through the company's servers in Russia.
In a statement Tuesday, Kaspersky Lab denied having any "inappropriate" or "unethical" ties to "any government, including Russia," and said "no credible evidence has been presented publicly by anyone or any organization to back the false allegations made against the company."
"The only conclusion seems to be that Kaspersky Lab, a private company, is caught in the middle of a geopolitical fight, and it's being treated unfairly even though the company has never helped, nor will help, any government in the world with its cyberespionage or offensive cyber efforts," said the company.
Additionally, Kaspersky Lab said 85 percent of its revenue comes from outside Russia, which would make any inappropriate ties to its home country's government "detrimental to the company's bottom line."
Eugene Kaspersky, the firm's founder, has an educational and professional background in Soviet intelligence. In addition to some reports suggesting past communication between individuals at the company and Russian intelligence officials, Shaheen wrote that the business climate in Russia inherently forces companies to cooperate with the Kremlin.
"These guys' families, their well-being, everything they have is in Russia," Steve Hall, a former Moscow-based CIA agent told McClatchy in July, later adding, "There's no doubt in my mind [Kaspersky Lab] could be, if it's not already, under the control of Putin."
However, other cybersecurity experts argue it is not that simple.
In an opinion piece Monday for Wired, foreign policy think tank fellow Philip Chertoff wrote there is "no demonstrable evidence" Kaspersky has been influenced or "cajoled" by Russia authorities into providing access to clients' data. According to Chertoff, the nature of the company's links to the Kremlin had more to do with the "intelligence-industrial complex."
…it is not unreasonable to think that Kaspersky Lab may have ties with Russian intelligence. The company employs former intelligence officers, and Russia's relationship-based business climate means that it's unlikely Kaspersky Lab could have succeeded without relationships with senior government officials.

However, it's a charge that could be levied at many technology companies, especially cybersecurity firms. As the digital economy has grown, international intelligence agencies and technology firms have formed a sort of intelligence-industrial complex. After exiting US intelligence services, many former officers and cryptographers transition to jobs with big tech firms, hired for those skills they learned in the service or specifically for their strong personal relationships with government officials.
Chertoff says a similar dynamic exists in France and Israel.
Kaspersky says its founder has "repeatedly offered" to meet with U.S. officials, testify before Congress, or have the firm subjected to an audit to clear their name, but thus far "has only received a general reply from one agency."
The Boston Herald reported in June that FBI agents had approached some Kaspersky employees. As recently as 2012, the firm was the name sponsor of a New England Patriots postgame show on 98.5 The Sports Hub.