Politics
Democrats hope to use charter school campaign against Baker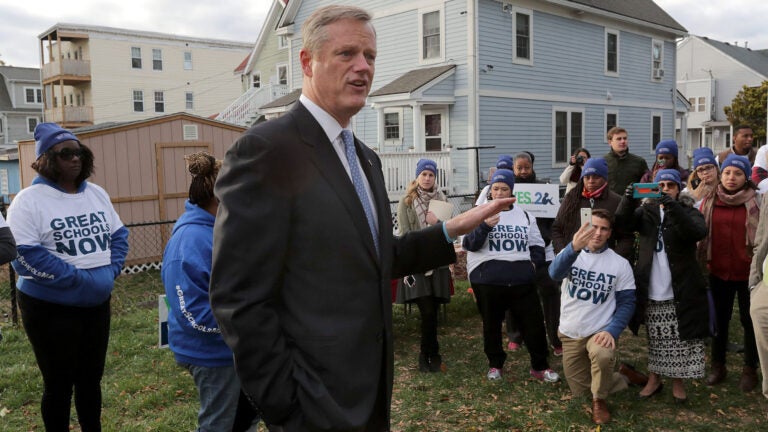 BOSTON (AP) — Democrats looking for a political toehold in their campaign to unseat Republican Gov. Charlie Baker in next year's election have seized on the revelation that Baker's education chairman made a previously unacknowledged donation totaling nearly $500,000 to a group supporting last year's charter school ballot question.
The donation was only disclosed after an investigation by the state Office of Campaign and Political Finance forced the New York-based group — Families for Excellent Schools-Advocacy — to release the names of its donors and pay a record $425,000 as part of a campaign finance settlement.
The donation, while not illegal, shows just how committed Paul Sagan was to the ballot question, which would have raised the state cap on charter schools.
Baker was all-in on the question and appeared in television commercials supporting the initiative. When an earlier donation of $100,000 by Sagan was revealed last year, Baker quickly dubbed criticism aimed at Sagan "a nothing-burger."
Questioned by reporters this week, Baker said there was nothing wrong with the donations. He said it should be no surprise that he and Sagan — and Secretary of Technology Services and Security Mark Nunnelly who gave $275,000 to Families for Excellent Schools-Advocacy — backed the question.
"Sagan, Nunnelly and I were all on the record as supporters of charter schools," Baker said.
Asked if Sagan told him last year about the $500,000 donation on top of the $100,000 donation, Baker said he could not recall "off the top of my head."
Investigators said the group raised more than $15 million from wealthy individuals and then contributed it to the Great Schools Massachusetts Ballot Question Committee in a manner intended to disguise the true source of the money. The money represented 70 percent of the $21.7 million reported received by the charter school committee.
The civil forfeiture by Families for Excellent Schools-Advocacy is the largest in the 44-year history of the Office of Campaign and Political Finance.
Democrats were quick to pounce on Baker, who remains one of the most popular governors in the country and has yet to formally declare his candidacy.
Newton Mayor Setti Warren, a Democratic candidate for governor, fired off an email to supporters arguing that it's "hard to imagine Charlie Baker didn't know about their illegal scheme."
"Charlie Baker uses the same fiscal tricks and sleights of hand that he builds his budgets on to get around the rules the rest of us have to play by," said Warren.
Jay Gonzalez, another Democratic candidate for governor, also ripped Baker.
"The fact that an out-of-state shell organization was used to funnel huge, undisclosed donations from wealthy supporters of Governor Baker to fund his charter school agenda raises a number of questions and concerns," Gonzalez said in a statement. "Governor Baker needs to come clean."
The Massachusetts Democratic Party went further, with Chairman Gus Bickford penning a letter to Sagan saying he should reveal any additional information about any other donations and all communications he had with Families for Excellent Schools-Advocacy or resign.
"It is incredibly disturbing that you secretly spent nearly $500,000 attempting to greatly increase the number of charter schools under your authority, while going to great lengths to hide the full extent of your contributions from the public," Bickford wrote.
Sagan has pushed back, describing himself as "a dedicated supporter of all of our public schools."
"I made a personal contribution to Families for Excellent Schools Advocacy last year in good faith. I will continue to focus on improving all the Commonwealth's schools as the chairman of the Board of Elementary and Secondary Education, to maintain our position as the national leader in public education," he said in a statement.
Nunnelly also issued a statement saying he and his wife "have been dedicated supporters of Massachusetts public schools and all they do to maintain our position as the national leader in public education."