Politics
How the decision to offer—and then revoke—Chelsea Manning's fellowship blew up on Harvard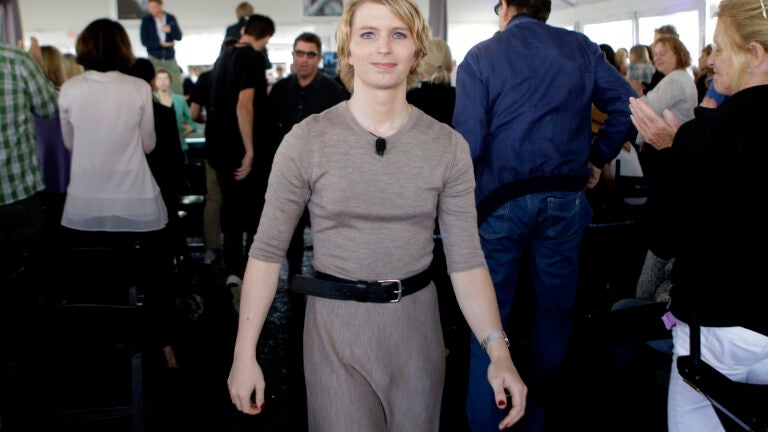 From the beginning, the move by the Harvard Kennedy School's Institute of Politics to name Chelsea Manning a visiting fellow was not without backlash. In the end, the school came to a decision that ensured it got it from both sides.
Manning, whose 35-year prison sentence for leaking military documents was commuted in January by President Barack Obama, was invited to speak at Harvard as part of an eclectic class of 2017-18 fellows, which also included former White House spokesman Sean Spicer and former Donald Trump campaign manager Corey Lewandowski.
At the time, the school said events featuring Manning would engage students in "issues of LGBTQ identity in the military" and did not mention the leaks for which the former Army soldier served seven years in prison. Manning's 2010 disclosures revealed "hundreds" of uninvestigated reports of torture, abuse, and even murder in Iraq, as well as an infamous 2007 helicopter attack that killed 12 people, including two journalists.
Nevertheless, Manning's acts have made her a "traitor" to some critics.
"I'm loyal to Harvard, but I think I'll [forgo] IOP events this fall," conservative pundit Bill Kristol tweeted in reaction to the September 13 announcement of Manning's fellowship, adding that his opinion would be the same if she went by her old name.
Manning was quick to unapologetically shoot back at Kristol's subtweet:
awesome ! can you ask @seanspicer to do the same ? ??? #WeGotThis https://t.co/TV7OScWqOG

— Chelsea E. Manning (@xychelsea) September 13, 2017
However, it wasn't long before the debate over Manning's fellowship had escalated far past squabbling on social media.
Backlash
The following day, former CIA Deputy Director Michael Morell resigned as a non-resident senior fellow at the Kennedy School over Manning's fellowship.
Why? Morell said he could not be part of an organization that "honors a convicted felon and leaker of classified information."
"The Kennedy School's decision will assist Ms. Manning in her long-standing effort to legitimize the criminal path that she took to prominence, an attempt that may encourage others to leak classified information as well," the former CIA official wrote in a letter to Kennedy School Dean Doug Elmendorf.
Morell added that he supported Manning's right to speak in public and the IOP's right to invite whomever they thought would best educate their students, but added that it was his "right" and "duty" to protest a decision he found "wholly inappropriate."
The acts of protest continued later that Thursday when the current head of the CIA canceled a planned speech at the Kennedy School.
CIA Director Withdraws from Harvard Kennedy School Forum pic.twitter.com/N7YKyGy9H4

— CIA (@CIA) September 15, 2017
"This has nothing to do with Ms. Manning's identity as a transgender person," wrote CIA Director Mike Pompeo, a Harvard Law School alum. "It has everything to do with her identity as a traitor to the United States of America and my loyalty to the officers of the CIA."
Pompeo added, "Harvard's actions implicitly tell its students that you too can be a fellow at Harvard and a felon under United States law."
The back-to-back resignations prompted some snickering comments on social media about "safe spaces," a term usually reserved for liberal college students, rather than CIA officials. However, whatever behind-the-scenes pressure notwithstanding, they appeared to produce their intended result.
Fellowship revoked
In a late-night statement, Elmendorf announced that the Kennedy School was reversing its decision. Manning was still invited to speak and spend a day on campus, as originally invited, but the college was revoking her fellowship.
Elmendorf explained that while the title of fellow is not intended to endorse or honor any actions of the person receiving in, many people perceived otherwise. Because of this perception, the college dean said his original decision was a "mistake."
I see more clearly now that many people view a Visiting Fellow title as an honorific, so we should weigh that consideration when offering invitations. In particular, I think we should weigh, for each potential visitor, what members of the Kennedy School community could learn from that person's visit against the extent to which that person's conduct fulfills the values of public service to which we aspire. This balance is not always easy to determine, and reasonable people can disagree about where to strike the balance for specific people. Any determination should start with the presumption that more speech is better than less. In retrospect, though, I think my assessment of that balance for Chelsea Manning was wrong.
Elmendorf informed Manning of the decision in a 10-minute call, which The New York Times reported left her "stunned and insulted."
Manning took her displeasure out on Twitter, accusing Harvard of chilling marginalized voices under pressure by the CIA and questioning the consistency by which the school applied their standards.
so @harvard says @seanspicer & @Clewandowski_ bring "something to the table and add something to the conversation" and not me ??? #WeGotThis

— Chelsea E. Manning (@xychelsea) September 15, 2017
Manning was hardly the first controversial figure to be invited to be a visiting fellow at Harvard. Both Lewandowski — who was involved in multiple physical incidents during the campaign — and Spicer — whose relationship with facts as Trump's press secretary was loose at best — had their fair share of critics (including Manning herself).
And as the Washington Post noted, she wouldn't even be the first who ran into legal trouble for mishandling classified information:
David Petraeus, retired four-star Army general and former director of the CIA, is a senior fellow at the Kennedy School's Belfer Center for Science and International Affairs. He pleaded guilty in 2015 to a misdemeanor charge of mishandling classified information after the FBI discovered that he had provided classified information to his biographer, who was also his mistress, and then lied to the FBI about it.
In an interview with The Intercept last week, Manning said Elmendorf reasoned to her that Spicer had "something to contribute" on American policy, whereas she did not (the school originally said Spicer would lead discussions on White House communications).
"The answer we got back from him was, specifically, Sean Spicer has something to contribute to American policy, to discuss before students. And you can't really bring that to the table," Manning said of her conversation with the dean.
A spokeswoman for the Harvard Kennedy School declined to comment Monday on how they applied their standards with regards to Manning, Spicer, and Lewandowski.
Counter-backlash
Manning told The Intercept that she hung up on Elmendorf after hearing his rationale. She wasn't the only one enraged. Within a week, several separate petitions by dissenting students, alumni, and faculty began circulating the Ivy League campus.
A Harvard Crimson op-ed signed by 159 university faculty members criticized the decision to revoke Manning's fellowship for not "following standardized procedure, but by reacting in an ad hoc manner to a climate of anxiety and intimidation."
"Rather than stand on principle and procedure, Harvard has undermined the pursuit of its core academic mission by acting out of fear of negative publicity," said the September 20 piece.
They said protests by Morell and Pompeo equated to "overt intimidation by the federal government"
Universities should set an example to follow. Instead of bowing to pressure, they should have the courage to take principled stances, especially when it is politically impractical to do so. This is particularly the case for institutions like Harvard that have the standing and resources to withstand public and political backlash.
A separate, stronly worded petition led by a group of Harvard graduates gained more than 15,000 signatures. The authors said the Kennedy School had "disgraced" itself by revoking Manning's fellowship.
By deciding that it is appropriate for Sean Spicer but not Chelsea Manning to retain a fellowship, you have failed to fulfill Harvard's responsibility to be independent of government power and coercion. During his stint at the Trump White House, Mr. Spicer earned a reputation for lying. As a whistleblower, Ms. Manning earned a reputation for truth-telling.
Yet another petition — signed by more than 2,000 students and alumni — called on Harvard to rescind Spicer and Lewandowski's fellowships. Talia Lavin, one of the organizers of the petition, told the Crimson, given the school's decision to revoke Manning's fellowship, the same scrutiny should be applied to the two political operatives.
"When they rescinded Chelsea Manning's fellowship they admitted that the title of visiting fellow conveys a certain imprimatur of legitimacy," Lavin said. "So they're tacitly granting the same imprimatur of legitimacy to Spicer and Lewandowski, and I just don't think that's acceptable."
Manning has since tried to turn the tables on the discussion, saying that — even if the fellowship isn't meant as a honor — she views being disinvited as one.
"I'm not ashamed of being disinvited," she said last weekend at a conference in Nantucket. "I view that just as much of an honored distinction as the fellowship itself."