Politics
Why doesn't Massachusetts hold its state primaries earlier?
The state has struggled in recent years to find a day in September that works for everyone.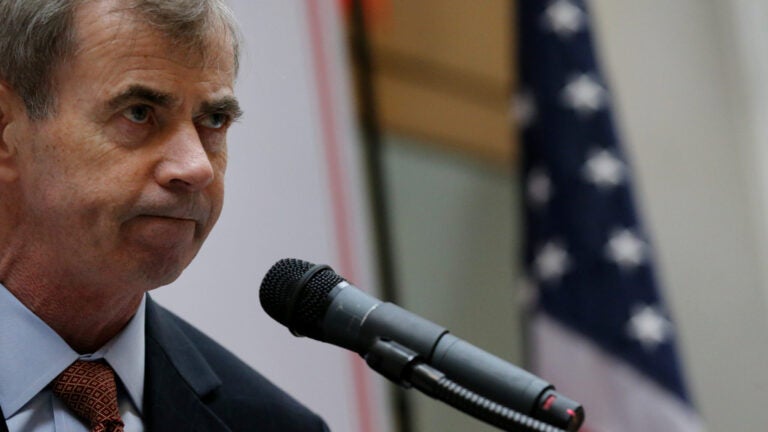 Massachusetts has a northern neighbor well known for its first-in-the-nation presidential primary. But when it comes to local primary elections, the Bay State is the one that's notably unique.
After a good deal of debate, Secretary of State William Galvin announced Tuesday that the state's 2018 midterm primaries would be held Sept. 4. While somewhat earlier than usual for Massachusetts voters, it's still the third-latest state primary date in the country, according to the National Conference of State Legislatures.
Additionally, Massachusetts is the only state in the country without a fixed date for its local primaries. And finding a day that works under the current rules turns out to be a real pain.
Massachusetts state law calls for the primary to be held on the seventh Tuesday before the general election, which this year would have been Sept. 18. But that date is also the beginning of the Jewish holiday Yom Kippur. Additionally, Sept. 11 coincides with another Jewish holiday, Rosh Hashanah.
Galvin couldn't move the date to the following week because of a federal law requiring absentee ballots be available to military members 45 days before the general election. So he choose to move the primary up two weeks to Sept. 4, the day after Labor Day, which generated its own respective backlash.
In 2016, the state primaries were held on a Thursday due to concerns holding it the Tuesday after Labor Day would be expensive for towns and could suppress turnout. In 2018, the Thursday after Labor Day coincides with the first day of school for some districts, including Boston, so Galvin decided the primaries would have to be Tuesday.
In an interview with MassLive.com, Galvin admitted the date isn't ideal, but said he didn't have "many options" under the current law.
But what about upending the Massachusetts primary schedule completely?
Boston City Councilor Josh Zakim, who is challenging Galvin in the Democratic primary for secretary of state, told Boston.com that he doesn't see many benefits of holding the primary in September.
"You only need to look at the embarrassingly low turnout numbers for the state primary over the last several decades to recognize there is a problem, that the status quo isn't working, and that a change should be considered," Zakim said.
The Massachusetts primary used to have more company in September, according to Wendy Underhill, the director of elections at the NCSL. However, Underhill said that many states moved up their primary dates after Congress passed the aforementioned 45-day absentee ballot requirement in 2009.
Now, according to the NCSL website, Massachusetts is one of just five states that holds a September primary. Fourteen states hold their primaries in August, 17 hold theirs in June, and 11 hold theirs in May. Texas holds claim to the earliest 2018 midterm primary date: March 6. Underhill noted that no states hold primaries in July and that doing so is a "really bad idea" since it's a popular vacation month.
A Massachusetts Senate bill introduced last year proposed changing the state's primaries to the third Tuesday in May. According to Debra O'Malley, a spokeswoman for Galvin's office, legislation to move the primary to an earlier month has been filed for each of the last several years, but never passed.
Galvin isn't necessarily opposed to changing the primary, O'Malley told Boston.com.
"We are open to changing the date permanently, if that is what the Legislature chooses," she said, noting that such a change would set off a cascade of procedural deadlines and election laws that would also have to be changed.
Zakim says that the September primary creates an "unnecessarily long primary season" and do not give voters enough time to learn about the party nominees before the general election. While he generally supports moving the primary, the 34-year-old says he would like to see the subject studied more thoroughly to figure out the "best time for the most people to participate."
"It may be in May, but I want to see the rationale," he said.
Zakim added that, regardless of the date of the primary, he wants to see weekend voting and expanded early voting studied. Massachusetts held its first early voting season for a general election in 2016 and saw slightly higher turnout than previous presidential years. Galvin proposed Tuesday that it be expanded this year to include a five-day early voting period before the Sept. 4 primary.
Ironically, Massachusetts's relatively late primary date may currently work out in the best interest of challengers, like Zakim.
"Some might argue that shortening the primary season advantages incumbents," Underhill said. "Challengers don't have as much time to increase their name exposure."
And in a state as heavily Democratic as Massachusetts, primaries can prove more decisive than the general election, which are often less competitive. Ultimately, Underhill says the most important consideration is holding a primary at a time that is convenient for voters and that many people don't "wake up" to election season, especially for smaller races, until the fall.
"Whenever the primary is, candidates will adjust their scheduling and their resources to work around it," she said.