Politics
How Republican lawmakers responded to Trump's vulgar immigration remarks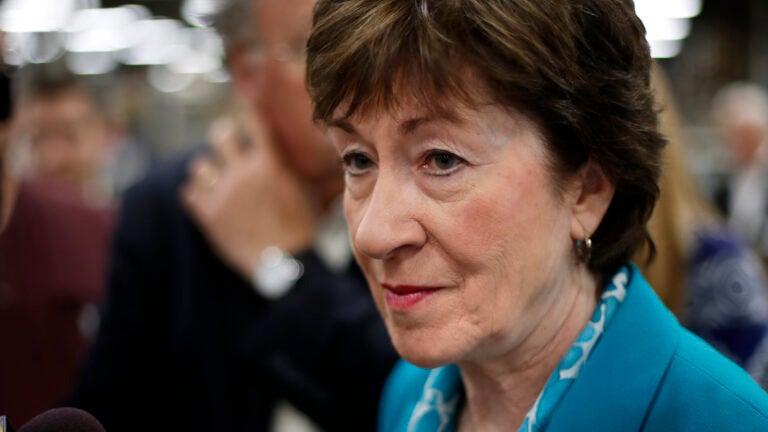 Reports that President Donald Trump referred to African nations as "shithole countries" and disparaged Haitians during an immigration meeting on Thursday prompted outcry from some lawmakers, but his comments were followed by notable silence from others. Here's how Republicans in the House leadership, the Senate and other lawmakers who attended the meeting have responded:
— Denounced the President's Comments
Some lawmakers specifically criticized the president, while others countered the sentiment of his remarks.
Sen. Roy Blunt, Mo.: "It's clearly an unacceptable thing to say. You can't determine what somebody is thinking or why they say what they say, but it's an unacceptable view of the world and it's an unacceptable thing to say."
Sen. John Boozman, Ark. "Our country is made of immigrants. This diversity is what makes our country great and something all citizens should be proud of. No matter where people come from, they all deserve dignity and respect."
Sen. Susan Collins, Maine: "These comments are highly inappropriate and out of bounds and could hurt efforts for a bipartisan immigration agreement. The president should not denigrate other countries."
Sen. Jeff Flake, Ariz.: "The words used by the president, as related to me directly following the meeting by those in attendance, were not 'tough,' they were abhorrent and repulsive."
Sen. Lindsey Graham, S.C., AT THE MEETING: "Following comments by the president, I said my piece directly to him yesterday. The president and all those attending the meeting know what I said and how I feel. I've always believed that America is an idea, not defined by its people but by its ideals."
Sen. Charles E. Grassley, Iowa: "I think it detracts from the very important issue we got to get solved by March the 5th," the deadline for Congress to find a fix for the Deferred Action for Childhood Arrivals program, or DACA, which Trump is ending. "Bottom line, all people ought to be treated with respect."
Sen. Orrin G. Hatch, Utah: "I look forward to getting a more detailed explanation regarding the president's comments. Part of what makes America so special is that we welcome the best and brightest in the world, regardless of their country of origin."
Sen. Johnny Isakson, Ga.: "I did not hear it, but if it's true, he owes the people of Haiti and all mankind an apology. That is not the kind of statement the leader of the free world ought to make, and he ought to be ashamed of himself. If he did not make it, he needs to corroborate the fact and prove it and then move forward.
Sen. Ron Johnson, Wis.: "Totally inappropriate and he should apologize. When you enter the public realm, I don't care what your past was, I don't know what kind of salty language you might have used, you stop doing it. You have a certain responsibility, a certain decorum that you need to conduct yourself in public with. You have children watching. You have nations watching."
Sen. James Lankford, Okla.: "If these comments are accurate, they are disappointing. I would not talk about nations like this, because the people of those countries are made in the image of God and have worth and human dignity. The United States should lead the world in respect for all people."
Sen. Mike Lee, Utah: "The comments attributed to the president are insulting and distracting."
Sen. John McCain, Ariz.: "People have come to this country from everywhere, and people from everywhere have made America great. Our immigration policy should reflect that truth, and our elected officials, including our president, should respect it."
Sen. Lisa Murkowski, Alaska: "What the president said is offensive and doesn't reflect who we are as a country. It is particularly offensive just days ahead of our recognition of Dr. Martin Luther King. I am disappointed and suggest we move quickly to resolve the status of the Dreamers in a way that truly reflects our values."
Sen. Rob Portman, Ohio: "I wasn't there, but if he said those things, it's wrong and indefensible."
Sen. Pat Roberts, Kan.: "Allegedly it's an off-hand remark, but even that, it's most unfortunate. I try to stick to my business, committees, and get us a good farm bill. I've worked with the president. He's been very personable. That kind of language wasn't used. So I regret it."
Sen. Marco Rubio, Fla.: "We should evaluate immigrants based on who they are and not on the problems that exist in the nation of their birth. For example, for decades the people of El Salvador and Haiti have suffered as a result of bad leaders, rampant crime and natural disasters."
Sen. Tim Scott, S.C.: "If these comments are the president's words, they are disappointing to say the least. The American family was born from immigrants fleeing persecution and poverty and searching for a better future. Our strength lies in our diversity, including those who came here from Africa, the Caribbean and every other corner of the world."
Sen. Patrick J. Toomey, Pa.: "I hope the president retracts the suggestion, attributed to him yesterday, that America should not want immigrants from countries which he was accused of describing disparagingly. There are great people — many of whom would make great Americans — in every country on the face of the earth."
House Speaker Paul D. Ryan, Wis.: "So, first thing that came to my mind was very unfortunate, unhelpful."
"I think it's a big part of our strength, whether you're coming from Haiti — we've got great friends from Africa in Janesville who are doctors who are just incredible citizens. And I just think it's important that we celebrate that."
— Sidestepped or Did Not Denounce the President's Comments
A handful of Republican lawmakers who attended the immigration meeting at the White House either said they did not recall the president's comments or did not directly address them.
Sen. Bill Cassidy, La.: "Whether he said it or not, that's not the issue. What about the higher problem of what do we do about border security and DACA?"
Sen. Tom Cotton, Ark., AT THE MEETING and Sen. David Perdue, Ga., AT THE MEETING: "We do not recall the president saying these comments specifically, but what he did call out was the imbalance in our current immigration system, which does not protect American workers and our national interest."
Rep. Mario Diaz-Balart, Fla., AT THE MEETING: "There are almost 800,000 young DACA beneficiaries who will face imminent deportation in March if we do not reach a deal. I will not be diverted from all possible efforts to continue negotiating to stop the deportations."
— No Known Public Statements
The remaining Republican senators and key House members have made no known public statements responding to the comments. The New York Times has reached out to each of their offices.
Sen. Lamar Alexander, Tenn.
Sen. John Barrasso, Wyo.
Sen. Richard M. Burr, N.C.
Sen. Shelley Moore Capito, W.Va.
Sen. Thad Cochran, Miss.
Sen. Bob Corker, Tenn.
Sen. John Cornyn, Texas
Sen. Michael D. Crapo, Idaho
Sen. Ted Cruz, Texas
Sen. Steve Daines, Mont.
Sen. Michael B. Enzi, Wyo.
Sen. Joni Ernst, Iowa
Sen. Deb Fischer, Neb.
Sen. Cory Gardner, Colo.
Sen. Dean Heller, Nev.
Sen. John Hoeven, N.D.
Sen. James M. Inhofe, Okla.
Sen. John Kennedy, La.
Sen. Mitch McConnell, Ky.
Sen. Jerry Moran, Kan.
Sen. Rand Paul, Ky.
Sen. James E. Risch, Idaho
Sen. Michael Rounds, S.D.
Sen. Ben Sasse, Neb.
Sen. Richard C. Shelby, Ala.
Sen. Dan Sullivan, Alaska
Sen. John Thune, S.D.
Sen. Thom Tillis, N.C.
Sen. Roger Wicker, Miss.
Sen. Todd Young, Ind.
Rep. Robert W. Goodlatte, Va., AT THE MEETING
House Majority Leader Kevin McCarthy, Calif., AT THE MEETING
House Majority Whip Steve Scalise, La.