Politics
Don't expect Mitt Romney to be the anti-Trump leader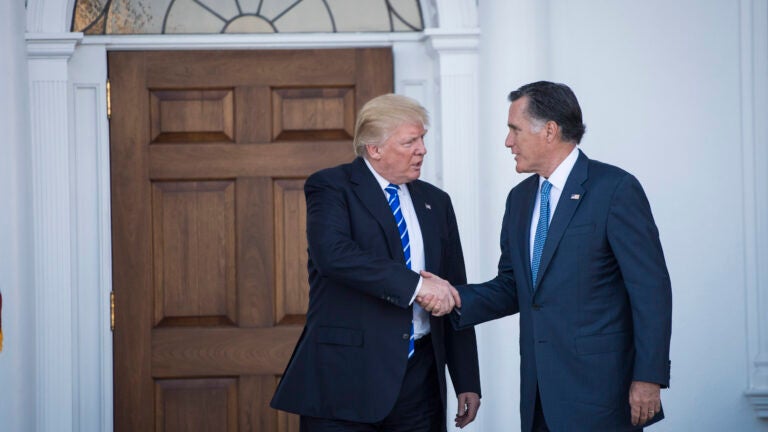 WASHINGTON — Mitt Romney has spent much of the past two years as an outspoken Donald Trump critic. He denounced Trump's divisive ways during the 2016 campaign and criticized the president's unwillingness to call out white nationalists in Charlottesville, Va. More recently, he called Trump's derogatory comments about poor African nations "antithetical to American values.''
But people looking for a consistently strident, anti-Trump tone from Romney in a possible US Senate bid in Utah, and in Washington if Romney were elected, may be disappointed.
While the former Massachusetts governor would still speak out against Trump at times, several current and former Romney advisers said, he would be more selective about picking his shots, attempting to find areas of compromise and accommodation with the brash businessman in the White House.
The model would be something closer to the approach adopted by Republican Senators John McCain of Arizona and Lindsay Graham of South Carolina, who have alternated between opposing and aligning themselves with Trump.
"No one close to Mitt is thinking about him being the leader of the anti-Trump movement,'' said one of his longtime advisers, speaking on condition of anonymity to discuss internal deliberations. "In his heart, he's not in it to go to Washington to be the anti-Trump leader. He'll agree with him when it's right, and he'll disagree with him when it's wrong.''
The balance for Romney will be particularly tricky. Trump has shown a mastery at co-opting his opponents, and Romney himself was once a target of such attempts. Following the 2016 election, and despite the former governor's strong denunciation of his candidacy, Trump considered appointing Romney secretary of state, dining over frog legs and scallops before Romney went before cameras and declared, "He did something I tried to do and was unsuccessful in accomplishing.''
Romney didn't get the secretary of state post, and over the last year he has again raised alarms over Trump's rhetoric.
But one reason Romney is motivated to re-enter the political arena, aides say, is that he has been aghast at the current tenor of the national political debate — a tone that Trump, more than anyone else, is responsible for setting. Romney would not hesitate to rebuke Trump, even if sparingly, they say.
"A lot of people out there view him as the counterbalance in the era of Trump, and they see him as their vehicle,'' said Kevin Madden, a Republican consultant who was a top adviser to Romney's 2008 and 2012 presidential campaigns. "They are coaxing him in, and want to provide him with this platform as the antidote in the Trump era.''
But Romney also wants to have an impact on crafting policy, and does not want to be known as a White House scold, advisers said.
"It's wrong to view his potential candidacy as a protest against President Trump,'' said Ryan Williams, a Republican consultant who worked for Romney dating back to his time as Massachusetts governor. "He feels a need to speak out when he views the ideals that our country was founded on are under attack. At times he's seen that in the comments our president has made — that it's eroding America's standing in the world. He disagrees with it, and he's going to speak up. But he's not running to be a critic.''
"I think he will be selective on what he weighs in on,'' he added. "If you're a critic of Trump all the time, you're going to be written off.''
Some clues to how Romney might conduct a campaign were evident in a speech he delivered last week .to the Salt Lake City Chamber of Commerce. In what at times felt like a first draft of a new stump speech, Romney reminisced about his time running the 2002 Winter Olympics in Utah — "the best experience of my life'' — and touted his adopted home state.
"Utah has a lot to teach the nation,'' he said. "And I hope that the lessons that have been learned in this state as a laboratory for democracy can be shared with the nation as a whole.''
Romney did not mention Trump explicitly, but he praised the tax reform package that Republicans passed in December and complimented the Trump administration for "taking a weed whacker to regulation.''
"I am really pleased with a good deal of the policy agenda that you're seeing promoted in Washington, D.C.,'' he said. "And I consider it a Republican policy agenda.''
But Romney also advocated for the Paris climate accords, which Trump said he would not adhere to, and explicitly said that he believed climate change was affected by human activity.
"If there is a relationship, and I believe there is, between human activity and the global climate change, we need to get those countries to participate and to pull back on a very dramatic increase in CO2 emissions,'' Romney said.
He also put his wonky side on display. Wielding a PowerPoint clicker to control a pair of displays in the ballroom, he embarked on an extended explanation of the difference between linear growth and exponential growth to try and describe his optimism in "a century driven by innovation.''
"I remain overwhelmingly optimistic about the future of America's economy, particularly if we can get Washington to learn some of the lessons from Utah.''
His tone contrasted with the current political atmosphere in Washington, which is dominated by Trump's Twitter taunts and name-calling.
"We witnessed in the last few years politics devolve into a substance-free debate that's driven a lot more by emotion than it is ideas,'' Madden said. "That is something I think [Romney] would like to change.''
Former Romney advisers point out that Romney's political beliefs are often in line with the ones that Trump espouses. But on issues of moral authority and the tenor of political debate, Romney has starkly different beliefs from Trump.
"He's going to be with the president 80 or 90 percent of the time,'' Williams said. The differences are more stylistic, he said.
Immigration is one area where Romney and Trump could have similar goals, even if they approach it in markedly different ways.
Romney called for more border security during his 2012 campaign — and he memorably said he wanted to have an immigration policy of "self deportation.'' But he also adamantly opposes such rhetoric as Trump's derisive and explicitly vulgar comment about poor countries in the immigration debate.
"The poverty of an aspiring immigrant's nation of origin is as irrelevant as their race,'' he wrote on Twitter, in response to Trump's comment. "The sentiment attributed to POTUS is inconsistent w/ America's history and antithetical to American values. May our memory of Dr. King buoy our hope for unity, greatness, & 'charity for all.' ''