Politics
The race for Massachusetts' 3rd District is unusually crowded. What happens next?
It's unclear if the state has ever seen a field so big.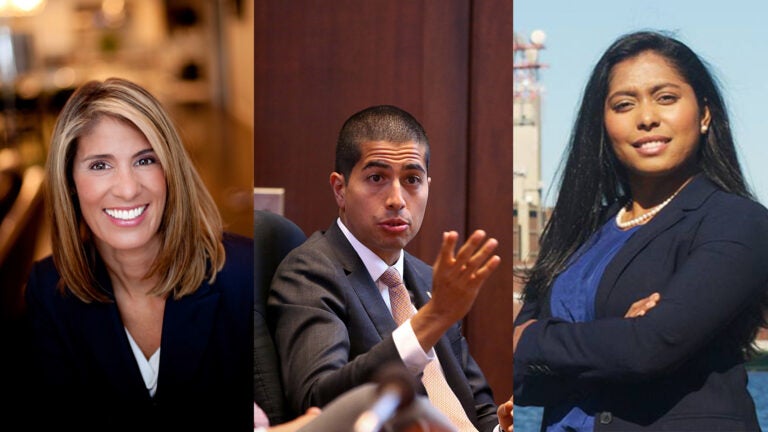 Rep. Niki Tsongas must have a pretty attractive job, judging by all the applicants.
The 71-year-old Massachusetts congresswoman announced her plans to retire last August. In less than six months, 13 candidates have thrown their names into the Democratic primary race for her Third District seat.
"This is an unusually large field," says UMass Lowell professor Joshua Dyck. And so it is also deep.
The contenders include Dan Koh, Boston Mayor Marty Walsh's former chief of staff; Rufus Gifford, the former U.S. ambassador to Denmark; state Sen. Barbara L'Italien; Lori Trahan, the former chief of staff of the district's former Rep. Marty Meehan; Alexandra Chandler, a former Pentagon intelligence analyst; Steve Kerrigan, the former Democratic nominee for lieutenant governor; a local sock company owner — the list, and the credentials, go on (the local Lowell Sun newspaper has a tidy graphic of all the candidates and their biographies for those interested).
In contrast, as of last month, there was only one declared candidate running on the Republican side.
"The winner of the Democratic primary will be a prohibitive favorite to win, all else held equal," Dyck said. "When you add that 2018 looks like it could be somewhere between a good to great year for Democrats nationally, Republicans would be dreaming if they imagined this seat as a possible pickup."
If the November election isn't expected to be competitive, September is quite the opposite. According to Dyck, the reason for the restlessness on the Democratic side is part-Massachusetts and part-Trump. The early messaging from many of the candidates has indeed focused on the president.
"This is an open Democratic seat with a lot of energy and enthusiasm on the Democratic side of the aisle right now," he said. "More people are interested in running, moving up, and opposing the current Republican administration."
But what happens next in a field this big?
"The dynamics probably benefit the candidates who will be able to raise the most amount of money," Dyck said. "With the field so crowded, winning on message will be difficult, and early on, the guide posts of a healthy campaign will be the ability to sustain that campaign financially."
Under that criteria, the early leader is probably Koh, who raked in more than $750,000 in the first month of his campaign, followed by another $800,000 in the following three months, according to his team. For a congressional campaign, those figures were "eye-popping," wrote The Boston Globe.
However, Koh's fundraising advantage isn't as eclipsing as, say, that of Gov. Charlie Baker headed into this year's election. For example, Trahan's campaign says she raised more than $550,000 in the fourth quarter of 2017. And Gifford also raised more than a half-million, according to his campaign. Federal year-end campaign finance reports for all the candidate are due to be filed at the end of the month.
Boston University professor Thomas Whalen says the sheer number of candidates might actually somewhat "negate the fundraising factor." More importantly, Whalen said, is where those dollars are spent.
"You need organization and committed volunteers," he said, adding that the size of the field is "kind of screwing up" Koh's shock-and-awe strategy.
Looking back on the 2016 presidential primaries, some have argued that the Democratic party's efforts to effectively clear the field for establishment-favorite Hillary Clinton was a mistake that ultimately backfired, in that voters opposed to her candidacy coalesced around a single candidate. Conversely, the 2016 Republican primary had up to 17 major candidates in the running and ultimately resulted in the nomination of Donald Trump.
Dyck says comparing congressional and presidential primaries is "apples and oranges," but that with such a deep pool of bonafide candidates, almost anyone could emerge "if they find the right message." And though the field is expected to somewhat winnow as the race goes on, it may not take a huge slice of the electorate.
"The plurality to win this thing is not going to be that great," said Whalen, who, while acknowledging Koh's fundraising advantage, said the Andover native might have other factors working against him: namely, Boston.
"The district has a history of not liking necessarily — to use a negative term — a carpetbagger," Whalen said of Koh, who grew up in the district before moving away to work in Washington, D.C., New York, and Boston, before moving back to Andover last year. The professor recalled that even John Kerry "got smoked" in his 1972 congressional run in the district, despite running a sophisticated, well-financed campaign.
"Kennedys can do that, but if you're not a Kennedy, good luck," he said.
Whalen says the district is "quirky," in the sense that it appreciates people who have been mainstays in the community, and that local issues like employment and housing may dominate, despite some national themes. His candidate to keep an eye on is first-term state Rep. Juana Matias, a 30-year-old who has a record of beating establishment politicians, as she did in 2016.
"I'm Donald Trump's worst nightmare," Matias said in her campaign announcement. "I'm an immigrant who grew up in this community. I'm a product of the public schools. I got my first job at age 11, delivering Lawrence Eagle-Tribune newspapers."
Matias has the backing of PODER PAC, a group that supports Latina candidates and, according to Whalen, seems to generate a lot of enthusiasm. Given the "bread basket" of Hispanic votes in Lowell and Lawrence, she could secure a meaningful niche of the electorate, he said.
According to the Sun, the potentially volatile primary may be unprecedented in modern Massachusetts political history. The last time any race garnered this much interest was when a young Ed Markey, now the state's junior senator, defeated 11 other candidates with only 21.6 percent of the vote in the 1976 primary race for the 7th District.
Whalen expects this race to similarly usher in a new era of Democrats, whether its Koh, Matias, or another fresh face.
"You're going to see a generation change in the party," he said.