Politics
Departure of only black senator leaves void in State House
"Linda's departure leaves big shoes to fill, not only for the residents of her district, but also for communities of color in Massachusetts."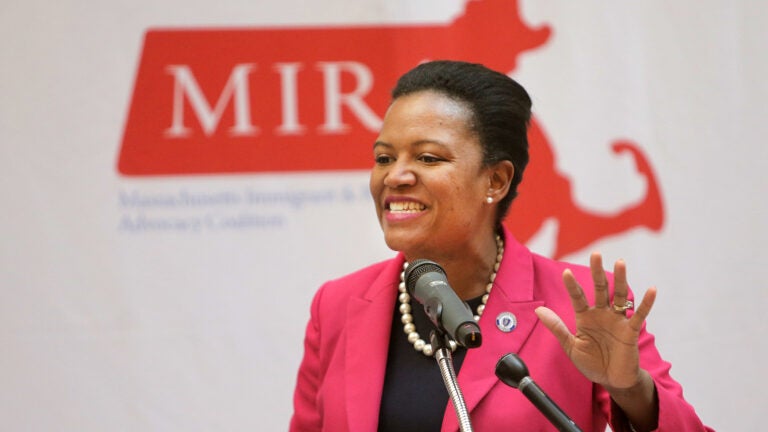 BOSTON (AP) — In a week of major developments on Beacon Hill, the sudden departure of state Sen. Linda Dorcena Forry may easily have been the most surprising of all.
The Boston Democrat caught many of her colleagues off guard with Thursday's announcement that she was leaving the Senate to become a vice president at Suffolk, a prominent Boston construction firm.
The daughter of Haitian immigrants and the state's only black senator, her sudden resignation left a large void to fill for advocates of minority inclusion in state government. It also triggered renewed speculation over the potential outcome of an ongoing ethics probe involving former Senate President Stan Rosenberg.
In December, after Rosenberg's decision to step aside as Senate leader for the duration of the investigation, Dorcena Forry was one of the first senators to make public her interest in the presidency should a permanent vacancy arise.
During her relatively short stint in the Senate, Dorcena Forry had clearly won respect and admiration not only within the chamber but the wider Boston political establishment. She won a 2013 special election in a Senate district that had long been represented by Irish Catholic men including William Bulger, the former longtime Senate president.
Dorcena Forry, 44, had also been mentioned as a potential future mayoral contender, an avenue that would not be closed off by her move to the private sector.
"The foundation of my public service career has revolved around creating opportunity and access and giving a voice to those who have none and this work will continue for the rest of my life," she said in her resignation statement that cited family considerations as a key factor.
The announcement brought renewed speculation that Rosenberg could be exonerated, eventually allowing him to reclaim the presidency he was first elected to in January 2015. Such a turn of events would close the door to Dorcena Forry and other senators interested in climbing the leadership ladder.
A Boston law firm hired by the Senate Ethics Committee is investigating whether Rosenberg violated any Senate rules in connection with allegations against his husband, Bryon Hefner. The Boston Globe reported in December that several men — including some with business before the Legislature — had accused Hefner of sexual harassment or abuse.
Rosenberg has denied knowledge of Hefner's alleged misconduct and maintains his husband exerted no influence over legislative affairs. The Amherst Democrat recently revealed he had separated from Hefner, who is receiving treatment for alcohol dependency.
Little is known about the status of the probe, beyond a Thursday statement from the ethics committee that it was "active and progressing." The panel, in the same statement, said it did not know the names of any individuals who had shared information with the independent investigators and had taken steps to protect the confidentiality of witnesses going forward.
The departure of Dorcena Forry, a former chair of the Legislature's Black and Latino Caucus, was a disappointment to advocates for minority representation and for immigrants whose cause she had championed during her political career that began in the House in 2005. Despite a reputation for progressive politics, the Massachusetts Legislature is proportionately less diverse than those in many similarly-sized states.
A 50-state analysis by The Associated Press in 2016 showed that while the state's population was 73.8 percent white, 92 percent of its state legislators were white.
"Linda's departure leaves big shoes to fill, not only for the residents of her district, but also for communities of color in Massachusetts, who — for now — will unfortunately have even less political representation at the Statehouse," said former Newton Mayor Setti Warren, an African American who is seeking the Democratic nomination for governor.
Democratic Rep. Russell Holmes, also a past chair of the Black and Latino Caucus, and at-large Boston City Councilor Ayanna Pressley were among those weighing possible runs for the seat Dorcena Forry held in the Senate.