Politics
A look at 3 GOP governors thriving in Democratic states
Charlie Baker isn't the only one.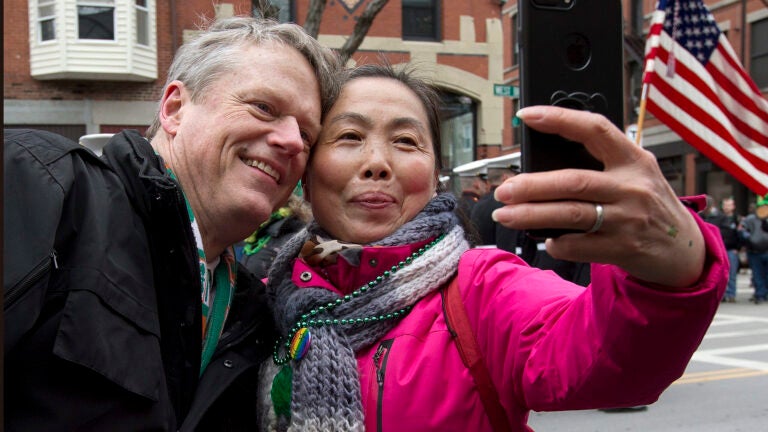 BOSTON (AP) — Massachusetts Gov. Charlie Baker loves taking selfies — with schoolchildren, Statehouse visitors, police, and even a zoo elephant. It's all part of a charm offensive that has helped propel the Republican to high popularity in one of the most liberal states.
He's one of a number of Republican governors threading a needle in Democratic-friendly states in part by distancing themselves from their party's standard-bearer, President Donald Trump.
Trump captured just over 33 percent of the vote in the 2016 presidential contest in Massachusetts, and a poll released this month found just 29 percent of Massachusetts residents approve of the job he's doing, compared with 74 percent who approve of Baker.
Baker "has a very calm demeanor. He comes across in a way that is not at all divisive or threatening," said Tim Vercellotti, director of the polling institute at Western New England University. "A little bit of dullness might not be a bad thing in the mind of voters right now, given the chaos that unfolds on a daily basis in Washington."
Baker's aversion to verbal grenades contrasts with the state's other brand-name politician, Democratic U.S. Sen. Elizabeth Warren, who revels in locking horns with Trump.
It seems to be working for Baker; the same poll found that while Warren is viewed favorably by 54 percent of Massachusetts voters, Baker is viewed favorably by a hefty 66 percent. And comparisons of the affable and unflappable Baker with the unpredictable Trump don't hurt, either.
Other Republican governors remain popular in Democratic states despite Trump.
A poll released in September found 62 percent of Maryland residents approve of the job Gov. Larry Hogan is doing. In Vermont, Gov. Phil Scott, who recently signed a bill legalizing marijuana, also remains popular.
Scott is a favorite with voters in part by distancing himself from the more unpopular policies of the Trump administration and tactics of congressional Republicans, said Eric Davis, a professor emeritus of political science at Vermont's Middlebury College.
Hogan has maintained his popularity in a state where Democrats outnumber Republicans 2 to 1 by focusing on improving the business climate, lowering traffic tolls, pushing for tax relief and taking steps to stem climate change. And he kept his sense of humor while fighting non-Hodgkin's lymphoma his first year in office, participating in a minor-league baseball promotion that included two bobbleheads: one of him with hair and one without.
In Massachusetts, Trump's unpopularity has allowed Baker to reject the president's more extreme rhetoric while keeping communication open with the White House.
The tightrope-walking started well before Trump's election, when Baker vowed not to vote for Trump even after the presidential nomination. Baker said he voted for other offices on the November ballot but blanked the presidential tally.
Most recently, Baker called on Trump to apologize for vulgar language attributed to him during an Oval Office meeting, describing as "appalling and disgraceful" the comments Trump made while questioning why the U.S. would accept more immigrants from Haiti and Africa, rather than places like Norway.
Baker told reporters Trump "owes an apology to all of the people who he broad-brushed with those statements."
The governor also took a jab during his annual State of the State address Tuesday. Without mentioning Trump, Baker said it's important to keep political debates civil.
"That doesn't mean we always have to agree. We won't," Baker said. "Some of us will agree with each other most of the time. Some will agree some of the time. And some will never agree at all. That's OK. That's called 'democracy,' and more often than not, it works."
Baker has also tried to keep a back door open to the administration.
After Trump's election, Baker headed to Washington to attend the inaugural ball in Indiana, where Vice President-elect Mike Pence is the former governor, and attended a National Governors Association's inauguration breakfast before heading to Trump's swearing-in.
Baker also serves as a member of Trump's special commission on opioid use, in part because of his efforts to stem the overdose crisis in Massachusetts.
Baker has other advantages, including Massachusetts voters' penchant for electing moderate "chamber of commerce" Republican governors to balance an overwhelmingly Democrat-controlled House and Senate, said Vercellotti, the polling director. Republicans have held the governor's office for 19 of the past 27 years.
Another secret to Baker's political popularity is his openness to working with Democratic House and Senate leaders — a tactical approach, since Democrats can nix much of Baker's legislative agenda.
Not everyone is a fan of Baker, up for re-election this year. Critics fault him for focusing on day-to-day problems without laying out a wider vision — something his supporters dispute, pointing to efforts to expand renewable energy and push to make Massachusetts a life-sciences hub.
Critics include three Democrats hoping to unseat him: former Newton Mayor Setti Warren; environmental activist Robert Massie; and Jay Gonzalez, a budget official under former Democratic Gov. Deval Patrick.
"Charlie Baker is trying to straddle the divide between Trumpism and Massachusetts, and Massachusetts can't afford to straddle Trumpism," Massie said. "We're not going to solve our problems by picking a halfway point between Massachusetts ideals and Donald Trump."
___
Associated Press writers Brian Witte in Maryland and Wilson Ring in Vermont contributed to this report.