Politics
3 things to know about Joe Kennedy III before his State of the Union response
After mostly shying away from national spotlight, the 37-year-old is taking his first big step into it Tuesday.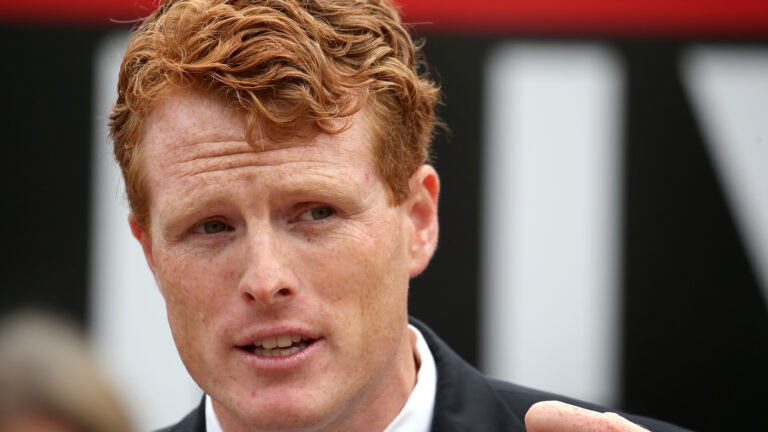 Despite his famous surname, Rep. Joe Kennedy III has kept a relatively low profile during his five years in Congress.
That ends Tuesday, when the Massachusetts congressman delivers the official Democratic response to President Donald Trump's first State of the Union address. But before he steps into the national spotlight, here are a few things to know about the young Kennedy.
1. Following in the family footsteps — sort of
Besides his bright red hair, the most noticeable aspect about Kennedy is his storied last name.
The congressman is the son of former Rep. Joe Kennedy II and grandson of former U.S. attorney general and Sen. Robert F. Kennedy, as well as the great nephew of President John F. Kennedy and Sen. Ted Kennedy. Like his accomplished relatives, the 37-year-old spent much of his young adulthood in public service.
However, unlike his socialite ancestors, he kept his head down through college, abstaining from alcohol and partying. A recent Town & Country profile captured a particularly illustrative example from his days at Stanford:
In college initiation rituals (his freshman year on the lacrosse team, or when he rushed the fraternity Kappa Alpha), alcohol usually played a big role. But knowing that Joe didn't drink, upperclassmen would put large glasses of whole milk out for him. He downed them, one after another. "Joe drank an awful lot of milk," David Kaufman, one of his lacrosse teammates, told the Boston Globe. "He kept pace with us glass for glass."

"He never gave in to peer pressure," said former NBA player Jason Collins, who was Kennedy's roommate at Stanford. "Guys respected him for that."

Joe was quiet and studious. His music was never too loud, his room always clean and orderly. "I kid you not: When I would open the door, Joe would either be at his desk working or reading a book," Collins recalled.
After graduating from Stanford, Kennedy joined the Peace Corps in the Dominican Republic helping local residents set up businesses — an experience he still says he draws on to this day — before returning to Massachusetts to get his law degree at Harvard. After that, he worked as an a lawyer in two local district attorney's offices.
In 2012, the 32-year-old Kennedy announced he would run for the 4th Congressional District seat being vacated by retiring longtime Rep. Barney Frank.
"He's appearing to take nothing for granted, and there's not the slightest taste of arrogance," Frank said at the time of his assumed successor, even if he has the most famous name in politics.
Bolstered by a well-financed campaign, Kennedy won the seat in a commanding victory against his Republican opponent and has easily been reelected in the two elections since.
2. What he's been doing in D.C.
For the first two terms of his career, Kennedy spent most of his time in Congress under the radar, shying away from prominent positions to instead focus on issues and constituent services. Each year, Kennedy embarks on a "Tour 34" in which he visits all 34 communities in his south Massachusetts district.
"Joe has really consciously chosen to keep your head down, do the work, learn the committee and get really in-depth on the issues," said Doug Rubin, a Democratic campaign strategist and Gov. Deval Patrick's former chief of staff, told Politico last year. "I think Joe's very patient; I think he's comfortable doing the work he's doing now."
One niche issue that Kennedy has embraced is transgender rights. Last March, he was selected to lead a Congressional task force focused on protecting the community from discrimination. In April, he led the opposition to Trump's nominee for Army secretary, Mark Green, who eventually withdrew his name from consideration due to the backlash over several controversial statements he made in the past about transgender people.
Kennedy also forcefully spoke out and rallied against Trump's attempt to ban transgender people from the military and has invited Staff Sgt. Patricia King, a transgender woman who has served in the Army for nearly 19 years, to be his guest at Tuesday's State of the Union (even though the congressman will be back in Fall River to deliver his rebuttal).
Even if he owns transgender rights in Congress, that's not the only issue Kennedy has focused on. In fact, his House floor speeches defending the Affordable Care Act amid Republican attempts to dismantle the health care law were perhaps his first major foray into the national spotlight, racking up tens of millions of views on social media. Riffing off House Speaker Paul Ryan's talking points, Kennedy made headlines when he dubbed the Republican health care bill an "act of malice." He also used stories of his own family history as a rebuke to the Republican president's immigration proposals.
"Rep. Kennedy is committed to providing our Commonwealth and country with an alternative to the Trump worldview," Emily Kaufman, a spokeswoman for Kennedy, told Boston.com at the time.
That commitment won't be in any more plain a view than it will be during his speech Tuesday night.
3. What's next?
Delivering the opposition party's response to the State of the Union comes with some notoriety. From Marco Rubio to Bobby Jindal, the awkwardly staged speeches have increasingly resulted in mockery.
"I'm just hoping I can make it on and off the stage without tripping, dehydrating or ruining my career," Kennedy recently told the Washington Post.
However, the list of speakers also includes three future presidents. And even since Kennedy broke onto the national scene last year, some fellow Democrats have been publicly musing if he could follow in his great-uncle's footsteps. So far, he's on track.
However, Politico reported last year that Kennedy's heads-down approach has quietly frustrated some in his party, even though he is one of the few politicians to actually admit he would consider seeking higher office in the future.
"Somewhere down the road, if a Senate seat were to open, yeah, it's something I'd certainly take a look at," he told Politico.
But could Kennedy someday be delivering his own State of the Union? People have been asking it since his first year in Congress. Kennedy himself would scoff at the question if he wasn't so polite.
"This is one of those weird jobs where the moment you win an election and start serving in public office, everybody wants to know what comes next," he told the Globe last week.
In the meantime, Kennedy and his wife, Lauren (who he met in Sen. Elizabeth Warren's Harvard Law School class), likely have their hands pretty full with two young children, including a newborn baby boy.