Politics
Kochs rally donors to spend more to protect business gains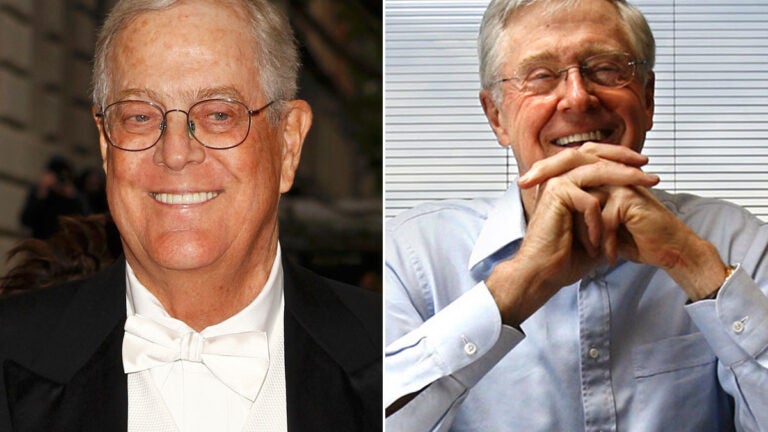 INDIAN WELLS, Calif. — The Koch brothers and their network of wealthy donors have a lot to be happy about after the first year of the Trump administration. And they plan to spend hundreds of millions of dollars to help ensure they stay happy.
"We've made more progress in the past five years than I had in the last 50,'' declared Charles Koch, the 82-year old billionaire, addressing a group of about 550 donors who gathered in Indian Wells for the Kochs' winter policy and politics weekend seminar.
But this era of gains, which brought them a massive tax cut, a queue of conservative federal judges, and an administration full of friendly regulators, could all be gone if Democrats claw back control of the government.
So the vast network has pledged to devote around $400 million toward politics and policy in the midterms to hold the GOP majorities in both chambers. That's 60 percent more than the network spent in 2014, when Republicans picked up nine seats in the Senate and 13 seats in the House of Representatives.
The sum includes $20 million that Koch and his brother David plan to put behind efforts to popularize the $1.5 trillion tax cut. The network spent $20 million last year pushing the legislation.
"We have a ways to go,'' said Koch, teeing up his Big Ask to the well-coiffed group of donors who contribute at least $100,000 a year to Koch-aligned groups. "So my challenge to all of us is to increase the scale and effectiveness of this network by an order of magnitude. By another 10-fold on top of all the growth and progress we've already made. Because if we do that, I'm convinced we can change the trajectory of this country.''
The Republican takeover of the federal government has long been a priority for the Kochs. Now, after spending years fomenting distrust of government, they must defend their gains. They need to sell.
And selling government policies is different from criticizing them, they're learning.
"We were explaining the negative consequences of a law that had passed,'' said Tim Phillips, the president of the Kochs' political arm Americans for Prosperity, reflecting on the group's efforts to mobilize voters against Obamacare in previous years. "This year we'll be explaining the benefits of good policies in many cases.''
Voters have been skeptical of the tax law in part because much of the benefit is focused on businesses like those run by the Kochs and their allies. The tax cuts directly benefit Koch Industries by $1 billion to $1.4 billion a year, according to a recent analysis from Americans for Tax Fairness, a liberal advocacy group.
"They stand to benefit by massive amounts more than what they've spent,'' said TJ Helmstetter, a spokesman for Americans for Tax Fairness.
David Dziok, a spokesman for Koch Industries who attended the weekend events, said he is "skeptical'' of the numbers but didn't say they were wrong.
"The tax-reform legislation is going to affect our businesses in different ways, and that'll play out in time,'' Dziok said. "But we are confident that it'll be good for businesses big and small, and all American taxpayers.''
A major focus for the Koch network — known formally as the Seminar Network — is state legislation, with an aim to remake the nation's education system via referendums and new state laws. The Kochs are particularly enthusiastic about education savings accounts: a mechanism that upends traditional K-12 education by, in some cases, giving parents lump sums they can use to pay private schools or even online institutions to educate their children.
A top priority for 2018 is in Arizona, where a measure allowing education savings accounts for all students goes on the ballot in November. Arizona Governor Doug Ducey pushed the idea and attended the weekend seminar to chat with donors about it.
Success in Arizona would have "a ripple effect'' felt across the country, explained Jorge Lima, executive director of the LIBRE Initiative, the Kochs' Hispanic outreach arm that has been playing an increasing role with the network's education measures in states.
A similar bill is moving through the New Hampshire Legislature and is supported by Americans for Prosperity.
These efforts are the latest in a roiling education debate and face headwinds. Last month a school board in Colorado voted, 6 to 0, to end a private voucher program, which teachers unions hope is a sign that voters are showing skepticism for such policies.
"If you rip off the branding and the spin, this is all about destabilizing public schools and defunding them,'' said Randi Weingarten, president of the American Federation for Teachers, which is the country's second-largest teachers union. "You're seeing more radical ideas here.''
Weingarten has clashed with the Kochs before. "They will do anything they can and spend any amount of money they and their allies have to maintain their power and their wealth,'' she said.
The Koch network is not completely aligned with the Trump administration, to be sure. The Koch network largely supports free trade, for example, putting it at odds with the "America First'' rhetoric of President Trump.
On Saturday evening, Phillips raised the issue with Senator Thom Tillis of North Carolina, who was a panelist at one session. "Do you feel comfortable that Republicans will maintain that free-trade majority that they have?''
"I do,'' Tillis assured donors gathered in a ballroom.
Phillips also quizzed Tillis and the two other lawmakers on the panel, Senator John Cornyn of Texas, the Senate majority whip, and Representative Marsha Blackburn of Tennessee, about whether they would oppose a gas tax, which has been floated in Washington by moderate Republicans and even mentioned by Trump himself as a way to pay for an infrastructure plan that he has said he wants to push this year.
All three were opposed, in accord with the Koch position.
The Kochs didn't support Trump in 2016, though they have strong ties to Vice President Mike Pence and key members of Trump's staff and Cabinet.
Notably, there were no "Make America Great Again'' hats or shirts visible. When Supreme Court Justice Neil Gorsuch was mentioned, Senate majority leader Mitch McConnell got credit for putting him on the bench, not Trump.
Brian Hooks, who is both the president of the Charles Koch Foundation and co-chairman of the Seminar Network, made a point of saying "immigration is good'' several times.
And when Cornyn made a gentle dig at journalists in the back of the room, Phillips was quick to say that the network wanted journalists there. Reporters covering the event had to agree not to name donors present, however, and could attend only a small number of the events over the weekend.
As for other goals, the Koch donors are hoping for federal prison reform.
And they're holding out some hope that the Dodd-Frank banking rules can be repealed.
Or as Hooks put it: "As much as we've done as a network, we really feel like we've just begun.''