Politics
Here's who the Massachusetts congressional delegation is bringing to the State of the Union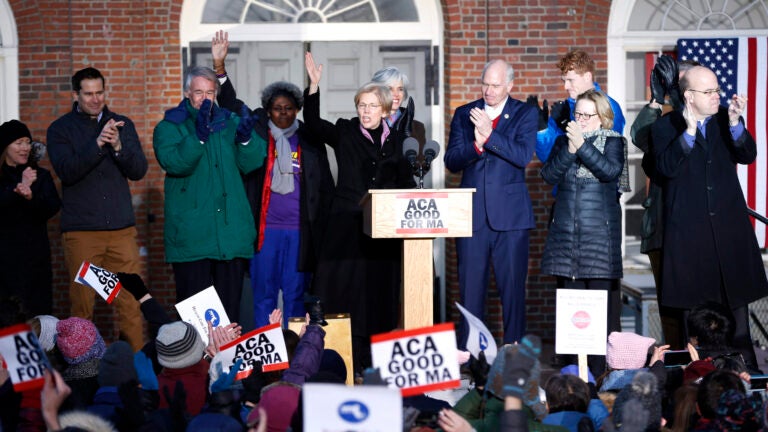 Net neutrality, sexual harassment, and immigration are just a few of the issues members of the Massachusetts Congressional delegation are highlighting with the guests they are bringing to President Donald Trump's first State of the Union address Tuesday.
Here's who is attending with the Massachusetts Democrats:
Sen. Elizabeth Warren
Brockton City Councilor-At-Large Jean Bradley Derenoncourt will attend as Warren's guest. In November 2017, Derenoncourt became the first Haitian-American man elected to public office in Massachusetts. He immigrated to U.S. following Haiti's devastating earthquake in 2010 and became a citizen in 2016.
"He embodies American values of hard work, service, & persistence," Warren said on Twitter.
Sen. Ed Markey
Markey is bringing Mohamad Ali, president and chief executive officer of Carbonite, a Massachusetts-based data protection company. Ali, who grew up in Guyana and came to the United States with his mother at the age of 11 and later became a citizen, is a prominent advocate for net neutrality.
Markey called Ali "the American Dream" in a statement.
"As a strong supporter of net neutrality, Mohamad recognizes the critical importance of a free and open internet for his company and its workers, and no one knows better that immigration is the lifeblood of the technology industry," the senator said. 
Rep. Richard Neal (1st District)
Hampden County Sheriff Nick Cocchi will attend the State of Union address as Neal's guest. The congressman pointed to the sheriff's first hand experience with the opioid epidemic.
"I have been happy to have him as a partner as we look for ways in which to curb this problem that plagues so many people we know and love," Neal said in a statement.
Rep. Jim McGovern (2nd District)
McGovern is bringing Tara Huard, a survivor of domestic violence and supervisor of outreach and prevention for the YWCA of Central Massachusetts in Worcester.
NEWS: Proud to announce that my #SOTU guest is Tara Huard of @YWCACentralMass in #Worcester. As a #domesticviolence survivor, she has helped so many #CentralMA women and families. Read her inspiring story in @WorcesterMag here: https://t.co/x3Y8q8fJH2 pic.twitter.com/Uku32orsE2

— Jim McGovern (@RepMcGovern) January 30, 2018
McGovern said he is "proud to host Tara Huard as my State of the Union guest to recognize the incredible work she does for victims of domestic violence."
Rep. Niki Tsongas (3rd District)
Isa Woldeguiorguis, Executive Director of The Center for Hope and Healing in Lowell, will attend as Tsongas' guest.
"Isa Woldeguiorguis and the dedicated staff at facilities like the Center for Hope and Healing see the devastating impact of sexual violence every single day and work tirelessly to give women, men, children and families the resources they deserve," Tsongas said in a statement. 
Rep. Joe Kennedy III (4th District)
Staff Sergeant Patricia King, a transgender soldier who has been deployed to Afghanistan three times, will attend the State of the Union address as Kennedy's guest.
"Patricia King represents the best and bravest our nation offers," Kennedy said on Twitter. "She will make our Commonwealth and our country proud at the State of the Union on Tuesday night."
Kennedy is slated to give the official Democratic response to Trump's address.
Rep. Katherine Clark (5th District)
Clark has invited Anny Gonzalez, an airplane cleaner who endured persistant sexual harassment on the job, as her guest Tuesday night.
"When the president looks up at our guests, I want him to see the face of a mom who was forced to decide between reporting abuse and making sure her daughter was fed," the congresswoman said in a statement. "Millions of women in the service industry contend with assault, harassment, and abuse from more powerful people because they feel like they have no other choice."
Rep. Seth Moulton (6th District)
Moulton said he is bringing Edenilson Granados, a father and Salvadoran immigrant with Temporary Protected Status, whose future is "in question due to the Administration's immigration policies."
"Edenilson's pursuit of a better life in the United States is the manifestation of the American Dream," Moulton said in a statement. "The United States should be the land of promise, not a place that dashes the hopes of hardworking men and women – no matter where they were born."
Rep. Michael Capuano (7th District)
The congressman is not bringing a guest, according to his spokeswoman, Alison Mills.
Rep. Stephen Lynch (8th District)
Lynch is not attending the address for family reasons, according to Politico.
Rep. Bill Keating (9th District)
Information on if a guest was attending with Keating was not immediately available.