Politics
The new Unicode update includes a lobster emoji, and Angus King is taking a victory lap
The Maine senator has been lobbying for a lobster emoji for months.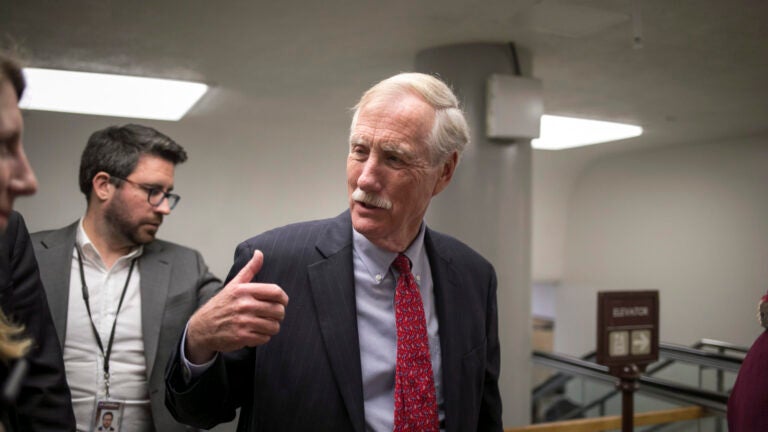 Sen. Susan Collins isn't the only senator from Maine making national headlines.
The Unicode Consortium, an organization tasked with approving the standardization of digital characters and symbols, released 157 new emoji Wednesday. The finalized list included a softball, a pirate flag, a "woozy face," and, in a major win for Sen. Angus King, a lobster.
King — Maine's mustached, independent senator, as well as outspoken lobster advocate and owner of the best Instagram account in Congress, who frequently sports his various lobster ties in the Capitol — celebrated the decision Wednesday.
"Great news for Maine – we're getting a lobster emoji!!!" wrote the 73-year-old senator, cleverly signing off his tweet with cow and crown emoji (Get it?).
Great news for Maine – we're getting a lobster emoji!!! Thanks to @unicode for recognizing the impact of this critical crustacean, in Maine and across the country.

Yours truly,

Senator ??

— Senator Angus King (@SenAngusKing) February 7, 2018
In September, King wrote a densely cited, two-page letter to the consortium urging for the adoption of the lobster emoji in its annual update in 2018.
"Not only is the lobster of substantial cultural relevance," he argued, but according to online data, it also garners public interest that is at least equal to that of the crab, which already has its own emoji.
"Neither the existing crab nor shrimp emoji can be effectively used to represent a lobster, which has a distinctively different profile," wrote King, who was also among the nine New England senators who co-sponsored a successful resolution last year designating Sept. 25 as "National Lobster Day."
King clarified in an interview with Roll Call last year that his lobster emoji campaign is more of a side project than anything else.
"It's not like I'm sitting around working on emojis," he said. "I don't want to give that impression."
However, his advocacy for Maine's thriving lobster industry is no side project, as his work in Congress and social media presence attest. Despite the threat of warming oceans, the state's lobster fisheries hauled in a record $530 million catch in 2016, in part thanks to a long-honored conservation strategy.
"Anyone from Maine will tell you that lobster's more than just a delicious meal: it's a serious business," King said on a podcast last fall. And now, in part thanks to him, it's also an emoji.
https://twitter.com/SenAngusKing/status/960995277845991424