Politics
Why Elizabeth Warren is calling out her Democratic colleagues over a new bank bill
Warren says members of both parties have united to "do the bidding of the big banks."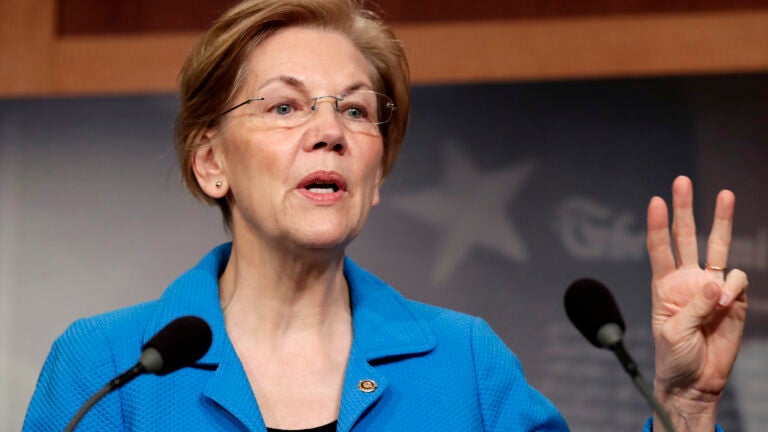 Elizabeth Warren has never seen eye-to-eye with Republicans when it comes to financial reform. But the Massachusetts senator is now at odds with some of her own Democratic colleagues over their support of a bill that purports to help smaller banks and consumers.
Warren says it would largely do the opposite.
"These are not small banks," she said in an impassioned floor speech Wednesday, accusing Republicans and "far too many Democrats" of cozying up with larger banks to loosen oversight.
The legislation, which the Senate is expected to pass, rolls back elements of Wall Street reform enacted a decade ago. According to Warren, the bill would endanger the American economy. And she has devoted the better half of this week to railing against it.
"Republicans and Democrats [have] locked arms to do the bidding of the big banks," the senator said in another floor speech Tuesday.
What exactly is in the bill?
The bill — sponsored by Senate Banking Committee Chairman Mike Crapo, an Idaho Republican — would relax a number regulations imposed by the Dodd-Frank act in the aftermath of the financial crisis. Crapo argues that community banks and credit unions have struggled to comply with some regulations designed for larger firms and his bill repeals the Volcker Rule and certain mortgage requirements for firms with assets less than $10 billion.
However, the bill doesn't only affect small banks.
Perhaps the most controversial change is a provision that lifts a size threshold under which banks can avoid stricter government oversight. Currently, banks with assets up to $50 billion are exempt from something called "prudential regulation," which includes stress tests and leverage requirements, which Dodd-Frank imposed on larger banks to safeguard against another financial meltdown. Many Democrats, including Dodd-Frank co-author Barney Frank, have supported raising that threshold to $100 billion or $125 billion.
However, Crapo's bill would raise it to $250 billion, which would allow 25 of the 40 largest banks in the country to avoid tighter regulations. Critics, like Warren and Frank, say that threshold is too high, since the failure of two or three of those mid-sized banks would be the equivalent of one big bank failing.
The bill also changes how the Federal Reserve can regulate big banks (more on that below) and includes some new consumer protections (which Warren has characterized as "watered down"). Read more about the fine details and other changes in the bill here and here and here.
Who is supporting this bill?
In addition to Crapo, the bill has 25 cosponsors: 12 Republican, 12 Democrats, and 1 independent (Maine Sen. Angus King).
Among the dozen Democratic cosponsors are a number of moderates in Republican-leaning states who are up for re-election this year, such as Indiana Sen. Joe Donnelly, North Dakota Sen. Heidi Heitkamp, Montana Sen. Jon Tester, Missouri Sen. Claire McCaskill, and West Virginia Sen. Joe Manchin. Even former Democratic vice presidential nominee Sen. Tim Kaine, of Virginia, is cosponsoring the bill.
On Tuesday, a motion to move the bill toward a floor vote was unanimously supported by Senate Republicans and even picked a few more Democratic backers, including New Hampshire Sens. Jeanne Shaheen and Maggie Hassan. Warren didn't hesitate to call out her colleagues.
"This bill wouldn't be on the path to becoming law without the support of these Democrats," she tweeted Tuesday. "The Senate just voted to increase the chances your money will be used to bail out big banks again."
Senate Republicans voted unanimously for the #BankLobbyistAct. But this bill wouldn't be on the path to becoming law without the support of these Democrats. The Senate just voted to increase the chances your money will be used to bail out big banks again. https://t.co/bfkEgNdl9C

— Elizabeth Warren (@SenWarren) March 6, 2018
In the face of opposition from Warren, Senate Minority Leader Chuck Schumer, and other progressives, the bill's bloc of Democratic supporters have touted it as an achievement of "bipartisan work" and "old school-legislating."
"There will be a split in the caucus," Sen. Mark Warner, a Virginia Democrat and one of the bill's cosponsors, told Politico. "But I believe we'll get between 65 and 70 votes."
Why Warren thinks her Democratic colleagues are wrong to support the bill
A longtime advocate of cracking down on the banking industry, Warren attributes the Democratic support for Crapo's deregulation bill to the record amounts spent on lobbying by financial firms in recent years, as big and little banks alike continued to record big gains.
"There's Democratic and Republican support because the lobbyists have been pushing since the first day Dodd-Frank passed to weaken the regulation on these giant banks," the senator said in a press conference Tuesday.
Warren says that easing mortgage requirements, even for small banks, allows for both more risky and discriminatory lending, and that lifting the prudential regulation threshold to $250 billion "puts the entire economy at risk." During Tuesday's press conference, she noted that Countrywide Financial — formerly the country's biggest mortgage lender and one of the firms blamed for the economic collapse — was worth around $200 billion.
"If this bill passes, the next Countrywide will be regulated as if it were some tiny, little community bank," Warren said. "That's staggeringly dangerous for the American economy."
A Congressional Budget Office report this week on the bill found that the risk of a financial crisis and subsequent bank bailouts, while small, "would be slightly greater under the legislation."
Warren also highlighted a controversial one-word change in the bill that directs the Federal Reserve to tailor regulations on the biggest banks individually for each firm, rather than applying the same rules across the board. Critics say the change would empower big banks to secure more favorable treatment from the government.
Meanwhile, this "may" to "shall" thing is appalling: it's a full-employment plan for high-priced lawyers on Wall Street, and an incentive to regulators who may want to cash in later to go easy on the banks they oversee. pic.twitter.com/emnOmv8ZuO

— Ezra Klein (@ezraklein) March 6, 2018
Warren said the change "may be the single-most dangerous provision in the bill" and would lead to a "systematic weakening of the rules for all the big banks."
"This bill is all about helping big banks," she said, later adding that "if this bill was only about community banks, we would be having an entirely different conversation."
Frank, the former Massachusetts congressman, recently wrote that he and many other Democrats favored some changes to provide relief to smaller, regional banks, but that Senate Republicans, who drafted the bill, had included provisions that the original consensus did not support. Warren says she has 17 proposed amendments to the bill, but that every amendment offered in committee was shot down.
"They voted against every amendment, even if they agreed with it, because Republicans and Democrats had locked arms to do the bidding of the big banks," she said in her floor speech Tuesday evening.
Asked during the press conference Tuesday if she was worried her attacks could hurt some of her Democratic colleagues' chances at re-election, Warren insisted she simply couldn't understand how the core of the bill benefitted the public.
"Look, all I know is how the American people feel about bank deregulation, and telling a bank that's a quarter of a trillion dollars that it can be regulated the same way as some tiny, little local community bank makes no sense at all," she said. "And everyone who votes for this bill has to acknowledge this truth."
However, Warren isn't confident. Pointing to the fact that the average citizen can't afford their own lobbyist or host a steakhouse fundraiser, she questioned Wednesday who the senators supporting the bill were representing.
"The result, it seems, is that every Republican in this chamber and far too many Democrats will lie down with the banks and ignore Mr. Estrada and his two little girls," she said, referring to the plight of a family she's talked about in the past, who lost their home during the financial crisis.
"We should be working for people like Mr. Estrada and not for the big banks," Warren added.