Politics
Joe Kennedy III explains why he's one of the few Democrats not so hot about pot
"My views do not exactly line up with my own state, and it's something that I'm struggling with."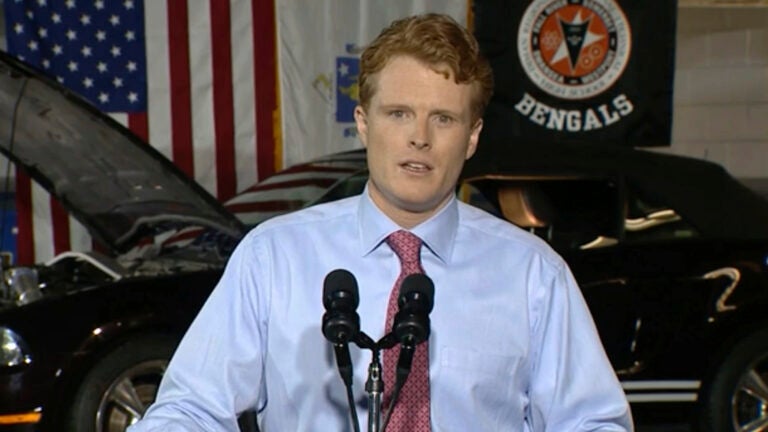 Over the past decade, Massachusetts has been one of the states at the forefront of the pro-marijuana movement. But one of the state's rising political stars is not on board.
"This one is a tough one for me, because my views do not exactly line up with my own state, and it's something that I'm struggling with," Rep. Joe Kennedy III said in a podcast interview this week with Vox.com's Ezra Klein.
Even as he has seen his national profile continue to rise, the 37-year-old Democratic congressman has taken heat from the left over his opposition to marijuana legalization (including for medical purposes), which has become increasingly popular both within his party and across the country. After he was tagged to deliver his party's response to President Donald Trump's State of the Union address in January, pro-marijuana outlets scoured Kennedy's voting history in the House and found that he was among the few Democratic representatives who consistently voted against even mildly pro-marijuana bills — even measures that many Republicans supported.
The National Organization for the Reform of Marijuana Laws (NORML) gives Kennedy a D grade, which is tied for the lowest grade among the groups' scorecard for Massachusetts' all-Democrat congressional delegation.
"I don't think marijuana should be legalized," Kennedy flatly told Boston magazine in 2016, two months before the Massachusetts voters approved a referendum to do just that.
Nine states and the District of Columbia have now moved to legalize recreational marijuana. As Massachusetts nears the full enactment of its voter-approved law, Kennedy says it's his job to "take a deep breath"  — though not necessarily inhale.
"We just gotta be thoughtful about this," he told Klein. "It's not something where I wanna get in a position where you kind of rush through, because clearly public opinion is on one side of this and moving pretty hard in one direction."
Kennedy spokeswoman Emily Kaufman says the congressman thinks the finalized regulations for Massachusetts' legal marijuana market, which were released this week by the state's Cannabis Control Commission, are "a step in the right direction" — though he still has some worries.
"He still has public health and safety concerns regarding issues like driving under the influence and adolescent access, which he hopes the state will prioritize as it moves closer to implementation," Kaufman said.
In his interview with Klein, the congressman cited some of the unintended consequences of decriminalizing and legalizing the drug. Recalling his days working as a state prosecutor when Massachusetts voted in 2008 to decriminalize marijuana, Kennedy said the decision affected the ability of police officers to search and seize other illegal items, such as guns, from vehicles.
"If you smelled [marijuana] in a car, you could search a car," Kennedy said. "When it became decriminalized, you couldn't do that."
Klein later argued the change was probably for the good, given the racial disparities that exist in the legal system's treatment of marijuana, which Kennedy conceded was a good point. Another criminal justice concern Kennedy expressed was the lack of an admissible roadside test to determine whether a driver is operating under the influence of marijuana, which he said would be an increased threat with more widespread usage.
"I think it's worth us understanding, 'Do we have the tools that are necessary to keep the communities safe?' as we try to actually go through and make this a substance that is far more widespread," he told Klein.
Kennedy's other big concern aligns with one of the issues he's often spoken out about.
"One of my main focuses in Congress is on mental health and addiction and there are a number of voices in that community that do pose serious questions about either the decriminalization or legalization efforts," he said.
One of those voices is a family member, Patrick Kennedy, a former Rhode Island congressman and Kennedy's first cousin once removed, who founded the anti-legalization group Smart Approaches to Marijuana, which opposes the legalization and commercialization of pot. The group has argued that while the federal government shouldn't be cracking down on marijuana users, it should serve as a "a needed check against an exploding for-profit marijuana industry that often prioritizes profits over public health and safety."
Kennedy walks a similar line, arguing that the government needs to look at the effect of legalization on not just average citizens, but also those who are more at-risk of abusing the substance.
"The casual marijuana user isn't something that I have a whole lot of concerns about," he told Klein.
Amid the Trump administration's repeal of rules allowing states leeway to police marijuana and uncertainty over the Justice Department's treatment of legal pot in Massachusetts, Kennedy called federal policy on the issue "a nightmare." Democrats have introduced ambitious legislation in the Senate and House that would legalize marijuana at the federal level, but Kennedy, who is not a cosponsor of the House bill, wants a more cautious approach.
"It is a mess," he said of the current policy. "And that's something that Congress has to clean up a bit, but it's something that I think we need to be deliberate about and careful about as we try to plot this forward because it's not quite as simple — at least I don't view it as quite as simple as some other folks do."