Politics
Why US consumers could feel impact of Trump's China tariffs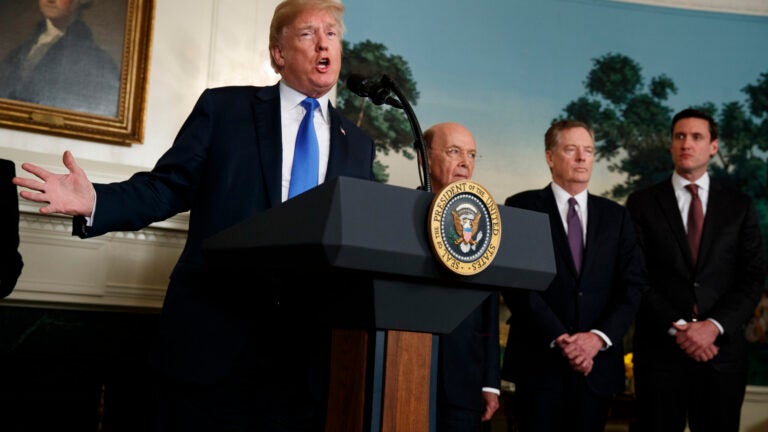 WASHINGTON (AP) — From toys to clothes to shoes to cellphones, Americans buy a half-trillion dollars' worth of goods from China each year — the biggest haul of imports from any one country. And that means the prices of many such products could surge as a result of President Donald Trump's plan to impose tariffs on up to $60 billion of imports from China.
White House officials say they will try to minimize any price increases for American shoppers. Instead, they suggested Thursday that the tariffs would mostly target products that businesses, rather than consumers, buy: Computers, information technology products, industrial machinery and aircraft parts.
"If they had done it on clothing, footwear and iPhones, that would have more of an immediate impact," said Chad Bown, a senior fellow at the Peterson Institute for International Economics. "That doesn't seem like what they're doing here."
Analysts note, though, that many businesses would eventually pass on any higher import costs to consumers in the form of higher prices.
Most modern appliances include electrical components from China. Think of semiconductors and transistors that run the touchscreen panels and beeping alarms in refrigerators, washing machines and dishwashers. Cars also include high-tech components.
"If they put the tariff on things that you can't see, then consumers may say, 'They're not putting a tariff on my Ford Escort, or my Maytag refrigerator,' but they are," said Robert Atkinson, president of the Information Technology and Innovation Foundation, a trade association.
About 30 major retail chains, including Big Lots, Costco, Gap, and Kohl's Department Stores, wrote to the White House earlier this week to argue that a "broadly applied tariff remedy on imports from China" would "hurt American households."
For now, specifics about the administration's China tariffs remain sparse. The White House says it plans to publish a list of proposed tariffs for public comment within 15 days. But Trump administration trade officials have identified as potential targets 1,300 product lines worth about $48 billion. That list will then be open to a 30-day comment period that will allow businesses to weigh in.
Last year, according to government figures, the United States imported $70 billion of cellphones and related parts from China. America also imported $11.5 billion of shoes and nearly $21 billion of furniture from China — more than from any other country in each case. The United States also imports about $27 billion in toys from China.
America also buys an enormous bounty of high-tech products from China — nearly $46 billion in computers, $32 billion in computer parts and accessories and $9.6 billion in semiconductors. Those figures include network server computers that businesses buy.
On Wall Street on Thursday, the Dow Jones industrial average plunged more than 700 points after the China sanctions were announced. Industrial and technology companies, which depend heavily on foreign trade, suffered some of the worst losses. Boeing, Caterpillar and Microsoft, for example, all tumbled.
Atkinson warned that the tariffs could slow U.S. economic growth because the high-tech Chinese goods targeted by the administration, along with industrial machinery, are the very kinds of equipment that tend to boost the productivity of workers when companies invest in them. The Trump administration's corporate tax cuts, in fact, were structured in ways to encourage such investments.
Atkinson calculates that 12 percent of the high-tech equipment that U.S. businesses and consumers bought in 2016 came from China.
"Consumers will be hit with a double-whammy," Atkinson said. "They'll be paying more for products that have these components in them. And they'll be paying more because the U.S. economy won't be growing as much."
David French, senior vice president for government affairs at the National Retail Federation, said he is "cautiously hopeful" because the administration doesn't appear to be targeting mass consumer products, such as clothes and shoes.
But French and his organization say they will keep a close eye on the target list.
"I think it is unlikely that (the administration) will completely avoid consumer harm," French said.