Politics
How gerrymandered is Massachusetts?
The short answer? It's better than it used to be.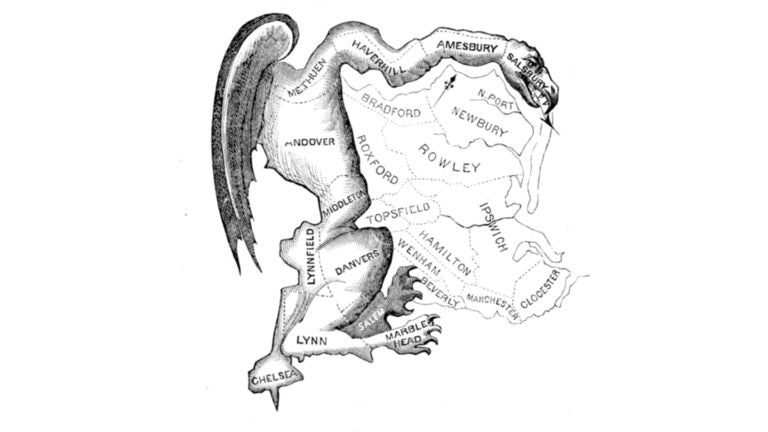 Massachusetts has come a long way since the days of Gov. Elbridge Gerry.
But how much does gerrymandering still play a role in the state where the term was first coined?
The subject of partisan redistricting — in which incumbent political parties redraw legislative maps to their own advantage — is once again receiving national attention, as the Supreme Court considers gerrymandering cases in Wisconsin and Maryland. Pennsylvania was also recently forced to redraw its U.S. congressional map, which heavily favored Republicans.
It wasn't so long ago that courts also forced Massachusetts to redraw its maps. But advocates say the state is in a better place now, especially compared to some of its peers across the country.
"The last time the legislature did redistricting, they did a good job," said Pam Wilmot, the executive director of Common Cause Massachusetts.
Wilmot was there in 2011 when Gov. Deval Patrick signed the latest redistricting bill, which earned plaudits from voting-rights and government-reform activists. For all of Beacon Hill's entrenched flaws, the Center of Public Integrity said the process was a bright spot, giving the state an A grade for redistricting.
"We felt like the legislature actually took our suggestions and actually did one better," Wilmot said in a recent interview.
Gone were the salamander-like districts. Compared to the old congressional maps (which, especially in the 1990s, were jarring in shape), the 2011 plan created more compact districts.
In previous redistricting cycles, the state was successfully sued for violating the Voting Rights Act for state legislative maps that, Wilmot said, were motivated by "racial gerrymandering" and "general personal politics," such as making Boston districts whiter by lumping in suburbs to help certain incumbents.
In 2011, the new maps created one eventual minority-majority U.S. congressional district and doubled the number of minority-majority State House districts from 10 to 20 at the time.
The process also forced sacrifices from many Democratic incumbents, such as former U.S. Rep. Barney Frank, who decided not to run for re-election as a result, and Patrick, who saw his hometown of Milton cut into two districts in the new map.
All of those changes don't mean Massachusetts' maps are perfect.
Michael Li, a senior counsel at the Brennan Center for Justice, says that even though Massachusetts may not have the outlandishly shaped districts of Maryland or North Carolina (the latter of which were struck down by the Supreme Court), the state's maps aren't completely free of partisan bias.
"It's not a very responsive map," he said.
Li co-authored a recent national report that found gerrymandering across the country would "materially hamper" Democrats' chances in the upcoming 2018 midterm elections. According to the report, Democrats would have to win the national popular vote by an unprecedented 11 percent margin in order to reclaim the majority in the House of Representatives.
"Even a strong blue wave would crash against a wall of gerrymandered maps," said the report.
However, Li says partisan redistricting isn't exclusively done by Republicans, as evidenced by the state of Maryland.
Massachusetts' congressional map also has a strong Democratic bent, but it's unclear whether that's the result of partisan efforts or simply the reflection of a liberal electorate.
Noting that Democrats controlled both the governor's office and the State House when the Bay State drew new maps in 2011, Li says the "warning signs are there." As the Associated Press reported last year, Massachusetts has one of the highest rates of uncontested races at both the congressional and state legislative level, where Democrats also hold firm control.
According to the Brennan Center report, Democrats would still be projected to hold all nine of their Massachusetts congressional seats even in an election cycle as bad as the 2010 midterms. Li says that fact suggests that "at least some of the districts were drawn in 2011 to hold even if Democrats had another year as bad as 2010."
"A lot of this is because Massachusetts is very Democratic, but it also suggests that Democrats have been spread out so that they win," he said.
Depending on the criteria used, Li says that the state could have up to two Republican leaning districts. But is competition the be-all, end-all?
"Competitiveness potentially is a goal," Wilmot said. "But there are many goals in redistricting, and it should not be the only goal. What should not happen is that political party affiliation is used as the number one criteria so that you're excluding people based on their party affiliation and not allowing them to represent their viewpoints."
And as The Boston Globe reported at the time, the Democrat-led redistricting actually increased the amount of feasibly Republican seats in the State House, even if the same didn't happen at the federal level. Wilmot says that reverse-engineering districts to maximize competitiveness — while better-intentioned than partisan gerrymandering — can also have negative effects, such as erasing efforts to create districts that are compact, contiguous, and representative.
"There's a difference between that — excluding people and trying to punish your political opponent — and maximizing competition, which could mean lots of very, very funny looking district that disenfranchise people on our metrics," she said.
Wilmot says that Common Cause advocates for an independent redistricting commission, which in theory would eliminate any partisan or political influence on the process altogether. But in a state where less than 11 percent of voters are enrolled as Republicans, even a perfectly drawn map from scratch wouldn't likely change Massachusetts' political representation as it would in a swing state.
"It is a lopsided state," Wilmot said. "And that means we're not going to have districts that are going to be hugely competitive in the same way as a Pennsylvania or an Ohio."