Politics
'I couldn't disagree with you more': Watch Ed Markey's testy back-and-forth with Mark Zuckerberg
"We're leaving these children to the most rapacious commercial predators in the country."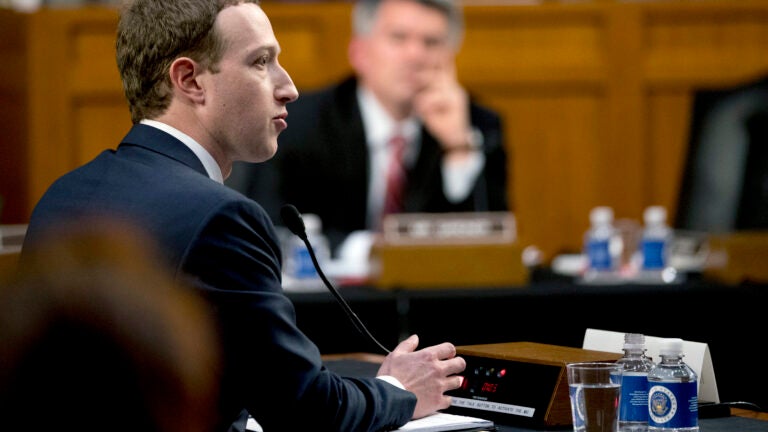 Sen. Ed Markey's clash with Mark Zuckerberg had perhaps been a long time coming.
Despite facing bipartisan criticism for allowing data from up to 87 million people to be improperly shared without their knowledge, the Facebook CEO had mostly glided through questioning during his highly anticipated appearance Tuesday afternoon before the Senate.
However, Zuckerberg got into a contentious back-and-forth with Markey after the Massachusetts senator and longtime privacy advocate repeatedly tried to get the 33-year-old billionaire to commit to supporting specific legislation to regulate how Facebook treats user data.
Markey began his time by claiming Zuckerberg "refused" to answer previous questions from Sen. Richard Blumenthal about whether Facebook should be required by law to obtain explicit permission from users before collecting, sharing, or otherwise using their personal information.
"I'm going to ask it one more time," said the senator. "Yes or no, should Facebook get clear permission from users before selling or sharing sensitive information about your health, your finances, your relationships? Should you have to get their permission?"
The 71-year-old Democrat said Facebook essentially agreed to obtain such "opt-in" permission in a 2011 consent decree the company signed with the Federal Trade Commission. Facebook could theoretically face gargantuan fines if they're found to have violated the agreement.
In reponse to the question, Zuckerberg noted that Facebook doesn't technically sell users' information. Rather, as he explained earlier in the hearing, Facebook targets ads from companies to users' based on the data they've supplied.
"I want to be clear, we don't sell information," he said.
Markey then pressed Zuckerberg on whether he would support legislation requiring affirmative permission from customers for the use of their data. Not coincidentally, Markey and Blumenthal introduced a bill earlier Tuesday requiring "opt-in consent" from users on Facebook and "other online companies."
"Senator, in general, I think that principle is exactly right, and I think we should have a discussion around how to best codify that," Zuckerberg said.
Markey pushed Zuckerberg on if he supports "opt-in consent," not just in principle, but as a national standard, as will soon be implemented in the European Union. Zuckerberg responded that the "details matter a lot," and would only commit to supporting such a measure in "principle." The 33-year-old billionaire added that he looked forward to having his team work out those details with Markey's office.
But the Massachusetts senator wasn't done.
As the author of the 1998 Children's Online Privacy Protection Act, which requires websites to get parental consent to collect or use information from children under the age of 13, Markey asked if Zuckerberg would support a separate bill he had introduced to expand protections for minors under the age of 16.
"Would you support a child online privacy bill of rights for kids under 16 to guarantee that that information is not reused for any other purpose without explicit permission from the parents or the kids," he asked.
Zuckerberg again said that as "a general principle" protecting minors' privacy is "extremely important." But Markey repeatedly pressed for a "yes or no" answer from the Facebook CEO on whether he would support a law to actually enforce those protections.
"Senator, I'm not sure if we need a law, but I think that this is certainly a thing that deserves a lot of attention," Zuckerberg said.
"I couldn't disagree with you more," Markey replied. "We're leaving these children to the most rapacious commercial predators in the country, who will exploit these children unless we absolutely have a law on the books."
With the committee chairman signaling that the senator's designated time for questions had expired, Zuckerberg said again that he looked forward to having his team follow up to flesh out the details, but Markey was clearly unsatisfied with that answer.
Following the exchange, Markey tweeted that Facebook's own actions weren't enough following their latest public relations crisis.
"We need more than a promise to do better, we need laws to protect Americans' privacy online," he said.
Why does it take these types of public relations crises for @Facebook to take action? Sorry doesn't cut it anymore. We need more than a promise to do better, we need laws to protect Americans' privacy online. #Zuckerberg

— Ed Markey (@SenMarkey) April 10, 2018
https://twitter.com/SenMarkey/status/983832767871021056