Politics
6 takeaways from the James Comey memos
Though much of what the memos describe was already public, the documents themselves provided an intimate portrait of the early months of the Trump White House.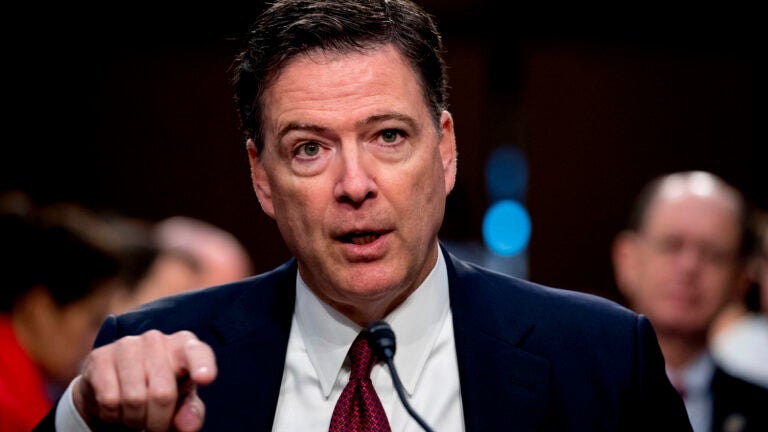 WASHINGTON — Memos written by former FBI director James B. Comey that were released Thursday revealed several new details about his relationship with President Donald Trump and the president's first chief of staff, Reince Priebus.
Though much of what the memos describe was already public, the documents themselves provided an intimate portrait of the early months of the Trump White House and how the president and Priebus confronted leaks, the prospect that the national security adviser was under investigation and allegations about Trump's ties to Russia.
Comey depicts Trump as a man engrossed to the point of distraction with political rivalries and fears that bureaucrats and government officials, including in the FBI, were trying to undermine his legitimacy.
The president responded late Thursday by insisting that the memos showed no collusion with Moscow's election interference and that Comey had erred by leaking classified information. The memos were reviewed by Justice Department officials before being released.
James Comey Memos just out and show clearly that there was NO COLLUSION and NO OBSTRUCTION. Also, he leaked classified information. WOW! Will the Witch Hunt continue?

— Donald J. Trump (@realDonaldTrump) April 20, 2018
Here are six takeaways:
Trump's preoccupation with the dossier
Shortly before Trump was inaugurated, Comey briefed him at Trump Tower about a dossier compiled for the FBI by a former British spy that said Trump and his associates had longstanding ties to Russia. In its most salacious allegation, the document said that the Russian government had a tape of Trump watching prostitutes urinate on one another during a trip to Moscow for the 2013 Miss Universe Pageant.
Trump denied the episode had taken place and appeared to Comey to be defending himself. Comey replied that the allegations could have been made up, but that the job of the FBI was to protect the president from efforts to coerce him.
Although Trump ended the meeting genially, the accusations clearly stuck with him, Comey's memos showed. At least twice more in the ensuing weeks, Trump laid out a timeline for Comey and claimed that it showed that such a tape could not exist.
According to the memos, the president told Comey in a one-on-one dinner at the White House later in January 2017 that he had spoken with several people who had been on the trip with him. Trump said those people "reminded" him that he did not stay overnight in Moscow.
Trump said that he had arrived in the morning, attended a series of events, then went to a hotel to shower and dress for the pageant, leaving Russia afterward.
In a February 2017 meeting in the Oval Office, Trump told Comey that "'the hookers thing' is nonsense" but that President Vladimir Putin of Russia had told him that the country had "some of the most beautiful hookers in the world."
The dossier's allegations were corroborated
Comey's decision to brief Trump on the dossier was based, at least in part, on the fact that U.S. intelligence agencies had corroborated parts of the dossier, according to the memos.
"I explained that the analysts from all three agencies agreed it was relevant and that portions of the material were corroborated by other intelligence," Comey wrote in a memo in February 2017, describing how he responded to a question from Priebus about why he told the president-elect about the dossier.
Parts of the memo are redacted but appear to say that information in the dossier "was consistent with and corroborated by other intelligence, and that the incoming president needed to know the rest of it was out there."
Trump's focus on McCabe, then a relative unknown
Trump also raised on several occasions Comey's deputy at the FBI, Andrew G. McCabe, according to the memos. McCabe had been the subject of right-wing attacks over his involvement in the investigation into Hillary Clinton's handling of classified information while secretary of state. His wife, Jill, received hundreds of thousands of dollars in donations for her failed Virginia state Senate campaign from a political committee run by a longtime Clinton ally.
Some conservatives insisted that McCabe should have recused himself from the Clinton investigation to avoid bias, and Trump joined in those attacks on the campaign trail.
According to the memos, Trump asked Comey during their January dinner whether McCabe "had a problem" with the president.
"I was pretty rough on him and his wife during the campaign," Trump ventured.
Comey tried to smooth over the issue by explaining that FBI agents and officials pride themselves on being apolitical.
"l explained that Andy was a true professional and had no problem at all," Comey wrote. "I then explained what FBI people were like, that whatever their personal views, they strip them when they step into their bureau roles and actually hold 'political people' in slight contempt without regard to party."
The president broached the subject again during dinner, and the FBI director repeated his response.
"I again affirmed Andy's ability and professionalism and said the president would come to see and benefit from both," Comey wrote.
In an Oval Office meeting weeks later, Trump brought up McCabe again.
"He asked (as he had at our dinner) whether my deputy had a problem with him, and recounting how hard he had been on the campaign trail, saying, 'The No. 2 guy at the FBI took a million dollars from the Clintons.'"
Comey said he again explained that McCabe was "a pro" and had never mentioned Trump's attacks.
What Priebus knew
At their dinner, Trump gave contradictory explanations about whether Priebus knew they were meeting.
Early on, as they discussed whom Comey's point of contact should be at the White House, Trump said that "Reince doesn't know we are having dinner" but that Comey should plan to go to him.
But as Comey was preparing to leave the White House that night, Trump told him: "Reince knows we are having dinner' (the opposite of what he said earlier)," according to one memo.
Comey neither explained nor speculated why Trump contradicted himself.
The Flynn investigation
In their own meeting on Feb. 8, 2017, Priebus tried to ask Comey whether the FBI was wiretapping the national security adviser at the time, Michael T. Flynn.
Weeks earlier, reports had emerged that Flynn was overheard on a wiretap talking with the Russian ambassador to the United States about sanctions being imposed by the Obama administration as punishment for its election interference. The calls raised concerns among senior law enforcement and intelligence agencies that Flynn might have been working to help the Russians.
Comey's answer was redacted in the released version of the memos. But it is widely believed that Flynn was overheard on the wiretap because American intelligence agencies routinely listen in on the calls of foreign ambassadors.
Comey said he then explained how such questions should be routed from the White House counsel's office to the Justice Department.
"I explained that it was important that communications about any particular case go through that channel to protect us and to protect the WH from any accusations of improper influence," Comey said, using shorthand for the White House.
So General Michael Flynn's life can be totally destroyed while Shadey James Comey can Leak and Lie and make lots of money from a third rate book (that should never have been written). Is that really the way life in America is supposed to work? I don't think so!

— Donald J. Trump (@realDonaldTrump) April 20, 2018
Hunting leakers
In one February conversation, the two men discussed leaks in the news media at length. By then, Trump had endured several embarrassing disclosures of classified information, including transcripts of his calls with foreign leaders in which he was short with the leaders of U.S. allies, including Australia and Mexico.
In his memo, Comey explained how he hoped to catch one of the leakers to set an example.
"I said I was eager to find leakers and would like to nail one to the door as a message," Comey said. "I said something about it being difficult and he replied that we need to go after the reporters and referred to the fact that 10 or 15 years ago, we put them in jail to find what they know and it worked."
Trump then mentioned Judith Miller, a former reporter for The New York Times. In 2005, Miller was jailed for 85 days for refusing to testify and reveal her confidential source about the identity of a former CIA operative, Valerie Plame, before relenting.
"I explained that I was a fan of pursuing leaks aggressively but that going after reporters was tricky, for legal reasons and because DOJ tends to approach it conservatively," Comey said. The president, he said, suggested he speak to Attorney General Jeff Sessions about being more aggressive in prosecuting leaks.