Politics
Lobbyist tied to condo met with EPA chief, despite denials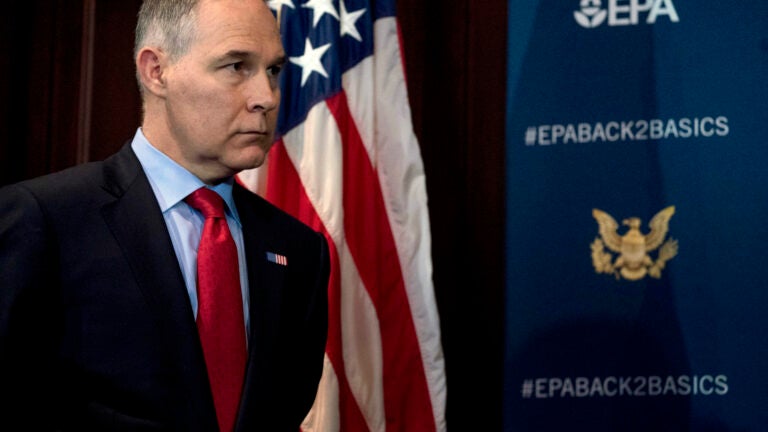 WASHINGTON (AP) — Environmental Protection Agency chief Scott Pruitt met in his office last year with a veteran Washington lobbyist tied to the bargain-priced condo where Pruitt was living.
Both Pruitt and lobbyist Steven Hart had previously denied Hart had conducted any recent business with EPA.
A spokesman for Hart confirmed Saturday that the lobbyist met with Pruitt at EPA headquarters in July 2017 to discuss efforts to preserve the Chesapeake Bay.
The admission about the meeting came after the lobbying firm Williams & Jensen filed a new disclosure report late Friday hours after Hart announced his early retirement as chairman. The firm's filing , first reported by The Hill, says Hart lobbied EPA during the first quarter of 2018 on behalf of Smithfield Foods.
The world's largest pork producer, Smithfield has been involved with efforts to clean up the bay since EPA fined the company $12.6 million in 1997 for illegally dumping hog waste into a tributary.
EPA's press office did not respond to questions about Pruitt's meeting with Hart.
Pruitt's connections to the prominent lobbyist have been under intense scrutiny since last month, when media reports first revealed that the EPA chief had rented a luxury Capitol Hill condo from a corporation co-owned by Hart's wife for just $50 a night. Pruitt's daughter, then a White House summer intern, also stayed at the condo.
On Pruitt's 2017 condo lease, a copy of which was reviewed by AP, Steven Hart's name was originally typed in as "landlord" but was scratched out. The name of his wife, health care lobbyist Vicki Hart, was scribbled in.
Pruitt's public calendar shows he meet at EPA headquarters on July 11 with the Smithfield Foundation, the pork-producer's philanthropic arm. The calendar entry does not include a list of attendees.
Pruitt's calendar does not disclose any 2018 meetings with Smithfield or its affiliates, the period covered by the report filed by Williams & Jensen.
Hart's spokesman, Ryan Williams, confirmed on Saturday that the lobbyist had met with Pruitt at EPA in July. In a statement, Hart disputed the legal filing made by his former firm.
"I assisted a friend who served on the Chesapeake Bay Commission, and this is inaccurately being tied to Smithfield Foods," Hart said. "I was not paid for this assistance and any suggestion that I lobbied for Smithfield Foods is inaccurate."
Lobbying disclosures show Williams & Jensen has represented Smithfield for more than a decade, with Hart intermittently reported as working directly on the pork-producer's behalf. The firm reported receiving $70,000 from Smithfield in the first quarter of this year.
In a statement issued Saturday, Smithfield said it did not direct any contacts with EPA about the Chesapeake Bay.
"The objective, while laudable, was not undertaken at the direction of or on behalf of Smithfield Foods," said a written statement provided by Smithfield spokeswoman Diana Souder. "These activities were conducted at the request of a then former executive and current Smithfield Foundation board member, Dennis Treacy, in his personal capacity."
Treacy is a member of the Chesapeake Bay Commission, which was created by the states of Maryland, Virginia and Pennsylvania to coordinate on issues involving the bay. He did not respond to a phone message on Saturday seeking comment.
Pruitt denied in an interview earlier with Fox News earlier this month that there was anything improper with his rental of the condo from Hart's wife.
"Mr. Hart has no client that has business before this agency," Pruitt said. "It was like an Airbnb situation."
Hart also denied having any meaningful recent contacts with the EPA chief.
"Pruitt is a casual friend but I have had no contact with him for many months except for a brief pass by at the National Prayer Breakfast in 2018," Hart said last month.
Prior to being tapped by Trump to lead EPA, Pruitt served as the elected attorney general of Oklahoma. Williams & Jensen represents several clients with interests before the agency, including OGE Energy Corp., an electricity provider in Pruitt's home state.
Campaign finance records show Hart hosted a 2014 fundraiser for Pruitt's state re-election effort where more than three dozen OGE executives cut checks, even though he was running without a Democratic opponent.
Records show that once Pruitt arrived at EPA last year, he met with a lobbyist from Hart's firm and two executives from OGE Energy, which was then seeking to scuttle tighter pollution standards for coal-fired power plants. The company paid Williams & Jensen $400,000 in lobbying fees last year.
Pruitt's calendar also shows another meeting with OGE last month, though the agency provided no specifics about who attended.
Hart's spokesman declined to answer Saturday whether the lobbyist attended those or any other additional meetings with Pruitt.
___
Follow Associated Press environmental reporter Michael Biesecker at http://twitter.com/mbieseck