Politics
Robert Kraft had some harsh words about Donald Trump in a private meeting last fall
"It's divisive and it's horrible."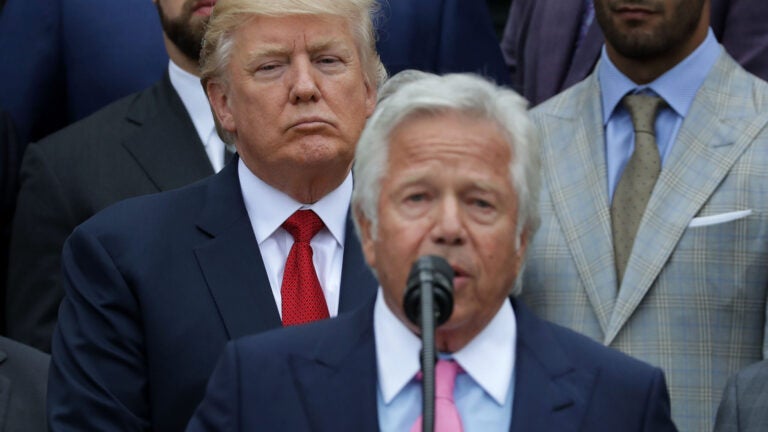 Patriots owner Robert Kraft said publicly that he was "deeply disappointed by the tone" of President Donald Trump's attacks on the NFL last fall.
In private, it seems Kraft was a bit more critical.
The New York Times published an article Wednesday based off an audio recording of the confidential October meeting between NFL players, owners, and league executives, following Trump's repeated tirades against the league, which began in response to players who knelt during the national anthem to protest the country's treatment of racial minorities.
During the meeting, players, including Eagles (and former Patriots) defensive end Chris Long, said they wanted to discuss why free agent quarterback Colin Kaepernick was, in their opinion, being blackballed by the league after he began the protests the previous season, according to the Times.
However, Kraft reportedly directed the conversation to another "elephant in the room."
"This kneeling," said the 74-year owner, according to the Times.
"The problem we have is, we have a president who will use that as fodder to do his mission that I don't feel is in the best interests of America," he said. "It's divisive and it's horrible."
The criticism by Kraft — a longtime friend of Trump who donated $1 million to his inaugural celebrations and gave him a Super Bowl ring — was directed at the Republican president's comments on the kneeling players, rather than the kneeling itself, a Patriots spokesman confirmed Wednesday afternoon.
According to the Times, the confidential meeting last October largely consisted of players and owners talking past each other, though participants concluded the session remarking about how positive it had been. The group also worked together to draft a joint statement on the meeting.
"It would be good if you could work in the word 'unified' or 'unity' in some fashion," Kraft reportedly said.
Neither of those words were ultimately included in the statement.