Politics
More than half of Massachusetts has banned legal pot shops. Seth Moulton says that's a mistake.
"I think we've got to wake up to the world that we're in."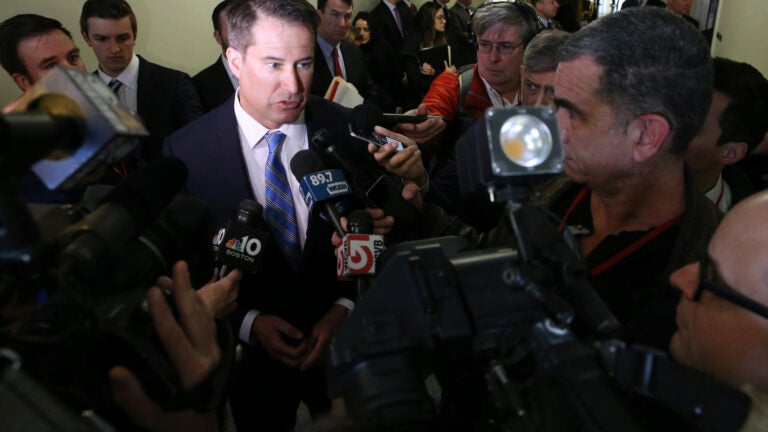 Massachusetts is exactly two months away from the day that recreational marijuana will legally be able to be sold. However, the majority of the state's towns have acts to prohibit pot shops from opening within their borders.
The Boston Globe reported in March that 189 of the Bay State's 351 municipalities had either indefinitely or temporarily banned retail marijuana stores, which become legal July 1 (though many likely will not open until later in the year).
Rep. Seth Moulton says those towns are making a mistake.
"The reality is, we're not going to make marijuana go away by pretending that it's not in our community," Moulton said Sunday during a town hall in Peabody. "So what we ought to be doing is figuring out ways to regulate its use responsibly because otherwise it's going to be used in the shadows."
The 2016 voter-approved marijuana legalization law allows towns to hold local referendums to ban marijuana shops, farms, and other related companies. However, under legislation passed last year to tweak the voter-approved marijuana legalization law, elected officials in towns where the majority of residents voted against the legalization ballot question in 2016 can act to establish bans without any additional say from local residents.
In Peabody, where 54 percent of residents voted against the 2016 ballot question, Mayor Ted Bettencourt has been pressuring city councilors to pass a ban on "any and all recreational marijuana operations." Moulton said Sunday that there's a role for local governments to listen and react to the needs and concerns of their community, but that municipalities pursuing or enacting bans are going about it the wrong way.
"I think this is a mistake on the part of Peabody or other cities that chose this path," he said.
The Salem Democrat supported the marijuana ballot question in 2016, breaking with many top Massachusetts elected officials, including Gov. Charlie Baker, Attorney General Maura Healey, and several members of the state's all-Democratic congressional delegation. Baker also supported the specific measure to allow local elected officials to enact pot shop bans.
Moulton said Sunday that such an approach was an attempt to paper over the reality.
"Don't make any mistake," he said. "Because Peabody says, 'We're not going to allow any marijuana here,' is there anyone who thinks that there isn't going to be any marijuana in Peabody?"
The rhetorical question received laughter from the town hall crowd.
"It's not my role as a United State representative to come and tell Peabody what to do, but I'm certainly entitled to my opinion and that is my view of this issue," Moulton added. "I think we've got to wake up to the world that we're in and be responsible about regulating these substances that are a part of our community — and can be used safely, if used appropriately — rather than outlawing them and pretending that they're not going to be here at all."