Politics
Is Bill Weld setting up a run for president in 2020?
The former Massachusetts governor has been making subtle moves.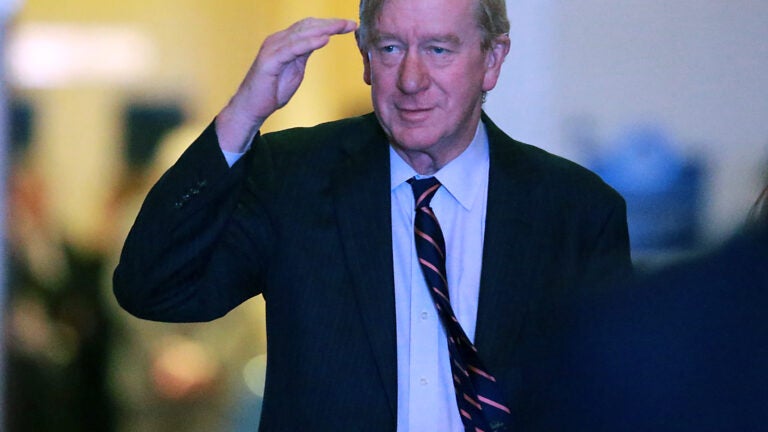 In 2016, Mitt Romney said he wished the Libertarian ticket was reversed so that fellow former Massachusetts Gov. Bill Weld was the party's presidential nominee, instead of Gary Johnson, the former New Mexico governor.
In 2020, Romney could get his wish.
Weld, the 2016 Libertarian vice presidential nominee and perennial political candidate, now appears to be laying the groundwork for a presidential run, according to the libertarian magazine Reason. The 72-year-old former Republican governor has been touring Libertarian state conventions, fundraising, and endorsing the party's local candidates, such as Dan Fishman, a Johnson-Weld campaign staffer and Libertarian candidate for Massachusetts auditor.
"Who knows?" he told The Boston Globe last fall, laughing off a question of a 2020 run.
"The most I've said is I'm still a Libertarian, and as the years roll by I'll probably want to be involved in the discussion leading up to 2020, and supportive of the Libertarian Party efforts there," he said at the time.
But as Weld continues to immerse himself in the Libertarian Party, he hasn't been able to escape the topic of 2020.
"I take this stuff seriously," Weld told Reason's Matt Welch in an interview Sunday, when again asked about a presidential bid.
"But I'm sincere when I say that I'm not talking about who is going to do the Libertarian race in 2020; I'm just here to say that I think that's a race that has some real potential to go the distance, and the sooner we all wrap our minds around that, the better," he added.
While he acknowledged the barriers facing third parties in the United States political system, Weld said he thinks their presidential chances in 2020 are at least as good as Donald Trump's chances were in 2016. And while he says the Libertarian Party should be "serious" about the presidential race, Weld has been getting involved in local elections where the party has a candidate. A former Republican himself, Weld also said he plans to try to recruit libertarian-leaning members of the two major parties to defect like he did.
As appealing as Weld may have been to Trump-skeptical Republicans in 2016, he also faced intense backlash from the Libertarian base (and barely secured the VP nomination), who criticized him as insufficiently pure on the party's ideology. To that end, Weld says he's continued to evolve on issues such as guns and foreign policy to be more in line with the Libertarian platform.
"I've learned a lot since 2016," he said Sunday. "I mean, I do blush to think of some of my early steps."
Weld also insisted that he has long held positions on government spending, gay rights, and marijuana that departed from the Republican orthodoxy and were largely consistent with the Libertarian Party.
"I don't think of myself as a moderate at all," he said. "I think of myself as an extreme on both fiscal policy and social policy. It's just a different extreme, that's all."