Politics
Donald Trump reportedly spent 'a long time' talking to Bill Belichick last week about Tom Brady
Was the president worried about whether Brady is playing this year, too?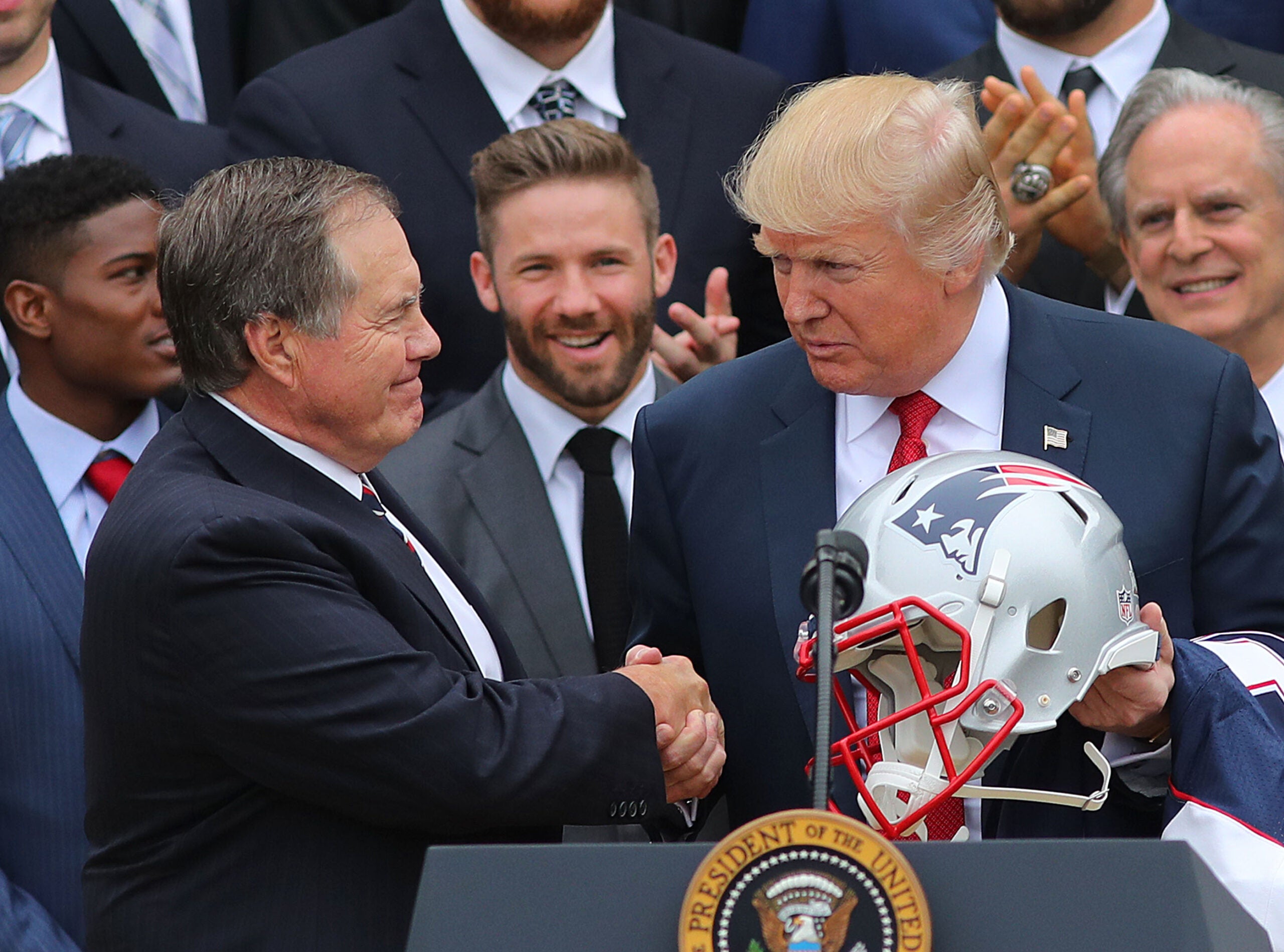 President Donald Trump may have been too "busy" to buy his wife a birthday present last week, but he did reportedly have time to chat up Bill Belichick about his favorite NFL quarterback.
Buried in a New York Times report Wednesday was the detail that Trump's chief of staff, John Kelly, who by most accounts has a strained relationship with the president, was astounded by the amount of time Trump spent talking to the Patriots coach last week about "the status of Tom Brady." Per the Times:
At a breakfast event last week for Senator Tom Cotton, Republican of Arkansas, Mr. Kelly marveled that Mr. Trump had spent a long time the day before on the phone with Bill Belichick, the New England Patriots coach, talking about the status of Tom Brady, the star quarterback, according to two people familiar with his remarks, one of whom was present.
The Times did not elaborate any further on the substance or the exact length of Trump and Belichick's conversation. Perhaps the president was concerned about the recent speculation surrounding Brady's commitment to playing next season. After all, the phone call with Belichick did take place before the 40-year-old quarterback definitively declared Monday that he would be returning in 2018.
Last week wouldn't have been the first time Trump and Belichick have talked on the phone. As Trump explained last April when the Patriots visited the White House, he called Belichick after the Patriots coach sent him a congratulatory letter during the 2016 election.
"I called up, and I said, 'Coach, do you mind if I read the letter tonight to a stadium full of people in a very, very big and important state?'" Trump said at the time. As the president told it, Belichick hesitated at the idea and instead wrote him another letter he could read publicly, which Trump did at a pre-Election Day rally in New Hampshire.
Belichick has said that he's "not a political person," but has been friends with Trump going back "many years." Brady and Patriots owner Robert Kraft have also enjoyed cozy, social relationships with the president.
But unlike Belichick, Brady and Kraft have recently criticized Trump for his outspoken attacks on the NFL and its players who knelt during the national anthem in protest of racial inequality. According to a Times report last week, Kraft called Trump's tirades against the league "horrible" and "divisive" during a private meeting last fall.
Wonder if any of that came up in Trump's call with Belichick?