Politics
Lincoln Chafee, a political enigma, eyes his old Senate seat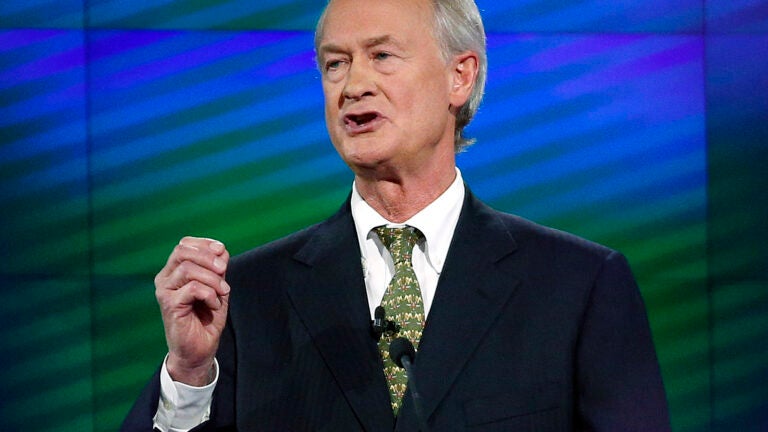 PROVIDENCE, R.I. (AP) — Former Gov. Lincoln Chafee's unanticipated interest in running for his old U.S. Senate seat began with an email from two passionate supporters of U.S. Sen. Bernie Sanders.
A 61-year-old retired chef and a 48-year-old real estate agent worried Democratic Sen. Sheldon Whitehouse's votes were promoting an overly militaristic America. So in January they asked Chafee, a quirky Republican-turned-independent-turned-Democrat, whether he would be interested.
Chafee has "been able to buck the party trends and look at the issues on the merits," one of the writers, Jonathan Daly-Labelle, told The Associated Press recently. "Sheldon is a typical Democrat and locked into the party outlook, and he's not looking at things individually."
To their surprise, Chafee quickly accepted a meeting. And on April 25, he stunned just about everyone when he publicly floated the idea of running against Whitehouse in the Democratic primary.
Chafee has said there's a 90 percent chance he'll run, and political observers say it would set up a fascinating rematch of the 2006 general election, when Whitehouse unseated Chafee, then a Republican.
And in the small world of Rhode Island politics, there's another twist — the two families have been tied for generations. Chafee's late father, John, a Republican governor and senator, roomed with Whitehouse's father at Yale, and the politicians' sons are friends.
Chafee is known for doing the unexpected. He regularly defied the Republican Party when he served in the Senate, becoming the only GOP senator to vote against the Iraq War authorization in 2002. He won the governor's office as an independent in 2010, and then switched parties during his single term in office. Later, he extolled the metric system in his Democratic presidential campaign.
His exploratory Senate bid has been similarly unconventional, marked so far by his contrasting views on the special counsel's probe into Russian interference in the 2016 election. Chafee has bucked the Democratic line, saying he wouldn't support legislation to protect Robert Mueller, then changed his mind and said he "would have voted with the Democrats."
He has praised Russian President Vladimir Putin's assessment of U.S.-Russia relations and recently joked on a radio program: "I am not a Russian spy."
On other issues, Chafee is expected to challenge Whitehouse from the left if he runs, 12 years after Whitehouse defeated him in part by connecting Chafee's Republican affiliation to President George W. Bush.
In an interview with the AP last month, Chafee signaled support for a single-payer health care system, criticized Whitehouse's ambivalence about a proposed natural gas plant in the rural community of Burrillville, and railed against Whitehouse's votes in favor of warrantless wire-tapping and a military campaign in Yemen.
Whitehouse told the AP that he will address opponents in the race "as they become real opponents."
Robert Walsh, the executive director of Rhode Island's chapter of the National Education Association, has worked for both camps. He advised Whitehouse's 2006 campaign and then helped Chafee's 2010 gubernatorial campaign.
"It's hard to be surprised by anything Chafee does because there's a little bit of randomness in there," Walsh said. He added that he doesn't see a "compelling set of differences" between Chafee and Whitehouse that would resonate with voters. Foreign policy and a local power plant aren't enough, he said.
Chafee has a record of fiscal responsibility and supporting liberal causes like environmentalism and same-sex marriage, said Wendy Schiller, a professor of political science at Brown University, but he faces long odds against Whitehouse, whose signature issue in the Senate is climate change.
Chafee has often made his mark by playing the opponent, whether against the Iraq War, the Bush tax cuts or Rhode Island's botched investment in the failed video game company 38 Studios. But Schiller said opposing mistakes is not the same thing as getting things accomplished.
"Here's the challenge for Lincoln Chafee," Schiller said. "Sheldon Whitehouse has been more effective as a U.S. senator than Lincoln Chafee was."
Chafee, obviously, sees it differently.
"I don't think he can name any accomplishments," he told the AP.
The 2006 race was largely seen as a referendum on Bush, and it grew nasty in its final weeks, with both sides pouring money into attack ads and taking public swipes.
"I didn't hold any grudges or any animosity when he ran against me. It was, 'This is America,'" he said, adding later, "and I would expect that he wouldn't in the same way, now."
Chafee is ready for a rematch he said would likely involve "brass knuckles." He remains confident despite what he called a tough governorship — he chose not to run for a second term amid low approval ratings — and the beating he took in the presidential race, when he failed to gain traction and dropped out in 2015 before voting began.
"The critics have to remember … that I have been right time and time again," he said, referring to the Iraq War, 38 Studios and the nomination of Hillary Clinton for president in 2016. "And they have been wrong."