Politics
The Senate just passed Ed Markey's measure to reverse the FCC's net neutrality repeal. What happens next?
The Congressional Review Act resolution to restore net neutrality, explained.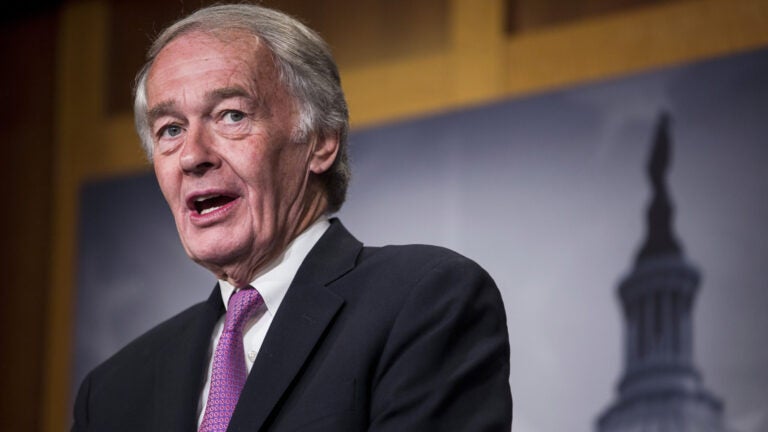 Sen. Ed Markey is celebrating "two big wins" Wednesday.
"Celtics over the Cavs, and Markey over the Trump administration," Markey told Boston.com.
In what he called "the most important vote we're going to have in this generation on the internet," a small group of Republican senators joined Democrats to pass Markey's resolution to overturn the Federal Communications Commission plan to repeal net neutrality rules.
It's an issue that the Massachusetts Democrat and longtime tech consumer advocate says "goes right to the heart of our identity as a free and open society."
"The Senate has handed the Trump administration a huge defeat, and, now with enormous momentum, it's moving over to the House," he said in an interview Wednesday afternoon.
Critics say Markey is leading net neutrality advocates down a dead end, but his success Wednesday nevertheless represented a rare rebuke to the Republican administration. Here's a look at how we got here, what Wednesday's vote actually means, and what comes next:
What exactly is the measure they just passed?
Markey introduced a resolution under the Congressional Review Act, a 1996 law that allows Congress to effectively erase certain regulatory actions by a federal agency within 60 congressional days of its enactment. Due to the nature of a CRA resolution, it only requires a simple majority to pass the House and Senate (i.e. it cannot be filibustered). It also must be signed by the president.
Before 2017, the CRA had only been successfully used once. But after President Barack Obama left office in 2017, Republicans used the CRA to eliminate 14 rules that had been implemented during the final months of the Democrat's second term.
So what would Markey's measure actually do?
Markey's resolution is a first-of-its-kind attempt to undo the actions of an administration still in power.
In December, the Republican-led FCC voted to repeal so-called net neutrality rules enacted in 2015. The Obama-era rules to treat internet service providers as common carriers were intended to ensure that all web traffic and access to it is treated equally.
Companies like AT&T and Comcast argued that those rules were overly burdensome, and FCC Chairman Ajit Pai agreed. On a 3-2 party-line vote December 14, the commission moved to rescind and replace net neutrality rules. Under the new plan, internet service providers are allowed to slow down or block access to certain services or charge higher fees for faster service, as long as they disclose those policies to the public.
Markey's resolution would plainly nullify that plan and reinstate the 2015 net neutrality rules.
Additionally, the passage of a CRA resolution prohibits the federal agency whose rule was overturned from issuing any "substantially similar" rules without authorization from Congress. So, if passed, Markey's CRA would prohibit Trump's FCC from any similar attempts to rollback the 2015 rules.
"The Senate must act NOW and pass my resolution to save the internet as we know it," the Bay State senator tweeted last week, after the FCC announced the new rules would take effect on June 11.
"Net neutrality is simple," he said in a press conference Wednesday. "After you pay your monthly bill to your internet service provider, you should be able to access all content on the web at the same speed as your neighbor or the biggest company in your hometown."
How did they pass it with Republicans in control of the Senate?
Just 30 members are needed to force a floor vote on a CRA resolution in the Senate, and Democrats rallied enough support to hit that milestone relatively quickly; at the very least, they could force Republicans to record votes against repealing the FCC's astoundingly unpopular move.
By February, Markey was able to secure support for the resolution from half the chamber — all 46 of his fellow Senate Democrats, as well as the chamber's two independents and even one Republican, Sen. Susan Collins, of Maine.
In Wednesday's vote, two more Republicans — Sens. John Kennedy, of Louisiana, and Lisa Murkowski, of Alaska — joined the 50 senators who had already publicly stated their support to vote yes on the resolution. With the ailing Sen. John McCain absent, the CRA passed by a margin of 52 to 47.
52-47. An historic victory. Thank you @SenatorCollins, @SenJohnKennedy and Senator @LisaMurkowski for standing on the right side of history and voting to save #NetNeutrality.

— Ed Markey (@SenMarkey) May 16, 2018
What happens next?
There are still a lot of barriers standing before net neutrality advocates, two big ones specifically: the House and Trump.
Rep. Mike Doyle, a Pennsylvania Democrat, has introduced a corresponding resolution in the House of Representatives. The resolution has 162 cosponsors, all of whom are Democrats. According to Markey's office, the lower chamber has until the end of the year to pass their version of the CRA.
With seven seats currently vacant in the 435-member chamber, 215 members would be needed for a simple majority. There are 193 Democrats in the House, so the resolution would have to get the support of at least 22 Republicans to reach that number.
As Gizmodo noted in December, just 107 of 239 House Republicans signed a letter publicly supporting Pai's plan to repeal the current net neutrality rules. That doesn't necessarily mean the other 132 members are opposed, but there is a small group of House Republicans that were critical of the FCC's plan at the time. A recent national poll found that 86 percent of voters — and 82 percent of GOP voters — oppose Pai's net neutrality repeal.
The sweeping bipartisan support for net neutrality means that Republicans in congressional districts across the country will feel pressure to support the CRA, according to Markey.
"Net neutrality is about to become a midterm movement builder," he told Boston.com.
In Wednesday's press conference, Doyle urged Americans to call their congressman and urge them to sign on to the petition to bring the House resolution to the floor.
"Ask them if they've signed the discharge petition in the House, and, if not, why not, because we're going to hold people accountable on election day," he said. "The public will know who supports this and who doesn't."
For now though, it's still unclear if the 22 House Republicans needed will join Democrats to send the resolution to Trump's desk. The Republican president has criticized the Obama-era rules in the past, endorsed their repeal, and is seen as likely to veto the CRA.
"Trump would then have to decide if he wants to be on the other side of 82 percent of all Republicans in America," Markey said.
If the resolution fails to pass in the House, the FCC's new rules are allowed to take effect immediately. If it does pass in the House, but gets vetoed by Trump, the new rules can't take effect for another 30 congressional days, to allow the Senate and House time to potentially overrule the veto, which would take a two-thirds majority in each chamber. Based on the Senate tally Wednesday, that would likely be too high a hurdle.
And if it doesn't pass?
There may be other alternatives for net neutrality advocates, some of which involve compromising with Republicans who say they support the goals of net neutrality.
Rep. Mike Coffman, a Colorado Republican, has reportedly circulated draft legislation to bring back "key provisions" of 2015 net neutrality rules, including bans against service providers blocking content, slowing down internet speeds, or charging websites higher fees for so-called "fast lanes." However, Coffman opposes treating service providers as common carriers and, instead, wants to create a new regulatory classification for broadband.
In a speech against Markey's resolution Wednesday, Sen. John Thune said he supports the principles of net neutrality, but argued the Obama-era rules were "heavy-handed." The South Dakota Republican criticized the CRA effort for delaying congressional action on the issue and has expressed doubts the issue will make an impact at the ballot box.
"This is a dead end canyon," Thune said. "It's not going to do anything to solve the problem."
But with Pai's new rules set to take effect next month, Markey says his CRA resolution "is the best way to deal with net neutrality right now."
"We have to restore strong rules right now," he said.
The FCC is also facing a flurry of lawsuits attempting to block their net neutrality repeal. One lawsuit was filed by 21 states, including Massachusetts; others were filed by internet companies, think tanks, open internet advocates, and public interest groups. In March, 12 lawssuits were merged into one single legal challenge agaisnt the FCC and assigned to the San Francisco-based Ninth Circuit court.
Several internet and tech trade associations have also signed on in support of the legal to restore the the Obama-era protections.
"Those rules were working," Markey said Wednesday. "Those rules did not have to be changed."