Politics
Human rights an afterthought ahead of US-North Korea summit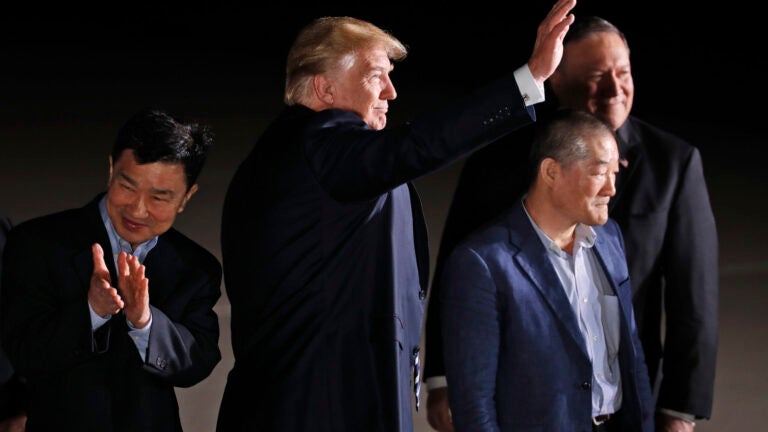 WASHINGTON (AP) — Ahead of a planned summit with North Korean leader Kim Jong Un, President Donald Trump's focus has been on stagecraft, the will-they-or-won't-they drama and visions of a legacy-defining nuclear deal. The human rights woes of North Koreans have been more of an afterthought.
Eager to pull off the historic meeting scheduled for June 12 in Singapore, Trump this week expanded his promised "protections" for Kim should the North Korean leader agree to give up his atomic program. Extending an olive branch, Trump also entertained the idea of opening the spigot of foreign investment to help secure Kim's rule.
"He will be safe. He will be happy. His country will be rich," Trump declared. "His country will be hardworking and very prosperous."
White House officials say the plight of the North Korean people, who live under one of the world's most repressive governments, is not currently a priority for the summit. Trump hopes the meeting will yield an agreement by the North to dismantle a nuclear program that could pose a direct threat to the U.S. mainland.
He's not the first U.S. leader to concentrate on the nuclear issue. The thinking is that the North Koreans view the raising of human rights as tantamount to advocating regime change and that bringing it up would only make it harder to resolve the weapons program.
But the Trump administration's virtual silence on human rights in North Korea since the president agreed in March to meet Kim, and the effusive thanks from the president for releasing three American prisoners in a goodwill gesture this month, has been striking. It underscores Trump's intent to reorient U.S. foreign policy toward a more narrow consideration of the national interest.
Kim on Thursday made good on his promise to demolish North Korea's nuclear test site, which was formally closed in a series of huge explosions as a group of foreign journalists looked on.
The delicate balancing of U.S. needs and alliances with the promotion of human rights abroad has long bedeviled American leaders. Trump has eschewed the path of his predecessors, who have explicitly declared the promotion of human rights to be in the national interest, even if they have been forced to make Faustian bargains with unsavory actors.
The Trump administration appears to be more comfortable skirting the pretense. The president's national security strategy, released in December, said little on the subject. And it was left to his vice president, Mike Pence, to elevate the issue during a February trip to the region.
While Trump has made gestures toward human rights issues in North Korea, those efforts have largely been designed to increase pressure on the country's government, as when Trump recognized a North Korean defector during his State of the Union address in January and hosted a group of North Korean escapees in the Oval Office.
John Sifton, Asia advocacy director at Human Rights Watch, criticized Trump for pledging to preserve Kim's stranglehold on power. "You shouldn't be giving assurances to a totalitarian leader," he said.
Sifton added that the North's nuclear program has been supported by its use of forced labor.
A senior White House official said Trump and his advisers see the president's foreign policy as driven by the interests of the American people rather than matters such as human rights. A second official said Trump and his team believe a human rights push is inherently part of the president's message that North Korea would see massive foreign investment if it denuclearizes because it would help alleviate the conditions of the North Korean people and could even lead to a more democratic and open system. The officials were not authorized to discuss internal thinking by name and spoke on condition of anonymity.
Trump is facing calls from Capitol Hill to not ignore Kim's human rights record during the potential sit-down — and failure to address those concerns could hamstring the congressional approvals likely required for any agreement with Kim.
The ranking Democrat on the Senate Foreign Relations Committee, Sen. Bob Menendez of New Jersey, said Wednesday that the North's human rights record needs to be addressed. "The Trump administration must elevate human rights and the fundamental issue of human dignity to be part of the agenda for any meeting with Kim Jong Un," he said.
Florida Republican Sen. Marco Rubio said that while the summit presents the opportunity for a denuclearized peninsula, "I urge the Trump administration to also prioritize human rights and hold accountable the North Korean dictatorship for being one of the world's worst human rights abusers."
Secretary of State Mike Pompeo told lawmakers Wednesday that he had raised the issue of human rights with Kim "and it will be part of the discussions as we move forward."
White House press secretary Sarah Huckakbee Sanders on Tuesday defended the morality of offering assurances to Kim. "The goal and the purpose of these conversations would be to have complete and total denuclearization of the Peninsula," she said.
Kim is on a Treasury Department blacklist for human rights abuses, removal from which Sifton said is a likely concession Kim will seek. He added that Kim should not be granted that request as part of denuclearization talks because "you're basically saying we're going to give you a pass on human rights if you denuclearize."
The U.S. imposed those sanctions two years ago as part of the Obama administration's effort to isolate North Korea, but it came as the North Korean government rapidly developed its nuclear program. It was the first time that Kim had been personally sanctioned and the first time that any North Korean officials had been blacklisted in connection with rights abuses. Announcing the sanctions, the U.S. accused North Korea of cruelty and hardship, "including extrajudicial killings, forced labor and torture."
White House officials have pushed back publicly against the notion that Trump has deprioritized international human rights. They point to Trump's rollback of his predecessor's opening with Cuba and his comments about the devastation wrought by the Islamic State group and Iranian-backed Hezbollah.
But the list of countries on which Trump has been largely silent about human rights includes Russia, China, Saudi Arabia, Egypt and the Philippines. Trump's State Department has been critical of those countries, particularly in its annual report on human rights released last month, but the president has often gone out of his way to avoid criticizing those countries' leaders personally.
___
Associated Press writer Matthew Pennington contributed to this report.