Politics
A 14-year-old is running for governor of Vermont, and he actually made the ballot
Ethan Sonneborn found a loophole in the state's election law.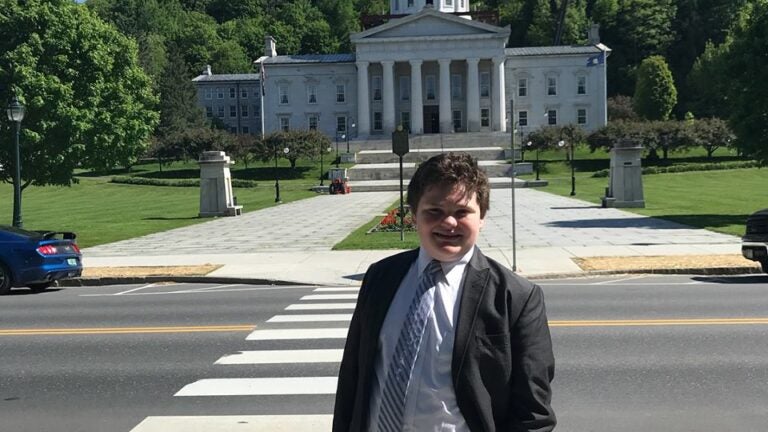 Ethan Sonneborn has a website, a comprehensive policy platform, and a spot on the 2018 Democratic gubernatorial primary ballot in Vermont.
He also just turned 14 last week.
Sonneborn, a Democrat, announced his candidacy last summer after he discovered that Vermont is one of just two states (the other being Kansas) that has no age requirement on running for governor. Ironically, despite the recent birthday, he's still four years away from being old enough to vote for himself.
Hoping to win the votes of actual adults, Sonneborn passed his campaign's first test of legitimacy this week. The eighth grader's campaign announced they had successfully filed to get on the primary ballot.
Miles Burgess, Sonneborn's campaign manager, told Boston.com they had collected "around 530" signatures, surpassing the 500 required by Vermont for statewide candidates. Vermont Secretary of State Jim Condos confirmed the filing Friday.
"We just finished the count for him and he is certified – he will appear on the Dem Primary ballot," Condos said in an email to Boston.com.
"It was a pleasure to file to be on the ballot so I will be able to continue my fight for families, the environment, and sustainable economic development," Sonneborn said in a statement Thursday night.
As governor, the Bristol resident, who currently attends Mt. Abraham Union Middle/High School, says he would "give tax benefits to small businesses, introduce a worker's bill of rights, advocate for a higher minimum wage, and propose a bipartisan job creation plan to the legislature."
Sonneborn is an advocate for the "Medicare for All" health care plan proposed by Sen. Bernie Sanders, his home-state senator. On the environment, he supports a tax on carbon emissions, the statewide commitment by Vermont to uphold the standards of the Paris climate agreement, and renewable energy incentives.
My peers are getting shot. It's time for us to stop talking about our god given right to weapons of war and start talking about which takes precedence, human life or assault weapons.

— Ethan Sonneborn (@RealESonneborn) May 19, 2018
Amid the recent youth-led movement for stricter gun laws, Sonneborn has also spoken out in favor of such reforms, even in Vermont where hunting culture runs deep. Sonneborn applauded the sweeping gun safety bill signed into law in April by Republican Gov. Phil Scott, but called for further action.
"If our revolutionary campaign ends up in Montpelier, we will take much stronger and more decisive action to address our gun problem," he said at the time.
The next challenge facing Sonneborn's campaign (besides not having a driver's license) may be the fact that he trails the three other Democratic candidates in fundraising by thousands of dollars. According to the most recent campaign finance reports filed in March, he has raised $633 in small donations, compared to the tens of thousands his opponents have on hand. It turns out middle schoolers aren't the most deep-pocketed donor base.
With the news of our filing, we'll need support from hardworking people all across the state. Can you chip in a few dollars now? https://t.co/qEspXiQygn

— Ethan Sonneborn (@RealESonneborn) May 31, 2018
Beyond the specific policy issues, Sonneborn also says his campaign is about increasing youth engagement in politics, including increasing the participation rate among his voting-age peers. In an interview with CNN in March, he said that — even though his parents aren't very political — his interest was first piqued at the age of 5 when he got a book featuring Robert F. Kennedy, who he sees as a role model.
"You don't have to be a Kennedy or a famous minister to be a coalition builder," he said. "You just have to have an issue you care about and be willing to speak out on your platform."
There's no age limit on that either.