Politics
Charlie Baker is more popular with Democrats than Republicans, according to a new poll
Wait, what?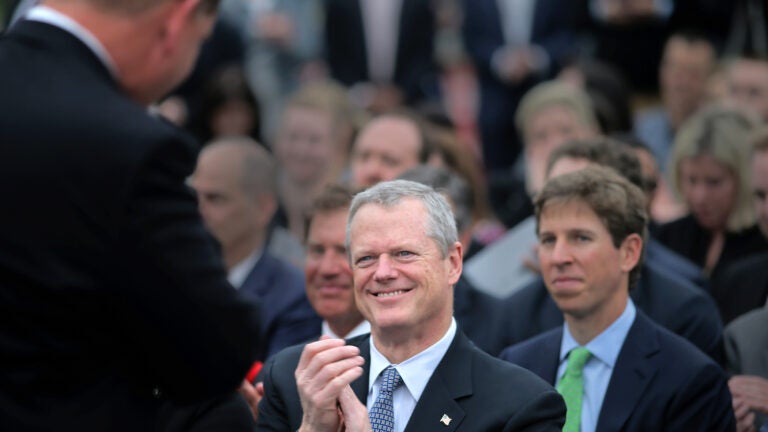 Gov. Charlie Baker is a Republican, but you might not know it looking at his poll numbers.
According to a WBUR poll released Friday, the Massachusetts governor's favorability ratings are slightly higher among Democrats, as well as independents.
In the survey of 501 registered Bay State voters, 65 percent of Democrats said they had a favorable view of Baker, while a strikingly low 10 percent said they viewed him unfavorably. The governor's favorability rating was about equal among Republicans in the state (64 percent), but twice as many GOP voters (20 percent) viewed him unfavorably. Among independents, Baker's favorable and unfavorable ratings were 69 percent and 7 percent, respectively.
Steve Kozcela, the president of MassINC Polling Group, which conducted the survey, said such high approval from the opposing party, for any politician, is "very unusual."
At 55 percent, his net favorability among Democrats was 11 points higher than it was among Republicans, an edge that exceeds the poll's margin of error of 4.4 percentage points. Given that the poll surveyed just 44 Republicans, Koczela cautioned against making any unequivocal conclusions about Baker's support in one party compared to the other, but said there's enough evidence at this point to say it's at least pretty much equal.
"This is something we've been seeing going on for a while," Koczela said. "Charlie Baker is very well liked, even among the most ardent Democratic voters in the state."
For instance, a UMass Lowell poll in April found that 80 percent of Democratic primary voters in Massachusetts' 3rd Congressional District somewhat or strongly approved of the way Baker was doing his job. Only 11 percent disapproved. And, in February, a WBUR poll of the state's 7th District (by far the most Democratic-leaning in the state) found that 66 percent of voters viewed the governor favorably, compared to just 18 percent who held an unfavorable view of him.
Koczela says Baker has walked a "very careful line" in his approach to his relationship with President Donald Trump. After all, you don't become the most popular governor in the country by cozying up to Trump in the state where the president has the lowest approval ratings. But at the same time, while Baker has openly and often criticized Trump, the denunciations have mostly been toned down.
"He's been critical, but he's tended to keep his criticism pretty technocratic and pretty focused on specific issues, rather than the flame wars that others have gotten into with the Trump administration," Koczela said.
Coupled with the lack of both public and party support for the two gubernatorial candidates vying for the Democratic nomination, Baker's popularity "doesn't send a very encouraging message" about his opponents' prospects in November, he added.
What about Baker's support within his own party?
The Republican governor must first face off against a conservative primary challenger, Scott Lively, an anti-gay pastor who is looking to capitalize on Baker's criticism of Trump and his support of a 2016 transgender public accommodations law. During the state Republican convention in April, Lively told reporters he wasn't going to let Baker "get away with being a Democrat anymore in the Republican Party."
Still, according to the poll numbers, the vast majority of Republicans approve of the job Baker is doing. Nearly 70 percent of GOP delegates backed him during the party convention. Koczela says Baker's net 44 percent favorable rating among Republicans is "pretty good," especially given his criticism of Trump.
At the same time, Kozcela says Baker isn't drawing "wild cheering crowds." In past polls, when asked to assess the governor's job performance on specific issues, most voters have clustered around the answer "fair," as opposed to "excellent," "good," or "poor."
"If you break it up further, you don't get a lot of strong approval," Koczela said. "You get a lot of people who think he's doing… well. Not particularly well, but well. In the period that we're living in, there's something to be said for that."
Asked about the results of the latest WBUR poll Friday, Baker said he appreciated the finding that Republicans, Democrats, and independents alike "all think we're doing the right things for the people of Massachusetts."
"The only poll that ultimately matters is the one that's on election day," he added.
https://twitter.com/gintautasd/status/1002594391754706944