Politics
Could the longest-serving statewide elected official lose his job?
Here's what's going on with the Democratic primary for Massachusetts secretary of state.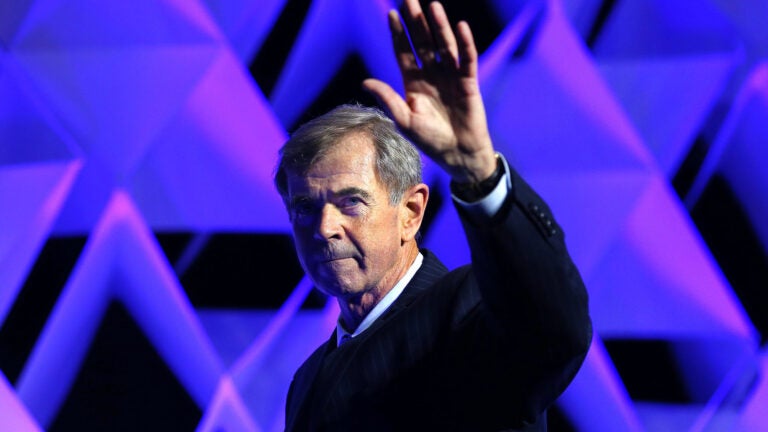 Josh Zakim was just 10 years old when Bill Galvin was first elected as the secretary of state of Massachusetts. Now, the Boston city councilor is giving Galvin the toughest challenge of his 24 years in office.
Zakim's insurgent primary campaign for secretary of state earned the party endorsement at the state Democratic convention in Worcester over the weekend. The 34-year-old Boston city councilor received 55 percent of the vote from delegates Saturday. Galvin, the longest-serving statewide elected official in Massachusetts, received 45 percent.
The surprise upset means that Zakim has the official stamp of approval from the party over the six-term incumbent secretary of state, as the race heads toward the Democratic primary in September. It's the first time since 1982 — when primary challenger Michael Dukakis ousted incumbent Gov. Ed King — that Democratic delegates have snubbed a statewide incumbent in favor of a primary challenger.
However, the endorsement doesn't mean the race is over — far from it. That said, Zakim's campaign and some unfortunate recent headlines have put Galvin, a 67-year-old Brighton native, as close to the brink of losing his job since he first won it in 1994.
Who is Josh Zakim?
Perhaps the name sounds familiar. For anyone who has ever lived — or driven — in the Boston area, it probably should.
Zakim's father, Leonard Zakim, was a longtime civil rights leader and Jewish social activist. As the head of the Anti-Defamation League's New England chapter, Leonard Zakim was deeply involved in Democratic politics and worked to forge bridges between interfaith communities. Four years after his 1999 death from cancer at the age of 46, the now-iconic Leonard P. Zakim Bunker Hill Memorial Bridge was named in his honor.
That said, Josh Zakim has been working to make his own mark on the Boston community.
In 2013, the Back Bay attorney was elected to the City Council, where he now chairs its Committee on Civil Rights. In 2014, he authored the Trust Act, which was signed into law by Mayor Marty Walsh and enacts some "sanctuary city" protections in Boston. He has also spearheaded efforts focused on expanding affordable housing and making it easier to vote. Zakim was elected to his third two-year term last November.
Shortly after his re-election, the city councilor announced he was launching a secretary of state primary campaign to unseat Galvin. Zakim called for "a new era of leadership on Beacon Hill focused on inclusion instead of exclusion" and "a Secretary of State committed to fighting every day to protect our values and principles here in Massachusetts."
"As elected leaders in a democracy, we have an obligation to work to increase, not restrict, access for voters – particularly voters who for too long have been disenfranchised," he said in his announcement.
What is the crux of their debate?
From the start of his campaign, Zakim has centered his campaign around voting rights, calling for policies to boost voter turnout, including same-day registration (which 17 other states, including three in New England, have), expanded early voting, and weekend elections. He has even criticized Galvin for the date of the state primary elections.
In response, Galvin has pointed to his experience and record of accomplishments in office.
His campaign highlights his work to increase voter registration in Massachusetts and, in 1997, the then-first-term secretary of state convinced lawmakers to ban and replace the punch-card voting system that would become infamous three years later in Florida. Galvin's website describes him as "one of the state's premier election law specialists."
"I have taken our state forward in many directions in a positive way," he said during his convention speech Saturday, according to the State House News Service. "First and foremost on elections — when I came to office there was not a central voter registry, there was no motor voter, there was no mail-in registration. We created that in Massachusetts and we set a standard for the nation."
However, the job of secretary of state isn't only about elections. The wide-ranging, unflashy position is also the top official in the state's securities division. As such, Galvin has modernized the state's business filing system and led several high-profile fraud lawsuits against financial firms.
In an interview with The Boston Globe after Zakim announced his campaign back in November, Galvin said he was proud to be "the state's top vote getter … because of my record."
"I'm going to continue doing what I do," he said.
However, to some extent, Zakim's challenge appears to have forced him to change things up. Since the city councilor launched his campaign, Galvin has publicly backed bills to implement same-day voter registration, as well as automatic voter registration.
In each case, Zakim has characterized Galvin's recent moves as cynical attempts to preempt his upstart campaign, calling the same-day registration bill "late to the party" and the automatic registration proposal "long overdue." Some delegates at the convention also noticed Galvin's timing.
"It's only when Zakim got in the race that Galvin started talking about … basic reforms," Chuck Collins, a 58-year-old delegate from Jamaica Plain, told the Globe in Worcester over the weekend.
How has the race gone up to this point?
The momentum, if such a thing exists, appears to be on Zakim's side.
Having received support from local officials and state lawmakers in his race against the establishment candidate, Zakim celebrated perhaps his biggest endorsement last week: Rep. Seth Moulton, who himself beat a Democratic incumbent in 2014 and has raised his national profile backing similar outsider candidates.
Additionally, as Politico's Lauren Dezenski first reported, Walsh privately directed the roughly 800-member Boston delegation to back Zakim at the convention. He won by a margin of 393 delegates.
Normally under the radar, Galvin has also been the subject of some negative headlines since the primary race began heating up.
In March, Lawrence Mayor Dan Rivera told the State House News Service that he received a phone call from Galvin just hours after endorsing Zakim. The call quickly got heated, with Galvin reportedly accusing Rivera of disloyalty.
"Verbatim, he said, 'I made you mayor.' You don't forget words like that," Rivera told the service.
Nicknamed the "Prince of Darkness" during his career as a state representative for his behind-the-scenes maneuvering, Galvin later told the Globe that Rivera mischaracterized the exchange.
In May, Galvin's office reprimanded six employees after several Globe reports found that nearly 20 were performing political work for the secretary of state's campaign during business hours. Despite criticizing Galvin, Zakim was also found to have received campaign help from employees in his city council office during business hours.
So is Galvin actually vulnerable?
"I've never been the favorite of party activists," Galvin told The New York Times back in 2003.
So perhaps the result of the delegate vote over the weekend shouldn't be surprising. After the vote, Galvin's campaign noted that he has twice won the party nomination after not getting the convention endorsement. However, both of those times — the 1990 state treasurer's race and his first campaign for secretary of state in 1994 — were before he became the incumbent secretary of state.
Since 1994, Galvin has faced just one primary challenger, Amherst lawyer John Bonifaz, in 2000, and he won with more than 80 percent of the vote.
According to the most recent filing reports, Galvin's campaign also has more than $2.6 million on hand, compared to the roughly $500,000 that Zakim has at his disposal. The 34-year-old city councilor told WGBH that he expects to be "vastly outspent."
But anecdotally, as Dezenski noted at the convention, Galvin's campaign may be a bit "rusty."
"There was no sign of signs, shirts, buttons, or anything visible for supporters from the secretary of state's team," Dezenski wrote Monday. "Galvin's got just shy of 100 days to fire up his campaign mechanism before primary day."
Whoever wins the September 4 primary is expected to take on Republican candidate Anthony Amore in the general election. But given the political demographics of Massachusetts, the Democratic primary may ultimately prove to be more decisive.
Zakim has pointed to the efforts by President Donald Trump's administration to restrict voting rights to accentuate the importance of his candidacy. The particular point of emphasis comes as Democratic activists at the convention demanded more forceful opposition from their elected officials.
Still, Galvin, who has repeatedly pushed back against the Republican administration, argued that "my skills and my knowledge and my expertise" was the best way to protect future elections. During his speech Saturday, he coyly invoked his opponent's messaging in his warning to delegates.
"If you don't think the Russians and Donald Trump are going to try to affect the election in 2020, I think I've got a bridge to sell you," Galvin said.