Politics
What Elizabeth Warren's bipartisan marijuana bill does — and doesn't — do
"Thanks to the attorney general, more people feel the urgency of the moment in changing federal law."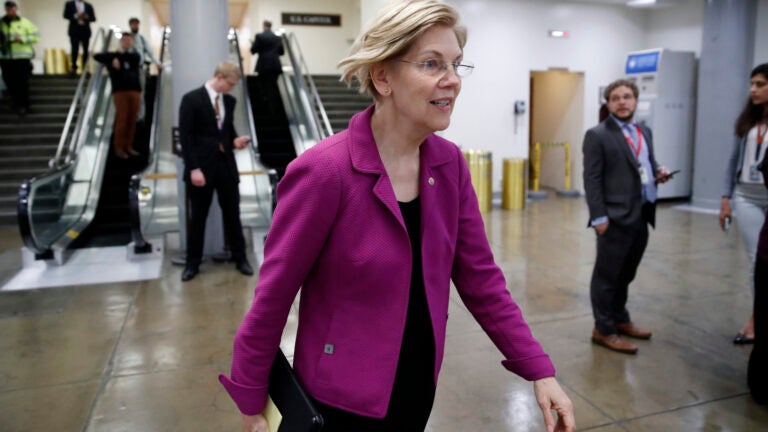 President Donald Trump's administration sent Massachusetts and other states with legal marijuana into a haze of panicked uncertainty at the beginning of the year, after Attorney General Jeff Sessions rescinded an Obama-era policy that had maintained a hands-off approach to states that had reformed their weed laws.
Six months later, the panic has died down, and Sen. Elizabeth Warren is teaming up with a Republican colleague to officially put the conflict to rest.
"We can sit on the sidelines and bemoan the old-fashioned policies or we can rolled up our sleeves, get to work, and propose a solution," the Massachusetts Democrat said in a press conference Thursday
Warren and Sen. Cory Gardner, a Colorado Republican, introduced a bill Thursday to ensure that every state has the right within its own borders to determine the best approach to marijuana, even though the drug remains illegal at the federal level.
Forty-six states (and a number of tribes and territories) have passed laws legalizing or decriminalizing marijuana, either for medical or recreational adult use. Reigning from states that have legalized recreational weed (Colorado in 2012; Massachusetts in 2016), the two senators said Thursday that their legislation allows states to be laboratories of democracy without federal interference.
"This is a chance for us to express that federalism works, to take an idea that states have led with and provide a solution that allows them to continue to lead," Gardner said.
But beyond the aspirational rhetoric, here's what the bill would and wouldn't actually do.
It does exempt people in states with reformed marijuana laws from most federal enforcement
Despite increasing national support and legalization efforts, marijuana remains illegal at the federal level — which is why the Department of Justice's actions in January set off such a panic. By repealing earlier federal guidance, Sessions effectively told local law enforcement that they could no longer ignore individuals and businesses who were breaking federal marijuana rules, even if they were following their state's rules.
Warren and Gardner's bill — the STATES Act — looks to ensure individuals abiding by their state's rules can't be targeted by the federal government.
The bill amends the Controlled Substances Act, which outlaws marijuana, so that its provisions no longer apply to anyone who is complying with state or tribal laws on the "manufacture, production, possession, distribution, dispensation, administration, or delivery of marijuana," as long as those states comply with "a few basic protections."
"If the state has acted this bill requires the federal government to recede," Warren said Thursday. "That means within the state of Massachusetts the marijuana business will be legal."
It doesn't change certain federal guardrails on drug policy
There are a number of federal marijuana rules that will continue to apply in states, even those that have reformed their approach to the drug.
The bill specifically leaves in place Controlled Substances Act provisions against both the endangerment of human life by manufacturers and individuals under the age of 18 working in marijuana businesses. The legislation also prohibits distribution at rest areas and truck stops.
In accordance with the law even in states that have legalized adult-use recreational marijuana, the bill would also set the legal age to buy the drug at 21, except for medical purposes.
It allows businesses in the legal marijuana industry access to banks
Following the Justice Department ruling in January, one issue was that many marijuana businesses were forced to go cash-only, as banks bailed on the industry due to the prospect that federal prosecutors could bring trafficking charges against them. As a result, businesses in Massachusetts' fledgling cannabis industry have struggled with access to banking services.
"That forces a multi-billion dollar industry to operate all in cash," Warren said Thursday. "That's bad for business and bad for safety."
To address the issue, the bill specifically states that legal transactions under state law "shall not constitute trafficking" or "the basis for forfeiture of property" under the section of the Controlled Substances Act that prohibits the distribution of drugs. Gardner says this would allow businesses to operate more freely, unlike the current situation which he called a "public hypocrisy."
"If you're in the business, if you work for the business, you can't get a bank loan or set up a bank account, because of the concern over the conflict between state and federal law," he said, adding that "billions of dollars in cash, floating around" creates a public safety issue.
"We need to fix this public hypocrisy," he said.
It doesn't declassify marijuana as a Schedule 1 drug
Some marijuana advocates might argue that the bill doesn't fix all of the "public hypocrisy" regarding the drug.
At the federal level, marijuna would still be considered a substance "with no currently accepted medical use and a high potential for abuse," despite increasing support for downgrading it to a less serious classification. Still, it's in keeping with the bill's emphasis on compromise and states' rights.
"This is not a legalization bill — I think that's very important," Gardner said Thursday.  "If a state like Oklahoma or Kansas or Nebraska chooses not to do this, they do not have to. The federal law remains the same. Nothing changes for them."
The continued federal prohibition also means that nothing changes for veterans.
During the press conference Thursday, Warren decried the fact that federal law prevents veterans, who receive their health care through the Veterans Affairs Department, from accessing medical marijuana to treat chronic pain. Some veterans groups wish the new bill would go further to allow ailing service members the opportunity to seek state-legal cannabis for treatment.
Nick Etten, founder and executive director of the Veterans Cannabis Project, told MassLive.com that while the bill is an improvement, "millions of veterans want legal access to medical cannabis as a treatment option," which can't happen until it is removed from the list of Schedule 1 substances.
Democratic-led legislation to downgrade marijuana's classification — either decriminalizing or legalizing it nationwide — have yet to garner any support from Republicans in the Senate.
It does remove industrial hemp from the Controlled Substances Act
The bill also amends the definition of "marihuana" under the Controlled Substances Act to specifically exclude industrial hemp.
Hemp, a legal relative of marijuana derived from the cannabis plant, has long been spun into fiber and used for things like paper, cloth, building materials, and many other commercial items. Hemp oil can also be used in paint, plastics, and food.
Warren might find a rare ally on the other side of the aisle on this particular issue. Sen. Mitch McConnell, the Republican Senate Majority Leader who infamously clashed with the Bay State senator last year, has repeatedly pushed legislation to remove hemp — which he says is "foundational" to his home state of Kentucky — from the Controlled Substances Act.
Fixing America's broken marijuana policies:

It's time to reform America's outdated marijuana policies. Watch live as Senator Cory Gardner and I discuss our new legislation that would let states, territories, and tribes decide for themselves how best to regulate marijuana – without federal interference.

Posted by U.S. Senator Elizabeth Warren on Thursday, June 7, 2018
There is one question that remains unclear: Does it pass?
The legislation has already been endorsed by a wide range of stakeholders, from the ACLU to marijuana legalization advocacy groups to local banking associations. The two senators said Thursday they're hoping their bill will also receive broad ideological support, both inside and outside of Congress. A bipartisan, companion bill has also been introduced in the House.
Gardner spoke with Trump in April and said he secured the assurance that — despite the recent Department of Justice actions — the administration would not target states that have reformed their marijuana laws and would support congressional efforts to resolve the conflict between state and federal law. The Republican senator said he spoke again with the president Thursday.
"Not putting words in the mouth of the White House, but I think this will be an opportunity for us to fulfill what is that federalism approach," he said.
Ironically, Warren added that it was the actions of Sessions, the fervently anti-marijuana attorney general, that set in motion the bipartisan alliance to further the cause of reform advocates.
"It spurred us to more immediate action, and to start at least to build the bridge," she said.
"Thanks to the attorney general, more people feel the urgency of the moment in changing federal law on marijuana," Warren noted. Looking into the distance, she quietly deadpanned, "Go Jeff Sessions."