Politics
Joe Kennedy III says his vote on a nuclear weapons proposal was an 'honest mistake'
"Why on earth" did the Massachusetts Democrat join Republicans to vote in favor of new nuclear weapons funding for Donald Trump? Well, it turns out that wasn't his intent.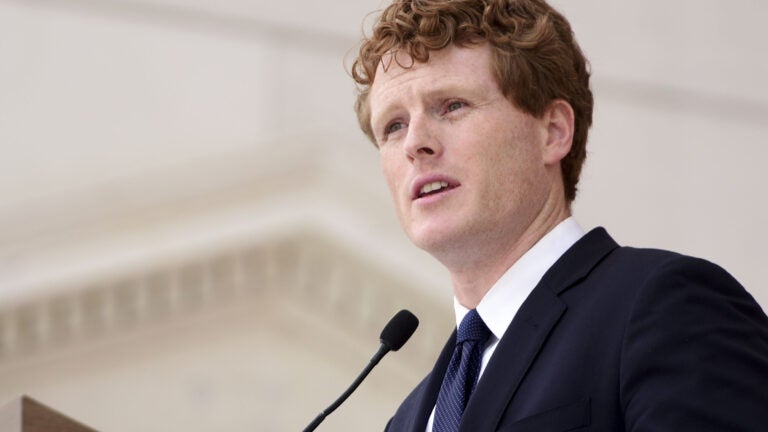 Last week, Rep. Joe Kennedy joined Republicans to vote in favor of fulfilling the request President Donald Trump's administration made for millions of dollars to start work on a new nuclear weapon.
It was an odd vote — especially given how Kennedy has consistently and prominently opposed the Trump administration; how he recently spoke out against the president's narrative of "nuclear brinksmanship"; and how Massachusetts Democrats have backed legislation to restrict Trump's ability to use nuclear weapons.
Sure, Kennedy has issues on which he departs from the party line, but nuclear proliferation hadn't appeared to be one of them. That's because, according to the third-term congressman, the vote was a "mistake."
The vote in question came on a defense budget amendment, sponsored by Rep. Barbara Lee, a California Democrat, that would have blocked the Trump administration's request for $65 million to build a new low-yield nuclear warhead. Lee's proposal would have transferred said $65 million to the Energy Department's Office of Defense Nuclear Nonproliferation, which works globally to prevent the development and acquisition of nuclear weapons.
The amendment came up for a vote Thursday in the House, where it was defeated on a mostly party-line 241-177 vote in the Republican-controlled chamber. Though their votes didn't prove decisive, Kennedy and 14 other Democrats joined 226 Republicans in casting no votes against Lee's proposal.
Given his status as a rising star in the Democratic party, Kennedy's vote caught some by surprise.
"Why on earth did @RepJoeKennedy vote with Republicans to give Donald Trump the more 'usable' nuclear weapons that he's disturbingly craving?!" Stephen Miles, the director of the anti-militarism group Win Without War, tweeted Friday. "This is not how progressive champions should be voting!"
Within a couple hours, Kennedy responded. And he agreed.
"You're right," he tweeted. "Meant to vote yes — it was an honest mistake on my part. There is no need for these weapons."
You're right. Meant to vote yes — it was an honest mistake on my part. There is no need for these weapons. Keep up your advocacy @SPMiles42.

— Rep. Joe Kennedy III (@RepJoeKennedy) June 8, 2018
Miles took that explanation in good faith and thanked Kennedy for his response (though not everyone who saw the exchange was as generous in their reaction).
"Mistakes happen!" he replied. "That's actually one of the best reasons to make sure we don't create more 'usable' nukes."
Thanks, Congressman. Mistakes happen! That's actually one of the best reasons to make sure we don't create more "usable" nukes. Also a great reason to join @tedlieu and sponsor HR 669 to make sure Trump can't "mistakenly" launch a nuclear war by himself!

— Stephen Miles (@SPMiles42) June 8, 2018
Miles went on to advocate for legislation being proposed by Rep. Ted Lieu and Sen. Ed Markey, a fellow Bay Stater and longtime nonproliferation advocate, which would prohibit the president from launching a nuclear first strike without a declaration of war by Congress.
Sen. Elizabeth Warren and four U.S. representatives from Massachusetts are listed as cosponsors of the versions of the legislation that have been introduced in the House and Senate; Kennedy is not.
As for that accidental vote, Miles is correct that "mistakes happen." According to the The New York Times, House members accidentally voted the wrong way at least 112 times from 2011 to mid-2014. While that number represents about one in every 10,000 individual votes, 84 of the 519 of the members of Congress who served during that span were guilty of at least one, the Times reported.
It's unclear if any of the 14 other Democrats who voted against Lee's amendment Thursday also made mistakes.