Politics
How worried should transgender rights advocates be about this ballot question in Massachusetts?
"We can't be complacent."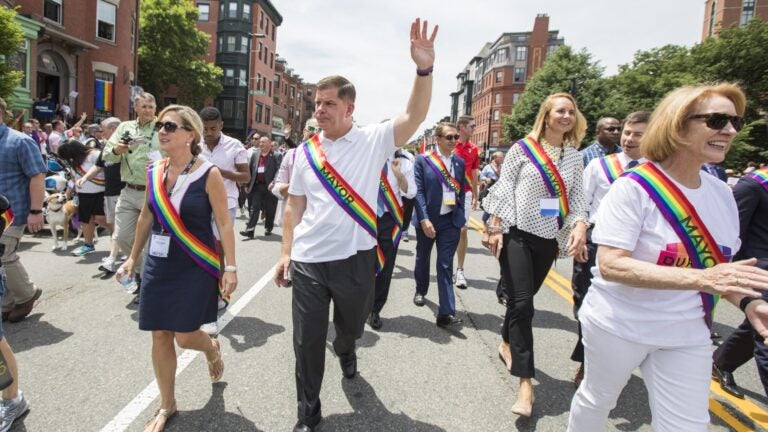 Amid the vibrant displays of pride this weekend in Boston, some LGBT rights advocates are quietly keeping a wary eye on a likely ballot question this November that would erase the latest step forward in their fight for transgender equality.
A WBUR poll last month found that a "slim majority" of Bay State residents opposed repealing the 2016 law that bans discrimination against transgender people in public places — such as restaurants, malls, and restrooms — and guarantees that individuals can use restrooms and locker rooms in accordance to their gender identity. According to the survey, 52 percent opposed the effort to repeal to law, while 38 percent supported the ballot question. Eleven percent said they were undecided.
It's just one poll, but both sides claim the results as encouraging.
"A 14-point spread in politics is not exactly a slim majority of anything," said Rep. Joe Kennedy, who's championed transgender rights in Congress. "That's a pretty resounding win."
Yvette Ollada, a spokeswoman for Keep MA Safe, which is backing the ballot measure, said they were "very encouraged about the results because it is a long way until November."
"A lot of people have not made up their minds, and the support for keeping the law is soft support compared to the repeal that has hard support for repeal," she said (to the contrary, 24 percent said they "strongly support" repealing the law, compared to 41 percent who said they "strongly oppose" the effort).
Transgender rights advocates say those numbers are too close for comfort — especially in predominantly liberal Massachusetts, where a successful repeal could have a national snowball effect across the country.
"We are taking nothing for granted," said Matthew Wilder, a spokesman for Freedom for All Massachusetts, a diverse coalition of groups working to uphold the protections. "Our opponents have said that if they can win here they will use that momentum to try and roll back protections for transgender people across the country."
According to the Movement Advancement Project, a LGBT rights think tank, 19 other states and Washington, D.C., have laws against discrimination in certain public places that cover gender identity. Recent ballot initiatives — Houston in 2015 and Anchorage, Alaska, in April — have yielded mixed results when voters are asked to decide on so-called "bathroom bills."
The Massachusetts ballot question is set to be the first time the issue is put to a statewide vote. Supporters of the first-of-its-kind repeal effort have repeatedly said that a victory would send a unmistakable message to the other, perhaps less-liberal, states.
"Massachusetts is the first state in the nation to challenge the bathroom and locker room law, so the stakes are high," the Massachusetts Family Institute, a Woburn-based, socially conservative political group, said in a press release earlier this month.
The stakes are one thing on which both sides agree.
"The eyes of the nation, in many ways, will be on Massachusetts this November," said Sarah McBride, the national press secretary for the Human Rights Campaign, which opposes the ballot question.
The 2016 law at issue, which was signed by Republican Gov. Charlie Baker, expanded an existing law against housing and workplace discrimination based on one's gender identity to also cover public accommodations. It also included language to address privacy and safety concerns about individuals potentially claiming gender identity for an "improper purpose."
Groups like Keep MA Safe and the Massachusetts Family Institute argue that the law is broadly worded and allows individuals, "regardless of anatomy or biology," to access restrooms or locker rooms of the opposite sex; the messaging has been less than subtle. While repeal backers list numerous examples of privacy violations, such as "peeping Toms," in Massachusetts and other states, transgender rights advocates say such incidents are unrelated to the substance of the 2016 law.
"There is not one single incident that they can point to of any sort of assault or danger that's taken place as a result of this protection being put in place," Kennedy said. "None. Zero. You talk to all of the sports teams, they've got thousands, if not millions, of visitors that have passed through their facilities over the course of the past couple years. Not one."
Supporters of upholding the law also resist the framing, which so often centers around restrooms.
"Despite our opponents' laser focus on the law as it pertains to bathrooms, this law actually does much more than that," Wilder said. "It pertains to preventing discrimination in hotels, stores, and sports arenas, and, when the public realizes that, support for this law is even stronger than what the narrow focus in [the WBUR poll] shows."
A vast coalition of mayors across the country, in Boston for a weeklong national conference, also came out against repealing the law over the weekend. The growing group includes 17 mayors in Massachusetts.
"This law has been in place in Massachusetts for two years with no issues, and a similar local ordinance has been in place in Boston for more than a decade," Boston Mayor Marty Walsh said in a statement Sunday. "In that time, we have become a more welcoming and inclusive city for our transgender friends, and neighbors — we can't take a step backwards."
Kasey Suffredini, the co-chair of Freedom for All Massachusetts, told Politico in March that the group was hoping to raise "at least $5 million" to oppose the November ballot measure. According to campaign finance reports, the group raised $356,805 in 2017, while Keep MA Safe raised $13,368.
Over the next five months, Wilder says Freedom for all Massachusetts will be working to reach out to voters to "underscore that this law has been in place for two years with no issues what-so-ever." Kennedy says he thinks that, as more residents come to understand the totality of the law, Massachusetts residents will vote to uphold its protections.
"I've got an awful lot of faith in the Massachusetts residents that believe that everybody should be treated equally here," said the congressman. "I think we've got a very proud history of that. I also understand that when it comes to processes like this, you gotta work at it and you gotta make sure that people understand that's what this is about."
McBride says they "are under no illusion that there's still work to do." Though public sentiment has shifted dramatically in favor of LGBT rights over the past decade, memories of California's Prop 8, the 2008 ballot initiative that (temporarily) repealed same-sex marriage in the state, still come to mind.
"We can't be complacent," McBride said. "It can happen anywhere."