Politics
Nielsen's career forever linked to family border separations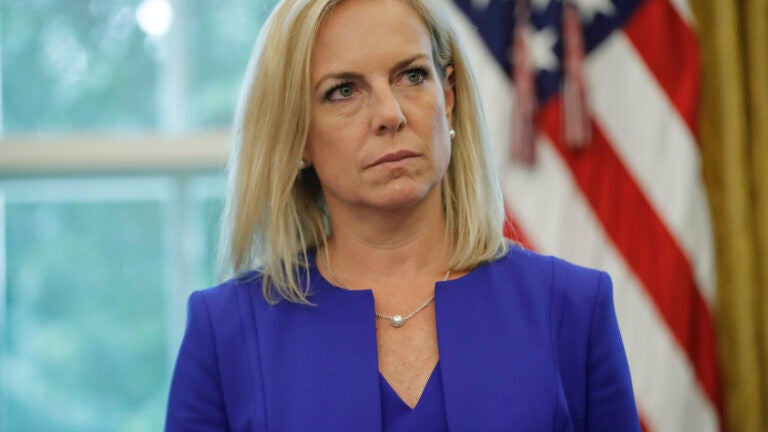 WASHINGTON (AP) — Fair or not, Homeland Security Secretary Kirstjen Nielsen will probably always be the face of family separations at the U.S.-Mexico border.
The brusque 46-year-old former Bush administration official this week became known as the Cabinet member who skewed the facts at a combative press conference in defense of President Donald Trump's "zero-tolerance" policy, and who convened a "working dinner" at a Mexican restaurant while audio of hysterical Spanish-speaking children circulated on social media.
On Wednesday, she helped Trump walk it back with a new executive order that would reverse the decision. She got praise from the president. But several congressional Democrats had already demanded her resignation, with one senator repeatedly accusing her of lying and quoting Martin Luther King Jr. in a tweet criticizing the Cabinet secretary.
"He who accepts evil without protesting against it is really cooperating with it," tweeted Sen. Tammy Duckworth, D-Ill., after reports that Nielsen had denied family separations at the border was a form of child abuse.
"We have high standards," Nielsen had told reporters earlier this week in defending the policy. "We give them meals and we give them education and we give them medical care. There are videos, there are TVs."
According to people close to the secretary, family separations weren't her idea. One person, who like the others spoke on condition of anonymity because they were not authorized to speak publicly, said Nielsen had been "working nonstop" to find a solution.
The polarizing path Nielsen has taken is somewhat surprising for a government bureaucrat and policy wonk known more for her loyalty to White House chief of staff John Kelly and her expertise in cybersecurity than the hardline immigration views espoused by Attorney General Jeff Sessions and White House adviser Stephen Miller.
Nielsen was considered an expert in both homeland and national security policy who worked in the Bush administration and had a hand in its handling of Hurricane Katrina.
Two years after the 2005 hurricane, Congress issued reports that faulted the White House Homeland Security Council — where Nielsen directed preparedness and response — for failing to take the lead in staying on top of the unfolding disaster.
Following Trump's election, Nielsen joined the transition team, on the recommendation of several former co-workers, to help guide Kelly through the confirmation process to become Trump's secretary of homeland security. Nielsen quickly won the retired general's trust, impressing him with her work ethic and command of the issues.
A constant presence in Kelly's orbit, Nielsen followed the retired general to the White House and quickly established herself as the West Wing "enforcer." But, people inside and outside the White House also complained she was controlling access to Kelly, alienating staffers and failing to return phone calls — criticism that often comes with any chief of staff job.
Trump eventually tapped Nielsen to take over as head of the sprawling Department of Homeland Security, and the Senate confirmed her last Dec. 5.
By April, Sessions announced there would be "zero tolerance" at the border for people crossing illegally. That meant that anyone who did not arrive at a designated port of entry and claimed asylum would be arrested.
As public backlash grew, Nielsen misled the public by denying that separating families was part of U.S. policy. While the policy never specifically called for children to be taken from parents, separation became inevitable. That's because the adult was detained and charged — and any children traveling with them couldn't go to jail with them.
Nielsen, like Trump, also suggested that it was up to Congress to fix the problem — even though the enforcement of laws happens at the president's discretion. The Bush and Obama administrations largely allowed families to stay together.
Nielsen undercut her own argument Wednesday when she abruptly reversed course and headed to Capitol Hill to brief lawmakers on an executive order ending separations.
While her allies say she was merely following the law, it's likely there was another reason Nielsen tirelessly defended the policy: She has a track record of working to make her bosses happy. Also, her history with Trump was bumpy. Earlier this spring, Trump had unloaded on Nielsen during a Cabinet meeting over a spike in border apprehensions and legal setbacks, according to people familiar with the exchange.
Nielsen, one person said, tried to explain the issues were complex and that the department's powers were limited by legal restrictions. She told the president her team was doing everything it could, but the president was left unconvinced.
After news of the dressing-down spread, Nielsen did not deny the meeting had grown heated and issued a statement saying, "I share his frustration."
By Tuesday, Nielsen appeared to be back in Trump's good graces, with the president tweeting praise for her press conference. And at the order-signing Wednesday, Trump invited first Vice President Mike Pence and then Nielsen, standing to his right, to speak. She thanked Trump for his leadership.
The president looked over his shoulder at Nielsen and issued more praise: "Great job."
Trump then signed the order and handed Nielsen the pen.
___
AP reporters Colleen Long, Jill Colvin and Laurie Kellman contributed to this report.