Politics
The Latest: Biden urges Americans to 'rise up'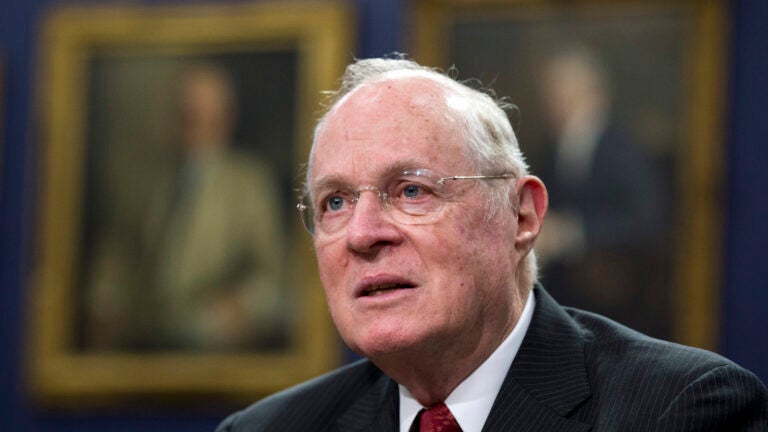 WASHINGTON (AP) — The Latest on the looming battle to choose a successor for retiring Supreme Court Justice Anthony Kennedy (all times local):
1:35 p.m.
Former Vice President Joe Biden is urging Americans to "rise up" to demand President Donald Trump nominate a "consensus candidate" to the Supreme Court.
Biden sided with Democrats who have said the Senate should postpone the confirmation process until after the mid-term elections.
He said, "so many of our fundamental rights, freedoms, and liberties — and the rule of law — are all at risk."
Biden said, "It's up to us, America. Speak out. Rise up. Be heard."
Republicans are pushing forward with a vote this fall despite having blocked then President Barack Obama's nominee during the 2016 election year. They often pointed to a Biden speech from 1992, when he was a senator calling for the delay of Supreme Court confirmation votes during presidential elections.
____
11:30 a.m.
Senator Elizabeth Warren says the country is in a perilous state with Republicans controlling the executive and legislative branches and President Donald Trump about to make his second Supreme Court nomination.
The Massachusetts Democrat spoke at a rally Thursday in front of the Supreme Court, saying, "People around this country are worried and they're right to worry."
Warren is considered a candidate to run for president in 2020. Thursday's rally attracted other likely 2020 candidates such as New Jersey Senator Cory Booker, New York Senator Kirsten Gillibrand and California Senator Kamala Harris.
Warren said a second Trump nominee on the court could jeopardize abortion rights, same-sex marriage, labor unions and environmental protections.
___
11:25 a.m.
The top Democrat on the Senate Judiciary Committee says she hopes that President Donald Trump will take his time to identify a "strong consensus candidate" for the Supreme Court who will not "fan the flames of anger and anxiety" in the country.
Sen. Dianne Feinstein of California says one step the president could take in replacing Justice Anthony Kennedy is to wait until after the election. She says Republicans set a new standard by deciding not to hold hearings for President Barack Obama's nominee, Merrick Garland, in 2016.
Feinstein says, "If the American people deserved to have their voices heard then, they deserve to have their voices heard now."
Republicans say the situations are different because Garland was blocked in a presidential election year. They have vowed to take up Trump's nominee quickly.
___
10:55 a.m.
The Republican chairman of the Senate Judiciary Committee says Democrats are making a "preposterous suggestion" that a replacement for Supreme Court Justice Anthony Kennedy should wait until after the midterms.
Senate Republicans in 2016 refused to consider then-President Barack Obama's court nominee, Merrick Garland, because it was a presidential election year. President Donald Trump filled the seat with Neil Gorsuch in 2017.
Sen. Charles Grassley of Iowa says Republicans followed the 1992 suggestion of then-Sen. Joe Biden not to consider a nominee in the middle of a presidential race. But he says, that "doesn't include every election year."
Grassley says he plans to follow the schedule used for other Supreme Court nominees. Once the president submits his nominee, he says he looks forward to holding a hearing in "upcoming weeks."
___
10:50 a.m.
Sen. Cory Booker is pledging a long-term battle to prevent President Donald Trump from rushing a conservative judge onto the Supreme Court to replace retiring Justice Anthony Kennedy
Speaking at a rally Thursday in front of the Supreme Court, the New Jersey Democrat told the crowd that, "We now must fight."
Booker acknowledged that it will be difficult for Democrats to block any Trump nominee since Republicans control the Senate with a slim majority.
But he said that American history is "a perennial testament to achieving the impossible."
___
10:30 a.m.
Sen. Kirsten Gillibrand says that the retirement of Supreme Court Justice Anthony Kennedy has set up a situation where "women's lives are at risk."
The New York Democrat says that giving President Donald Trump the chance to pick Kennedy's replacement threatens abortion rights and raises the question of "whether we are going to be arresting women for making decisions about their bodies."
Gillibrand's comments came at a rally on the Supreme Court steps where she voiced her opposition to Senate Majority Leader Mitch McConnell's plan to vote on a high-court nominee before the midterm elections.
Democrats are largely powerless to block any nominee on their own. Republicans control the Senate by a slim 51-seat majority, and confirmation requires only a simple majority.
___
1 a.m.
All sides are mobilizing in response to the retirement of Supreme Court Justice Anthony Kennedy, promising a momentous confirmation battle for President Donald Trump's next nominee to the high court.
Trump says he will start the effort to replace Kennedy "immediately" and will pick from a list of 25 names that he updated last year. Senate Majority Leader Mitch McConnell says the Senate will vote on Kennedy's successor this fall.
Democrats argue that any decision should be put off until after midterm elections.
If Republicans unite behind Trump's selection, Democrats can do little to stop it. Republicans have a 51-49 majority in the Senate, which changed its rules last year to allow a simple majority vote for Supreme Court confirmations.