Politics
Where does the Massachusetts delegation stand on the calls to abolish ICE?
Here's what the state's Senate and House members think of the growing movement.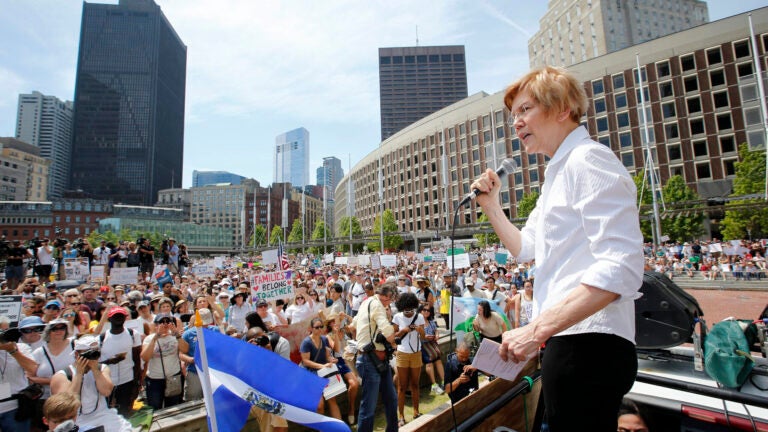 It's a two-word rallying cry that is only getting louder on the left — and in Massachusetts — as President Donald Trump's administration enforces his immigration agenda:
Abolish ICE.
From Immigration and Customs Enforcement's role in the forced separation of children from their parents at the southern border to its deportation efforts closer to home, the recent controversies have taken calls to rebuild the agency from the ground up from the political fringe toward the mainstream of progressive politics.
Even some potential 2020 Democratic presidential candidates have joined the chorus.
The Republican president, for his part, has welcomed the calls, which he thinks will energize voters to vote against Democrats.
Proponents say actual policy isn't as simple as the concise statement, and its detractors, make it out to be. Alexandria Ocasio-Cortez, the New York congressional candidate who upset a longtime incumbent Democrat last week with abolishing ICE as part of her platform, says there would still be an agency to enforce laws against serious crimes like human trafficking, but it would also be subject to more accountability and due process standards.
"Abolishing ICE doesn't mean get rid of our immigration policy, but what it does mean is to get rid of the draconian enforcement that has happened since 2003 that routinely violates our civil rights," Ocasio-Cortez recently told The Intercept.
Massachusetts hasn't historically been on the front lines of the immigration debate. However, some members of the state's congressional delegation are going out on a line to voice support for the "Abolish ICE" movement.
Sen. Elizabeth Warren
Warren added her name to the list of those calling for ICE's dismantlement during the protest against Trump's immigration policies Saturday in Boston. The Massachusetts senator called the administration's treatment of immigrants and refugees "ugly" and "wrong."
"The president's deeply immoral actions have made it obvious we need to rebuild our immigration system from top to bottom, starting by replacing ICE with something that reflects our morality and values," she said.
Sen. Ed Markey
During Saturday's rally, Markey called for Bay Staters to "fight to ensure that [Trump] does not have a deportation army." The state's junior senator, who became the latest member of the Massachusetts delegation to visit detention facilities at the southern border this week, went on to say in an interview Tuesday that he feels ICE "does need to be dismantled and reconstructed."
"It has turned into a massive deportation army that is experiencing the worst kind of mission creep under the Trump Administration," Markey told WGBH's Boston Public Radio.
"We have to separate ICE's public safety responsibilities, such as protecting those from human trafficking, from its deeply flawed immigration enforcement that does little more than terrorize law abiding immigrant families from Lawrence to downtown Boston to the whole rest of our country," he added.
As a congressman, Markey was one of the 132 House members who voted against the creation of the Department of Homeland Security and ICE in 2002. On Tuesday, he joined Warren and Sen. Kirsten Gillbrand, a New York Democrat, as the only three members of the U.S. Senate calling for the outright dismantlement of ICE.
Rep. Richard Neal
Neal says there needs to be "a vigorous re-examination of the role that ICE plays in the enforcement of our immigration laws" as part of a larger discussion on fixing "our broken immigration system."
"The agency clearly needs to be reformed, overhauled and streamlined," the Springfield Democrat said in a statement Monday to Boston.com.
"We can make common sense corrections like adding judges, targeting border patrol abuse while protecting the constitutional guarantee of due process," Neal said. "I share the view of most of [Americans] who want a more compassionate immigration system that reflects our country's basic values. The crisis on the U.S. – Mexican border has only reinforced my belief that we need to pass comprehensive immigration reform now"
Neal, who represents Massachusetts's 1st Congressional District, is also one of the many cosponsors of the Democrat-backed "Keep Families Together Act," which would stop the "zero-tolerance" policy of prosecuting immigrants who attempted to enter the country illegally, which resulted in the separation of children from their parents.
"I am outraged at the heartbreaking scenes we continue to witness on our southwest border," the longtime congressman said. "The Trump administration's family separation policy is cruel, inhumane and should end immediately."
Rep. Jim McGovern
The Worcester Democrat, who represents Massachusetts's 2nd District, became the delegation's first member to back calls for abolishing ICE last month. During a June 23 event at an Amherst church, McGovern said it was time "to re-evaluate what we have in place and get rid of ICE," according the the Daily Hampshire Gazette.
In a subsequent press release last Tuesday, McGovern reportedly noted that he also voted against the creation of ICE in 2002, due to his fear that the agency would be used to target immigrant communities.
"Unfortunately, President Trump has confirmed my worst fears," he said in the release. "Under his direction, ICE has completely lost its legitimacy — it's time to start from scratch. We should maintain and strengthen what's working, and review and re-think how immigration officers prioritize enforcement in our communities. Whatever comes next — it needs to partner with our communities and work in their best interests, not against them."
Rep. Niki Tsongas
The outgoing congresswoman for the 3rd District has blasted the Trump administration for the "unthinkable" and "heartbreaking" stories that have resulted from the separation of families at the border, but has yet to take a public position on making structural reforms to ICE. Tsongas wasn't available to comment Monday.
Rep. Joe Kennedy III
Kennedy, who was also at Saturday's protest, has been one of the most forceful critics of Trump's immigration policies, especially following the forced family separations at the border. The Newton Democrat, who represents the 4th District, hasn't joined the calls for ICE's outright abolishment, but certainly feels the agency needs to be re-examined, according to communications director Emily Kaufman.
"Congressman Kennedy wholly supports revisiting the mission and practices of ICE, particularly given the brutality we have seen the past few weeks," Kaufman told Boston.com in an email Monday.
Rep. Katherine Clark
Like Kennedy, Clark says that the Trump administration's policies have given rise to the need to reform the agency, though she didn't go as far as calling for its abolishment. According to the Melrose Democrat, who also traveled to the southern border last week (with a fashion statement of her own) to investigate the treatment of immigrants, the agency is "not living up to our nation's values nor is it protecting the safety and welfare of the American people."
"ICE has shifted away from prioritizing enforcement against those with a criminal record in favor of deporting peaceful residents and tearing children from their parents," Clark said in a statement Monday to Boston.com.
"Congress must take steps to reform ICE since its leadership and the Trump administration lack the will, ability, or moral clarity to serve the best interests of the American people," she added.
Rep. Seth Moulton
Moulton says he is supportive of efforts to reform ICE — but not "willy-nilly" calls to abolish the agency.
"We face a lot of problems with what ICE is doing, and there's clearly a leadership and accountability problem here," the Salem Democrat said in an interview Friday on CNN. "They're not behaving in a manner that is appropriate for American citizens."
At the same time, Moulton said that ICE "does important work for our country," such as keeping human traffickers "in check," and said the calls to eliminate the agency in some ways are an abdication of responsibility by Congress.
"I don't think that just going out and defunding them is necessarily the right approach, but should Congress threaten the power of its oversight, threaten the power of the purse? Absolutely. It's our job to reform them." the 6th District congressman said.
"I don't want to give up the responsibility and the duties of Congress to actually make these organizations work," he added later in the interview. "We all want secure borders. We all want to stop human traffickers. We all want ICE to actually do its job properly, not be doing its job recklessly. But the answer is to reform ICE. It's to fix it. It's to do our job as members of Congress, not just willy-nilly call for it to be abolished"
Rep. Michael Capuano
Capuano had reportedly agreed to sign onto legislation being drafted by a fellow House Democrat to dismantle ICE and reassign some of its responsibilities to other federal agencies. However, the Somerville Democrat's communications director, Alison Mills, said that the report was not accurate.
"My focus is on reuniting children with their parents and stopping Donald Trump's hateful policies ripping families apart," Capuano told Boston.com in a statement Monday.
Capuano noted that he was one of the House members who voted against the creation of ICE in 2002, but said that "changing who enforces bad policy now doesn't fix that bad policy and it won't bring families back together."
"The policies being enforced are more important than the agency enforcing them," he said. "Before ICE existed there was INS, under the jurisdiction of the Attorney General. No one should think for a minute that Jeff Sessions would impose different policies than Donald Trump."
The longtime 7th District congressman is facing a primary challenger this summer, Boston City Councilor Ayanna Pressley, who said last week she would "rehouse the non-immigration enforcement functions of ICE — including human trafficking and money laundering investigations — elsewhere in the US Department of Homeland Security, while immediately eliminating funding for enforcement and removal functions."
Rep. Stephen Lynch
Lynch has spoken out against the "cruel and unnecessary" Trump administration policy resulting in the separation of children from parents attempting to cross the border illegally.
The South Boston Democrat, who represents the state's 8th District, also voted against the creation of ICE in 2002. However, he has kept silent on the recent calls to reform or abolish ICE. Lynch's office did not respond to requests for comment Monday.
Rep. Bill Keating
Similarly, Keating has also repeatedly denounced the separation of families at the border. However, the Bourne Democrat has not taken a public position on the calls to abolish ICE. His office didn't respond to requests for comment Monday.